Here are some of the shows you can see in our local theaters this month: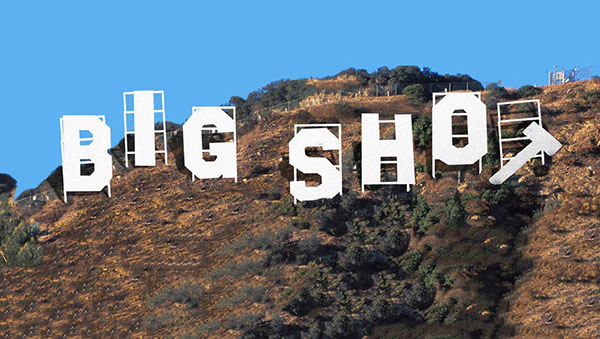 "Big Shot" unfolds on the eve of what could be a giant break for two aspiring writers — a face-to-face meeting with one of Hollywood's heaviest-hitting producers. As the clock ticks — and with only one shot to pitch a winning idea — the two embark on a frantic all-night quest to find the perfect story. Written by Joe Napoli Jr. and John Scacco, and directed by Stan Zimmerman, it runs March 2 through March 17 at the Dorie Theatre at The Complex in Hollywood. For tickets call 800-838-3006 or visit www.brownpapertickets.com/event/3325702.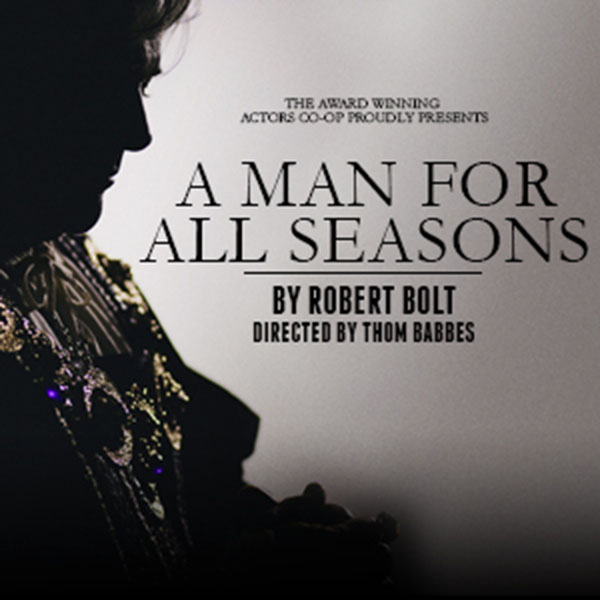 "A Man for All Seasons" tragic historical drama offers a brilliant portrait of Sir Thomas More in his last years as Lord Chancellor of England during the reign of Henry VIII.  When Henry mandates his subjects to sign an "Act of Supremacy" making him both spiritual and temporal leader of England in order to obtain papal approval for a divorce from Catherine of Aragon to marry Anne Boleyn, Sir Thomas cannot in good conscience comply. Written by Robert Bolt, and directed by Thom Babbes, it runs March 2 through April 15 at the Actors Co-op David Schall Theatre in Hollywood. For tickets call 323-462-8460 or visit www.ActorsCo-op.org.
"Cambodian Rock Band" is set in Phnom Penh, Cambodia and moves back and forth in time. It's the story of a young Cambodian American who has found evidence that could finally put away one of the Khmer Rouge's chief henchman, a man who oversaw the country's most notorious prison. But her work is far from done. Her Dad shows up unannounced—his first time back in Cambodia since fleeing 30 years ago— and it's clear that this isn't just a pleasure trip for him. Written by Lauren Yee, and directed by Chay Yew, it runs March 4 through March 25 at the South Coast Repertory in Costa Mesa. For tickets call 714-708-5555 or visit www.scr.org.
"The Graduate" Benjamin's got excellent grades, very proud parents and, having spent four years achieving a brilliant scholastic record, a clear uncertainty about this future, trying to avoid the one question everyone keeps asking: What does he want to do with his life?  An unexpected diversion crops up when he is seduced by Mrs. Robinson. And even more unexpected, he finds himself falling in love with the one person Mrs. Robinson demanded he stay away from, her upbeat and optimistic daughter, Elaine. Starring Melanie Griffith as Mrs. Robinson. Written by Charles Webb, adapted by Terry Johnson, and directed by Michael Matthews, it runs March 4 through March 25 at the Laguna Playhouse in Laguna Beach. For tickets call 949-497-2787 or visit www.lagunaplayhouse.com.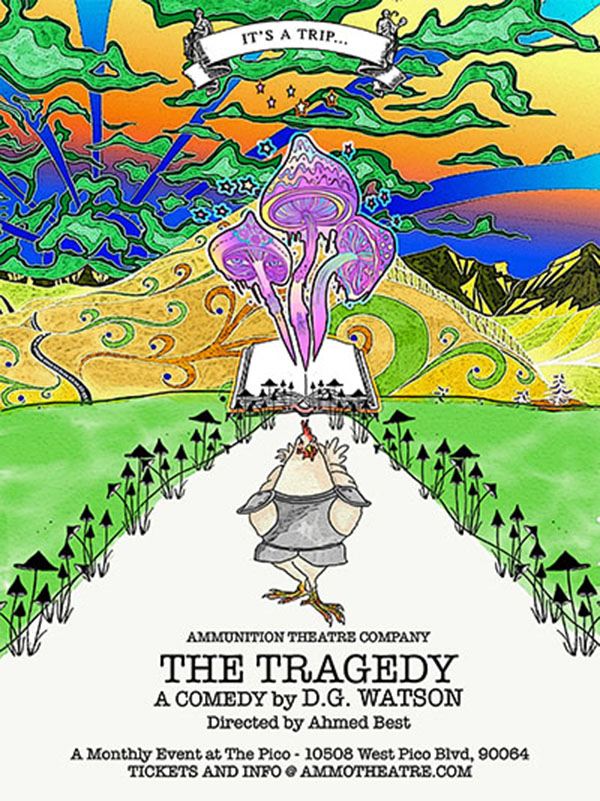 "The Tragedy: A Comedy" a wholly immersive theatrical experience, centering around three literary/talent managers – Larry (Malcolm Barrett, Timeless), Lisa (Tina Huang, Rizzoli & Isles), and Derek (Brandon Scott, Guerrilla), who go on a psychedelic mushroom trip, hoping they'll be struck with a brilliant idea that will save their failing business. Instead, the mushrooms reveal a chilling truth: their whole lives are the subject of a tragic play, with an audience of people watching their every move. As Larry slips deeper and deeper into his role as the tragic hero, Lisa and Derek undertake a mad quest to escape the confines of the play and save their friend. Greek goddesses, self-help cults, and inter-dimensional portals all set the stage for this interactive dark comedy about characters trapped inside a tragedy. Written by D.G. Watson, and directed by Ahmed Best, it runs March 8 through June 14 at the Pico Theatre in Los Angeles. For tickets visit www.ammotheatre.com.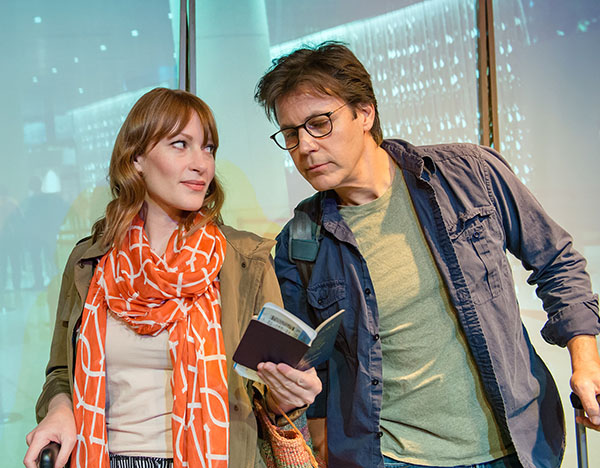 "Unemployed Elephants – A Love Story" A chance meeting in an airport lounge leads to a Burmese odyssey and a search for a missing monk… and maybe love. Written by Wendy Graf, and directed by Maria Gobetti, it runs March 9 through April 15 at the Little Victory Theatre in Burbank. For tickets call 818-841-5422 or visit www.thevictorytheatrecenter.org.
"King Lear" is the story of a narcissistic ruler who craves adulation, casts out those who doubt his decisions, and neglects those on the fringes of society. Considered by many to be Shakespeare's greatest masterpiece, KING LEAR is a haunting and epic saga of love, greed, family strife, and civil war. Written by William Shakespeare, and directed by James O'Neil, it runs March 14 through April 1 at the Rubicon Theatre in Ventura. For tickets call 805-667-2900 or visit www.rubicontheatre.org.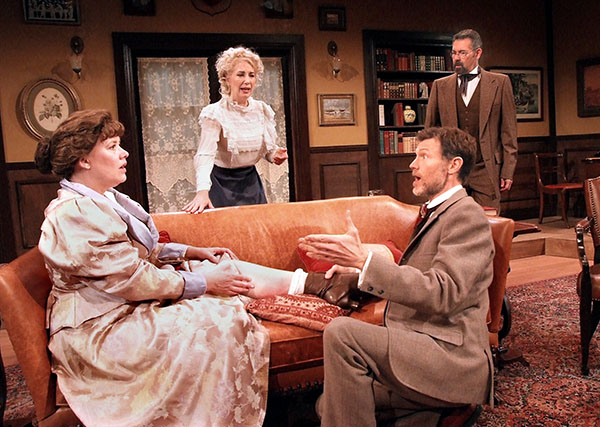 "Engaging Shaw" England, 1897. Charlotte Payne-Townshend, wealthy Irish heiress, meets George Bernard Shaw, the financially challenged but famous Irish playwright and political activist (He's a Fabian Socialist). Will sparks fly? Shaw is a notorious flirt and heartbreaker. He enjoys romancing women, though not particularly interested in sex. The thrill of the hunt is the main attraction for Shaw: the pursuit of women, not the keeping of them. In present-day parlance, he'd be considered a sexist. But Charlotte is not quite like any other woman that Shaw has met before. She is a woman that he must consider to be his intellectual peer. They thrive in each other's company, but can he resist her when she wants to take their relationship to the next level? "No man can resist a woman once she has set her sights on him, unless thwarted by another woman," declares Charlotte. But Beatrice Webb, co-founder of the London School of Economics, who introduced the pair, also has strong feelings for Shaw. Will Charlotte get her man? Written by John Morogiello, and directed by Melanie MacQueen, it runs March 15 through April 15 at the Theatre 40, in the Reuben Cordova Theatre in Beverly Hills. For tickets call 310-364-0535 or visit www.theatre40.org.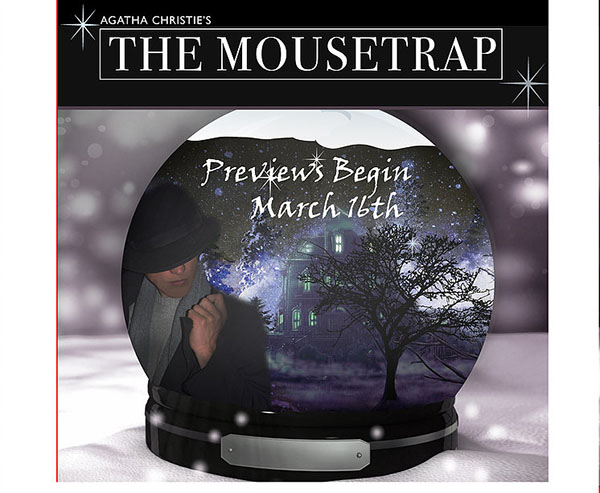 "The Mousetrap" A group of strangers is stranded in a boarding house during a snowstorm, one of whom is a murderer. Suspects include the newly married couple who run the house, a spinster with a curious background, an architect who seems better equipped to be a chef, a retired Army major, a strange little man who claims his car has overturned in a drift, and a jurist who makes life miserable for everyone. Into their midst comes a policeman, traveling on skis. He probes the background of everyone present, and rattles a lot of skeletons. Written by Agatha Christie, and directed by Sonny Lira, it runs March 16 through May 6 at the Crown City Theatre in North Hollywood. For tickets call 818-605-5685 or visit www.crowncitytheatre.com.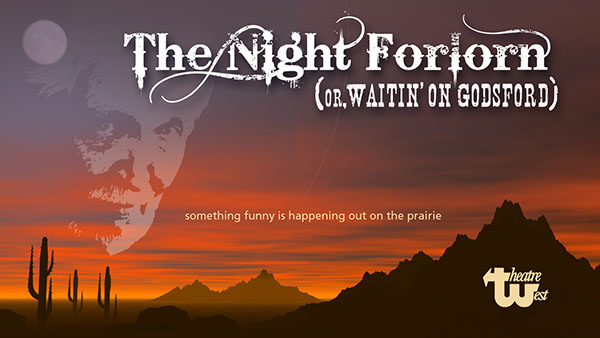 "The Night Forlorn (or, Waitin' on Godsford)" is a re-imagining of Beckett's Waiting for Godot, set in the West during the 1870s. At a campfire out on the prairie, two none-too-bright cowpokes wait for their leader Godsford and for instructions about "the plan." There's been a hanging in town, and they may or may not have been part of it — in the flurry of what happened, things are somewhat unclear to them. All they are sure about is that Godsford has told them to meet them here by the tree. Into their midst come several tumbleweed characters — all of whom may change the course of their destiny in one way or another. A comedic journey which utilizes the roots of vaudeville as well as the absurdity of Beckett, the play is in many ways an homage to the elegiac westerns of Ford and Peckinpah. Written by Steve Nevil, and directed by Arden Teresa Lewis, it runs March 16 through April 22 at the Theatre West in Los Angeles. For tickets call 323-851-7977 or visit www.theatrewest.org.
"No Exit" Three strangers are locked together in a belligerently distasteful room for eternity. Without the expected torture to occupy them, they are forced to simply exist. There is no escape: from the room, each other, and worst of all themselves. Written by Jean-Paul Sartre, and directed by Ye'ela Rosenfeld, it runs March 16 through April 8 at the Chromolume Theatre in Los Angeles. For tickets visit www.plays411.com/noexit.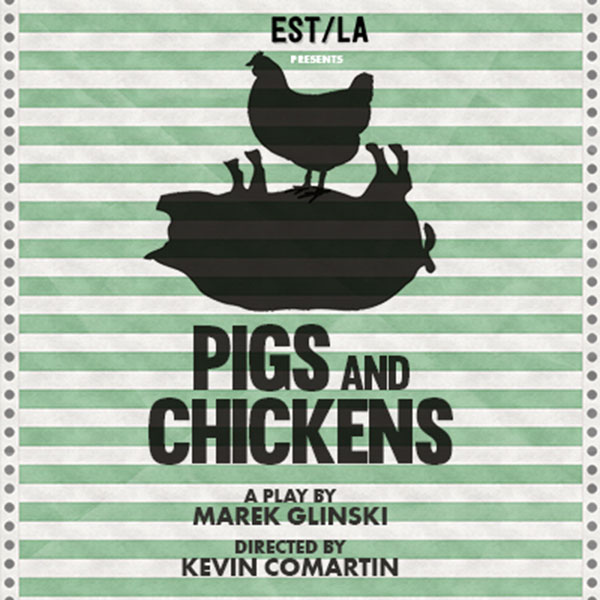 "Pigs and Chickens" While working at a chaotic tech startup, a woman tries to overcome her hellish anger management problem and get along with her buggy coworkers, human and otherwise. Marek Glinski breathes humor into the perils of individuals coexisting with technology. Written by Marek Glinski, and directed by Kevin Comartin, it runs March 16 through April 15 at the Ensemble Studio Theatre/LA in Los Angeles. For tickets call 818-839-1197 or visit www.dime.io/events/pigs-and-chickens.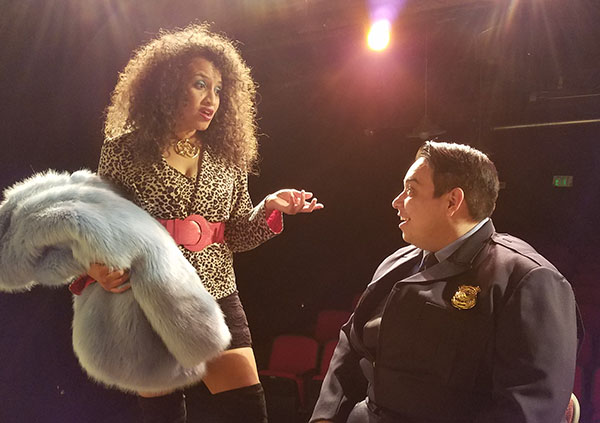 "Sister Act" takes place in Philadelphia in 1978, where disco diva Deloris Van Cartier witnesses a murder and is put in protective custody in the one place the cops are sure she won't be found: a convent! Disguised as a nun, she finds herself at odds with the rigid lifestyle imposed by uptight Mother Superior. Using her unique disco moves and singing talent to inspire the choir, Deloris breathes new life into the church and community, but in doing so, blows her cover. Soon, the gang is giving chase, only to find themselves up against Deloris and the power of her newly-found sisterhood. Written by Bill and Cheri Steinkellner, with additional material by Douglas Carter Beane, with music by Allen Menken, lyrics by Glenn Slater, and directed by Ben Lupejkis, it runs March 16 through April 21 at the Westchester Playhouse in Westchester. For tickets call 310-645-5156 or visit www.kentwoodplayers.org.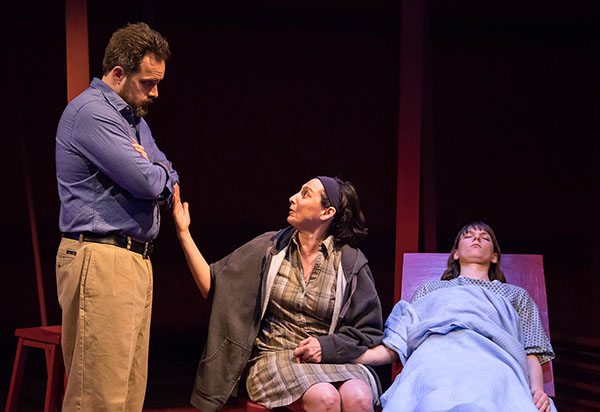 "An Undivided Heart" Set in 1992 Massachusetts against the backdrop of the Catholic Church sexual abuse scandal and a toxic drinking water scandal (the latter made famous by the book and film "A Civil Action"), An Undivided Heart is part thriller and part spiritual mystery. A series of otherworldly visions and an unlikely encounter with a Zen priest propel Father Mike Cleary into a collision course with his Archdiocese, while Lynne Callahan, a young widow, struggles to make sense of her life in a town whose water has been polluted with deadly chemicals. The two confront a universal problem: How do victims of suffering caused by others find a way to go on? Written by Yusuf Toropov, and directed by Chris Fields, it runs March 16 through April 22 at the Echo Theater Company in Atwater Village. For tickets call 310-307-3753 or visit www.EchoTheaterCompany.com.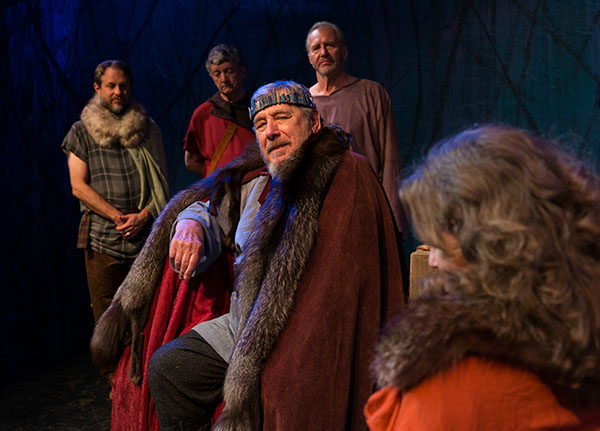 "King Lear" follows an aging sovereign who announces that he will divide his kingdom among his three daughters in proportion to their professed affection for him. When his youngest daughter Cordelia refuses to flatter her father falsely, Lear becomes irrational and enraged, exiling his beloved child and his longtime friend and advisor, the Earl of Kent, and the kingdom is thrown into a state of confusion. More family drama ensues when Edmund, the illegitimate son of the Earl of Gloucester, convinces his father that his half-brother Edgar intends to murder Gloucester. Lear's elder daughters Goneril and Regan reveal their true natures and turn on their father; and Lear, his Fool and companions find themselves in a raging, bitter storm. As the monarchy collapses, Lear descends into madness. Lear ultimately comes to understand the folly of his actions, too late to save those who were most loyal to him. Written by William Shakespeare, and directed by James O'Neil, it runs March 17 through April 1 at the Rubicon Theatre in Ventura. For tickets call 805-667-2900 or visit www.rubicontheatre.org.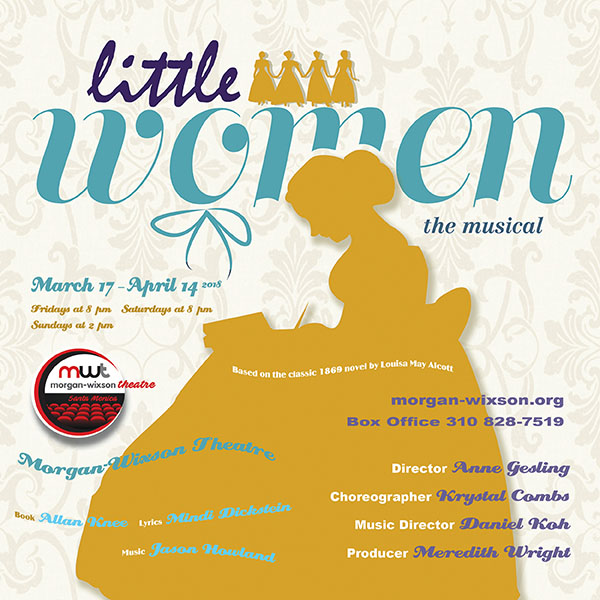 "Little Women, The Musical" follows the adventures of the four March sisters, Jo, Meg, Beth, and Amy, and their experiences growing up in Civil War America. It's a coming-of-age tale filled with drama, romance, humor, and song, all under the watchful eye of the girls' beloved Marmee while their father is away at war. Written by Allan Knee, with music by Jason Howland, lyrics by Mindi Dickstein, and directed by Anne Gesling, it runs March 17 through April 14 at the Morgan-Wixson Theatre in Santa Monica. For tickets call 310-828-7519 or visit www.morgan-wixson.org.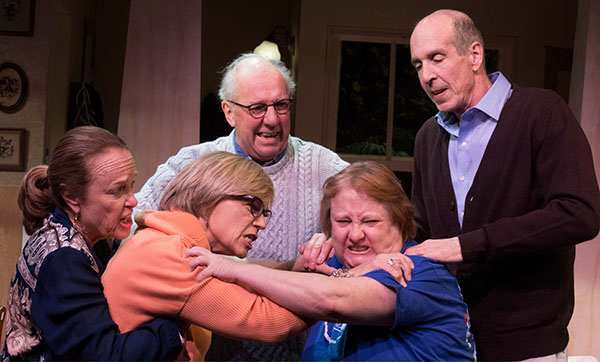 "El Niño" Will the winds blow? The rains come? The cat die? Legendary local playwright Justin Tanner fashions a new laugh-out-loud comedy that encompasses his talent for writing and touching on an equally brilliant underbelly of sadness for humankind. Once again discover all that you've come to love about a Tanner piece, including his regular cast. Written by Justin Tanner, and directed by Lisa James, it runs March 22 through April 22 at the Rogue Machine in the MET Theatre in Los Angeles. For tickets call 855-585-5185 or visit www.roguemachinetheatre.com.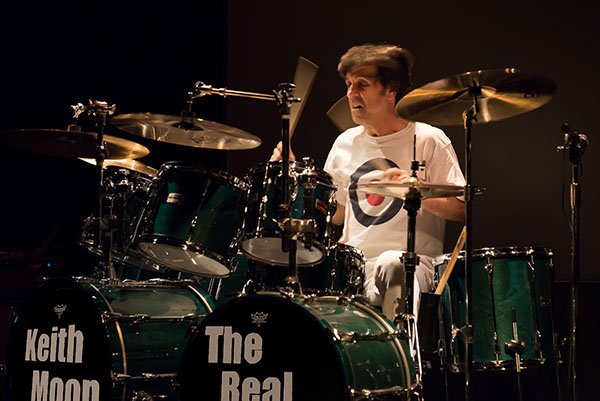 "Keith Moon: The Real Me" explodes on the stage with the turmoil and excitement of the wildest drummer in rock and roll history. A living legend during his lifetime, Keith Moon still stands as the pinnacle of rock-star extremism — both in life and in music. The show explores Moon's state of mind as he attempts to save himself from the unbearable burden of living up to (or down to) his self-created legend of 'Moon the Loon.' As Moon attempts to save himself, he takes the audience on a journey through his early struggles, joining The Who, and their rise as one of the world's greatest rock bands. By the show's end, the audience intimately knows the man behind the myth — his acute vulnerability and insecurity, and his struggle to escape the ever-looming rock and roll crash landing. Contains explicit language and adult themes of drug use and sexuality. Written by Mick Berry, with music by Pete Townshend, and directed by Nancy Carlin, it runs March 23 through April 15 at the Hudson Theatre Mainstage in Hollywood. For tickets call 323-965-9996 or visit www.plays411.com/keithmoon.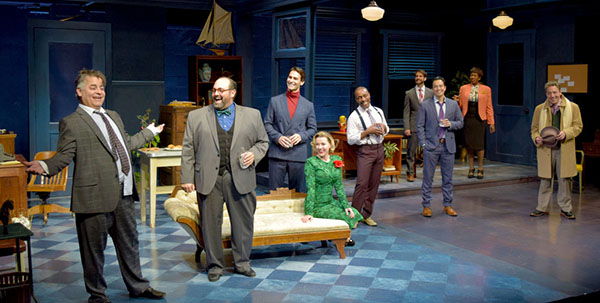 "Laughter on the 23rd Floor" follows the rollercoaster antics that catapult a not-your-average 1950s writers' room into the comedy fray, as they frantically attempt to please their larger-than-life boss of a weekly comedy variety show. Locked in an ongoing battle with NBC executives, who fear the show's humor is too sophisticated for Middle America, the writing and fighting of the team expose the social and political undercurrents of the 1950s—reflecting back the ongoing tensions in today's America in this updated, reimagined production. Written by Neil Simon, and directed by Michael A. Shepperd, it runs March 23 through April 22 at the Garry Marshall Theatre in Burbank. For tickets call 818-955-8101 or visit www.garrymarshalltheatre.org.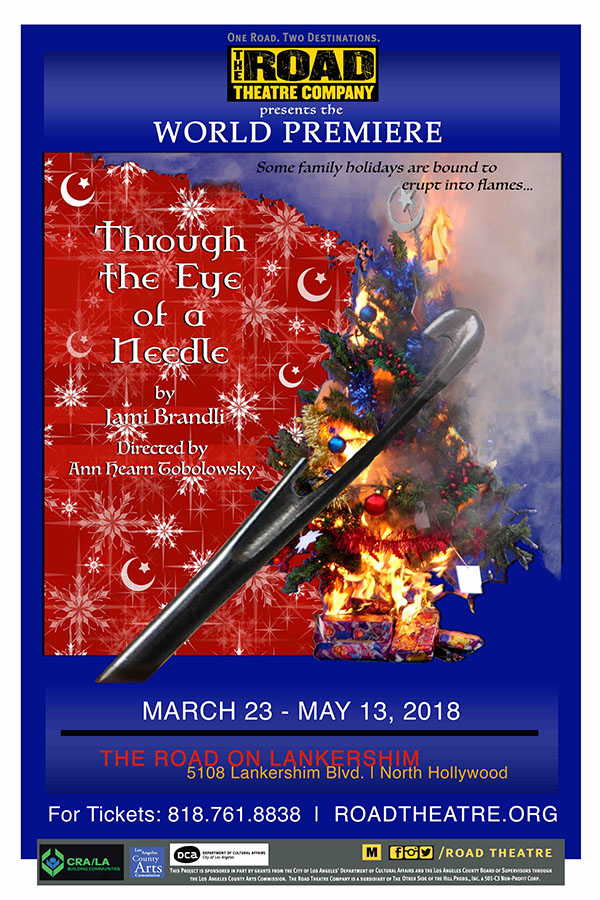 "Through the Eye of a Needle" The Keen family is dealing with the recent tragedy concerning their daughter, Dana, a navy corpsman in the Iraq War. Larry copes with a tumbler of scotch, or five, Barbara sets an extra plate setting and Samantha, their teenage daughter, secretly uses Twitter to create a protest. Then Nasser, an Iraqi refugee, arrives at their door unannounced on Christmas Eve.  As the family fights over whether or not to keep Nasser's "gift", tempers fly and secrets are revealed. Will the Keens be pulled further apart or will they find grace and redemption in this intriguing family dramedy? Written by Jami Brandli, and directed by Ann Hearn, it runs March 23 through May 26 at the Road Theatre on Lankershim in North Hollywood. For tickets call 818-761-8838 or visit www.RoadTheatre.org.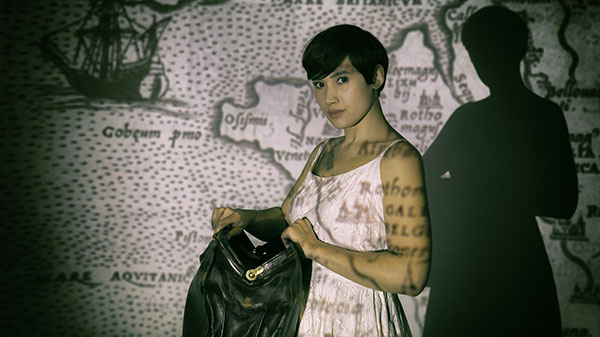 "All's Well That Ends Well" features an extraordinary heroine. Helena is a young woman brought up by her father to be a physician. She falls in terrible, unrequited love with Bertram, the son of the Countess her father served. When Bertram leaves to seek his fortune, she sets out in a pursuit both daring and foolhardy. It is a journey that requires all her intelligence, spirit, and more than a little subterfuge. Featuring live music played by the cast. Written by William Shakespeare, with music by Dave Beukers, and directed by Melissa Chalsma, it runs March 24 through April 22 at the Atwater Crossing Arts + Innovation Complex in Atwater Village. For tickets call 818-710-6306 or visit www.iscla.org.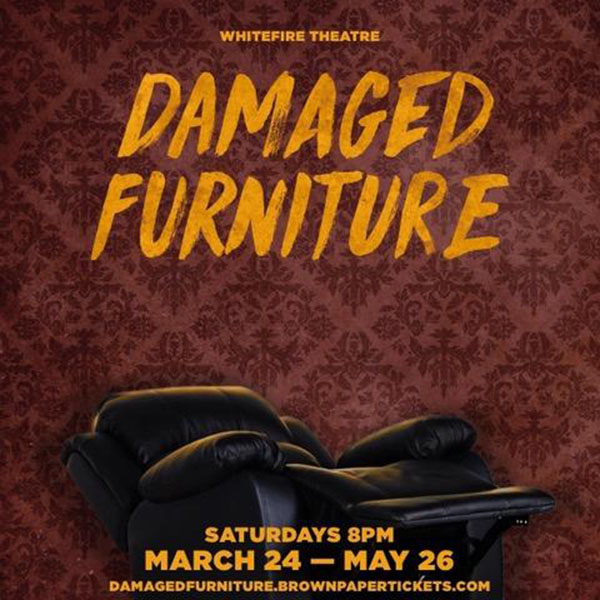 "Damaged Furniture" After a shocking furniture accident claims the life of his uncle, an LA actor must work in his family business in Brooklyn, and is confronted not only by his dysfunctional family, but what lead him to become an actor in the first place. Written by Howard Skora, and directed by Jim Fall, it runs March 24 through May 26 at the Whitefire Theatre in Sherman Oaks. For tickets visit www.damagedfurniture.brownpapertickets.com.
"Shrew!" delves into Kate's and Petruchio's back stories. For Kate, it's breaking free of the constraints on women of the late 16th century and enjoying all the rights and opportunities that men in her society enjoyed. For Petruchio, it's a smoothing-out of his stock braggadocio with more complicated dimensions and creating in him a suitable spouse for Kate. Written by Amy Freed, and directed by Art Manke, it runs March 24 through April 21 at the South Coast Repertory in Costa Mesa. For tickets call 714-708-5555 or visit www.scr.org.
"Mulatto Math" Original music fuels writer/performer Monique DeBose's exploration of race, family and identity through the lens of being mixed race. Written by Monique DeBose, with music by Monique DeBose, and directed by Denise Dowse, it runs March 25 through May 6 at the Whitefire Theatre in Sherman Oaks. For tickets visit www.MulattoMath.com.
"Chico's Angels: Love Boat Chicas" Kay goes undercover as Charo, (Fortunately, she is the spitting image of the Spanish classical guitarist) with Chita in tow, as her choreographer/manager (Chita has seen A Chorus Line 32 times…at the East LA Quienceanera Palace/cafetorium). Frieda joins the crew as the new Cruise director (cruising is one of her off-duty specialties.) Finally, Bossman provides back up, undercover as Isaac, your bartender (Bar…enough said). Written by Oscar Quintero and Kurt Koehler, and directed by Kurt Koehler, it runs March 28 through April 8 at the Cavern Club Theater inside Casita Del Campo Restaurant in Los Angeles. For tickets visit www.chicosangels.com.
"Threat" is a story of a psychotherapist who tries to control a bipolar, brilliant and dangerous maniac in order to save innocent lives but finally is forced to a make a bold choice between honoring her oath and protecting others. It asks the question of whether a psychotherapist treating a troubled student could have prevented the carnage we've seen time and time again at schools across America. Full of suspense and catharsis, Threat is a tense exploration of narcissism, risk and self-realization. Written by Louis Felder, and directed by Asaad Kelada, it runs March 29 through May 4 at the Whitefire Theatre in Sherman Oaks. For tickets call 805-419-8327 or visit www.brownpapertickets.com/event/3343157.
"Akuma-shin" In 1956, a giant kaiju (monster) destroys Tokyo and sends seismic waves of fear, anger and ignorance through generations. Facts are questioned, history is alternatively written and modern politics is set against primal religion in this ferociously civilized cautionary tale of two nations coping with their own damaged legacies. Can humanity reckon with the monsters that rise against us, the ones that live within us all? Written by Kenley Smith, and directed by Scott Leggett, it runs March 30 through April 28 at the Broadwater Theater Complex in Los Angeles. For tickets visit www.sacredfools.org.
"Macbeth" Combining the beautiful, macabre text of Macbeth with movement and dance, this production explores Shakespeare's brutal play of a Scottish king driven mad from his own ambitions from a different angle that's all too relevant today. In this debut show, Lady Macbeth is a survivor of horrifying abuse, flipping the script and challenging us to end the cycle of violence perpetrated through toxic masculinity, often passed on from father to son. Written by William Shakespeare, and directed by Heidi Powers, it runs March 30 through April 29 at the McCadden Place Theatre in Los Angeles. For tickets visit www.survivingmacbeth.brownpapertickets.com.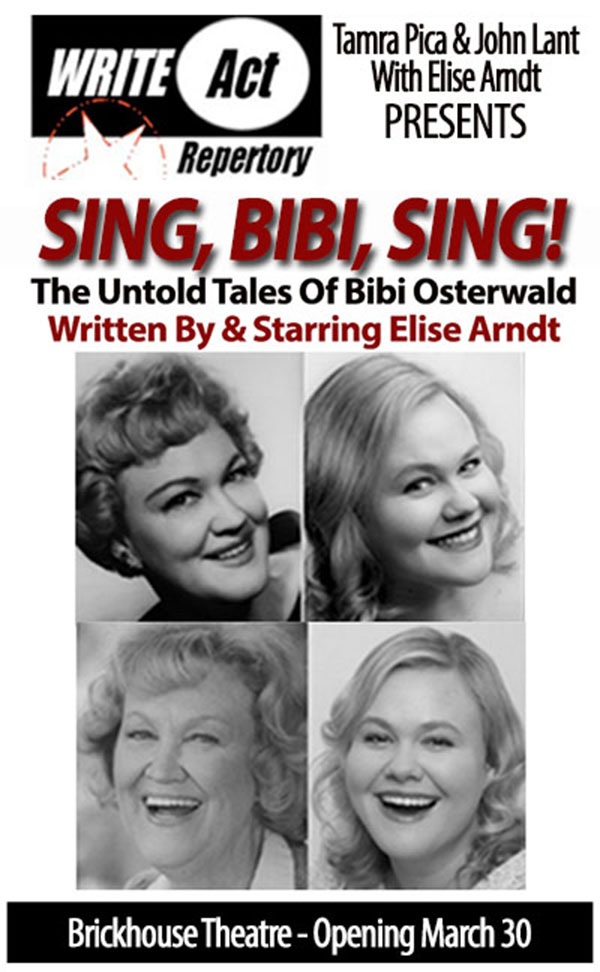 "Sing, Bibi, Sing! The Untold Tales of Bibi Osterwald" Chronicles the untold tales of Bibi Osterwald, veteran actress of stage and screen. As the renowned standby for Hello Dolly, Bibi worked with some of the biggest names in the biz and left her legacy to her granddaughter to share. Tonight, we crack open Bibi's songbook and weave together their two stories to celebrate the triumphs…and trials that accompany forging a career in the arts. The musical lineup spotlights popular jazz standards, go-to staples from Bibi's nightclub act, and of course, some Broadway medleys. Written by Elise Arndt, with music by Doug Peck, and directed by Christine O'Grady, it runs March 30 through April 8 at the Write Act Rep at The Brickhouse Theatre in North Hollywood. For tickets visit www.elisearndt.com.
Enjoy life more – see a show tonight!