Here are some of the shows you can see in our local theaters this month: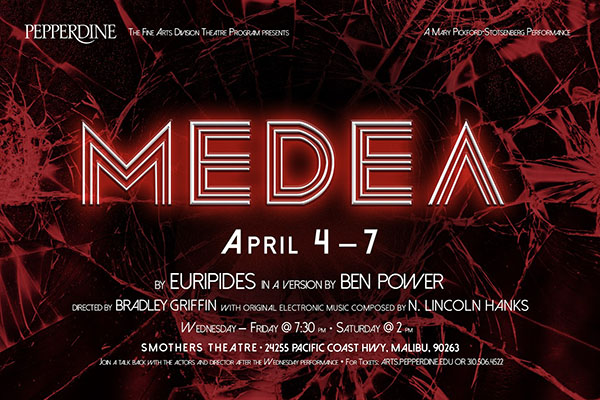 "Medea" Medea is a wife, a mother, and an immigrant. When her husband abandons his family for a new life, she exacts an appalling revenge and destroys everything she holds dear. First staged at the Theatre of Dionysus in Athens, Greece, Medea has intrigued and terrified audiences for nearly 2,500 years. Written by Euripedes, version by Ben Power, and directed by Bradley Griffin, it runs April 4 through April 7 at the Smothers Theatre, Pepperdine University in Malibu. For tickets call 310-506-4522 or visit www.arts.pepperdine.edu.
"Confessions of a Mulatto Love Child" is a hilarious, touching, and poignant story of a daughter, her eccentric mother, and the deep bond they forged on an extraordinary coast-to-coast journey. Written by Bellina Logan, and directed by Maggie Soboil, it runs April 6 through May 6 at the Los Angeles LGBT Center's Renberg Theatre in Hollywood. For tickets call 323-860-7300 or visit www.lalgbtcenter.org/theatre.
"Midnight Requisitions" three sisters, Gray (Serena Anis), Ash (Laura Walker) and Heather (Kelsey Risher) gather for their father David's (Morris Schorr) wake. Their long-estranged mother Maggie (Michelle Begley) arrives with her new husband Ernesto (Gerry Del Sol) hoping to make a new start with her daughters, but when buried hurt, anger and misunderstandings begin to surface, the family discovers that David's life was not what everyone thought it was. Written by Craig Jessen, and directed by James Carey, it runs April 6 through April 29 at the Arena Stage, Hollywood's Theatre of Arts in Hollywood. For tickets call 772-828-0668 or visit www.brownpapertickets.com/event/3368581.
"Play On!" IT'S THREE DAYS before the opening night of Murder Most Foul and the biggest mystery is whether the cast can make it through even one rehearsal. But how can they do that when the set isn't done and the playwright keeps rewriting the script? A fast and funny backstage farce for the whole family! Written by Rick Abbot, and directed by Sherry Coon, it runs April 6 through May 13 at the Pierson Playhouse in Pacific Palisades. For tickets call 310-454-1970 or visit www.theatrepalisades.org.
"The Columbine Project" An atemporal retelling of the events leading up to, during and following the April 20, 1999 shooting at Columbine High School, The Columbine Project challenges what we think we know about the victims, families, teachers and the shooters themselves. Written by Paul Storiale, and directed by Bree Pavey, it runs April 7 through May 20 at the Loft Ensemble in Sherman Oaks. For tickets visit www.artful.ly/store/events/14848.
"Little Black Shadows" is set in pre-Civil War Georgia, where child-slaves Toy and Colis spend long days on the plantation silently serving adolescent twins in the big plantation house. But in the dead of night, Toy and Colis' world comes alive, as they lie beneath their masters' beds whispering stories to each other through a vent in the wall. When the Father announces that the family is moving to Louisiana, the children face uncertain futures and wonder if they dare come out of the shadows. Written by Kemp Powers, and directed by May Adrales, it runs April 8 through April 29 at the South Coast Repertory in Costa Mesa. For tickets call 714-708-5555 or visit www.scr.org.
"Nathan Gunn Flying Solo" America's leading baritone Nathan Gunn sings selections from classic American musicals, contemporary songs and a little bit of opera fun in his personal story, FLYING SOLO. This "Sexiest Man Alive" recounts how he became elder of his heritage, the Scottish Clan GUNN, and learned what life is really about is this world premiere, moving, musical journey. But there's a whole lot more to this story about a boy who wants nothing more than to please his Scottish Dad as he becomes an elder of his heritage, the Scottish Clan GUNN, and who ends up realizing what life is really about. Written and directed by Hershey Felder, with music by Michael Bagby, it runs April 8 through April 22 at the Laguna Playhouse in Laguna Beach. For tickets call 949-497-2787 or visit www.lagunaplayhouse.com.
"Vote, Pray, Love" In 2016, Ryan O'Connor took a break from show business to work as a Field Organizer for the Hillary Clinton Presidential Campaign in Pontiac, Michigan. Now returning to the cabaret stage, Vote, Pray, Love is an exploration of how his 150-pound weight loss, sobriety from drug and alcohol abuse, a career implosion, and a sudden divorce led to his unlikely redemption in the middle of nowhere. Told through story and song, O'Connor's uniquely comic and vulnerable voice shines in this exciting, engaging, and emotionally cathartic night of entertainment. Written by Ryan O'Connor, and directed by Marissa Jaret Winokur, it runs April 8 through April 16 at the Celebration Theatre at The Lex in Hollywood. For tickets call 323-957-1884 or visit www.CelebrationTheatre.com.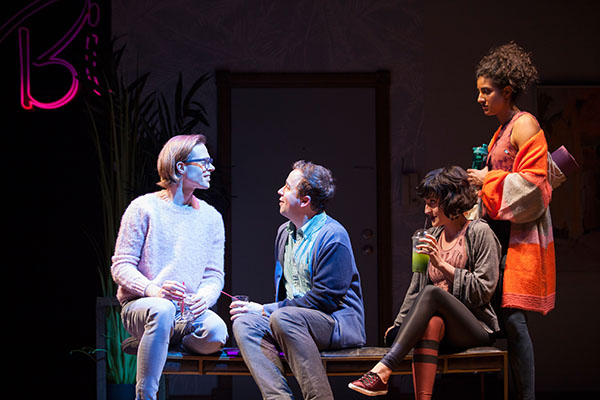 "Significant Other" follows Jordan, a single, young professional with a close group of female friends who slowly drift away as they each get married while he searches for his own "Mr. Right.". Written by Joshua Harmon, and directed by Stephen Brackett, it runs April 11 through May 6 at the Gil Cates Theater at the Geffen Playhouse in Los Angeles. For tickets call 310-208-5454 or visit www.geffenplayhouse.org.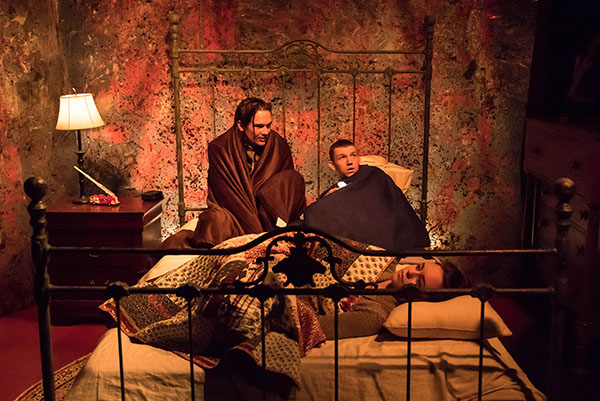 "What Happened When" On a snowy night in a rural farmhouse, three siblings huddle together in the dark with a flashlight, while the audience (unseen by them) gathers closely around. Written by Daniel Talbott, and directed by Chris Fields, it runs April 12 through April 26 at the Echo Theater Company Atwater Village Theatre in Atwater. For tickets call 310-307-3753 or visit www.EchoTheaterCompany.com.
"The Willows" At The Willows funeral home, Mark is being groomed to take over the family business from his father. But an unexpected reunion with the one that got away could derail those carefully laid plans in this moving new play about family, loss and love. Written by Kerri-Ann McCalla, and directed by Jessica Hanna, it runs April 12 through May 5 at the Bootleg Theater in Los Angeles. For tickets call 213-389-3856 or visit www.bootlegtheater.org.
"All Shook Up" The songs of Elvis Presley form the backdrop for this musical about a mysterious, leather-jacketed stranger who shakes up a small Midwestern town in the 1950s. Tony Award Winner Joe DiPietro's tale of the cross-dressing, mistaken identity and romance that ensue was inspired by Twelfth Night and other Shakespearean comedies. Featuring the hit songs we have learned to love "Love Me Tender," "Heartbreak Hotel," "Jailhouse Rock," and "Can't Help Falling in Love.". Written by Joe DiPietro, it runs April 13 through April 22 at the El Portal Theatre Debbie Reynolds Mainstage in North Hollywood. For tickets call 818-508-4200 or visit www.elportaltheatre.com.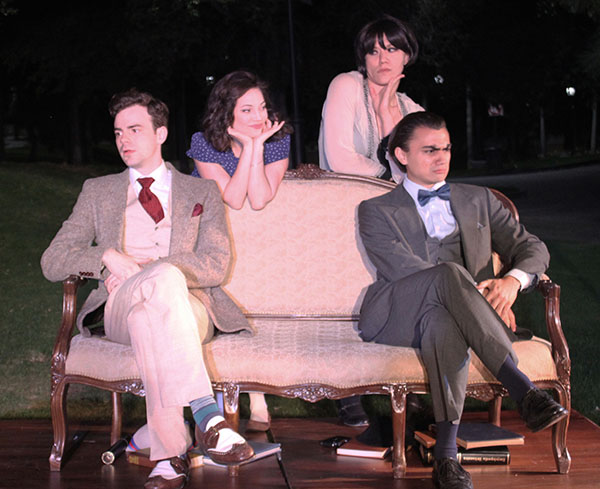 "The Importance of Being Earnest" involves the doings of two best friends, Jack and Algy (Algernon). Jack lives in the country, protective of his young ward, the "excessively pretty" heiress Cecily Cardew. But he likes to get away to London and the attractions of the city, so he has invented a rascally brother in London named Ernest to whom he must occasionally attend, necessitating his periodic departure from the country. The biggest draw in London for Jack is Algy's cousin, the beautiful Gwendolen Fairfax. Algy, meanwhile, goes to Shropshire posing as Ernest in an attempt to woo Cecily. It also turns out that both women are attracted to men with the name of Ernest, so naturally both fellows make arrangements to have themselves re-christened. In the course of things, the deceptions of Jack and Algy will be found out. Can their lady loves possibly forgive them? It ultimately turns out that Jack and Algy share more in common than they could possibly have imagined, and that they have destinies that neither could have suspected. Written by Oscar Wilde, and directed by Rebecca Lynne, it runs April 13 through April 28 at the Brand Park in Glendale. For tickets visit www.deanproductionstheatre.com.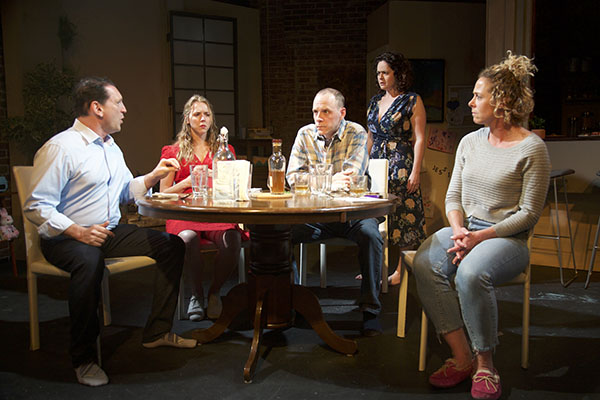 "The Intimacy Effect" It's Matt Appel's 40th birthday and his wife Amy can't stop crying. His brother and sister-in-law arrive for a celebratory dinner and are ambushed with news that threatens to fracture the Appel family's already strained relationships. As the past intrudes upon the present, boundaries between public and private lives decay, bringing the darkest parts of each family member into the light. Written by Jeff Tabnick, and directed by Eric Hunicutt, it runs April 13 through May 6 at the Lounge Theatre in Hollywood. For tickets call 800-838-3006 or visit www.theintimacyeffect.brownpapertickets.com.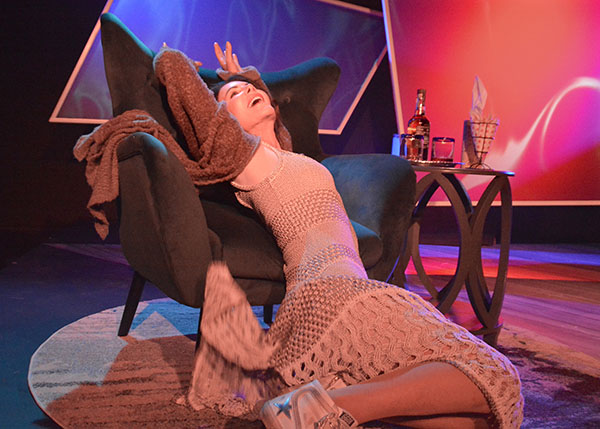 "L.O.V.E.R." Accomplished actress Lois Robbins takes us on a poignant and comic journey as one woman explores her sexual history, in what ultimately becomes her coming of age story. L.O.V.E.R. is a riff on childhood, adolescents and finally adulthood from a grown-up woman's point of view. Written by Lois Robbins, and directed by Sonia Sebastian, it runs April 13 through May 12 at the Zephyr Theatre in Los Angeles. For tickets call 323-960-5770 or visit www.plays411.com/lover.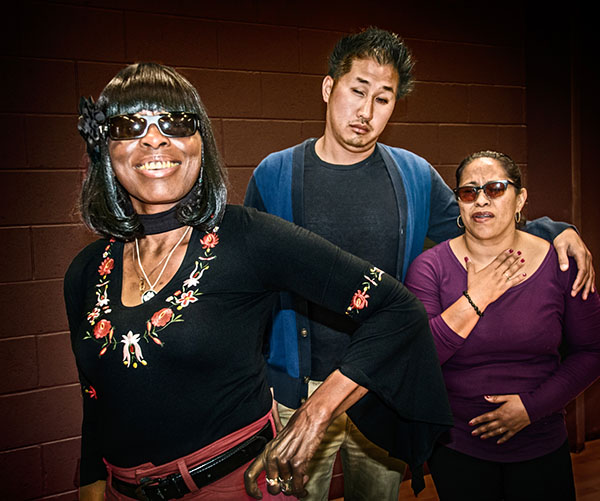 "Lost in the Light" centers on headstrong student Angel Taylor, blind since birth, who has always taken her sighted family's hyper-vigilance in stride alongside their overwhelming love and support. At the dawn of her budding journalism career, Angel learns about a rare opportunity to gain her vision through an experimental surgery. Along with her family, Angel grapples with the conflicting notions of seeing for the very first time or continuing to live in darkness. What will happen if she gains her vision but then finds herself lost in the light? A play with original songs that forces audiences to grapple with the question: Would you risk an experimental surgery if it meant it could restore your sight? Written by Pelita Dasalla, with music by Laurie Grant and Chloe Copoloff, and directed by Greg Shane, it runs April 13 through May 12 at the Blue Door in Culver City. For tickets visit www.creoutreach.org/lostinthelight.
"Waste Land" is a serio-comedy that lays bare the tumultuous love between T.S. Eliot and his first wife and muse, Vivienne. As he writes the poem that would be his masterpiece, a circle of notable friends—Ezra Pound, James Joyce, Virginia Woolf, Gertrude Stein and Bertrand Russell—populate his life with witty banter, biting commentary, and moments of joy and self-doubt that informs all of their work. Written by Don Nigro, and directed by Steve Jarrard, it runs April 13 through May 6 at the studio/stage in Los Angeles. For tickets call 323-860-6569 or visit www.brownpapertickets.com/event/3321593.
"West Side Story" tells the ageless tale of Romeo and Juliet is set against the backdrop of NYC gang warfare of the 1950's. As rival gangs battle over their turf, a boy and a girl from opposing sides fall in love and begin their tragic fight for survival. This gem includes well loved songs such as "Tonight," "Somewhere," and "Maria.". Written by Arthur Laurents, with music by Leonard Bernstein, lyrics by Stephen Sondheim, and directed by Danny Michaels & Orlando Alexander, it runs April 13 through May 26 at the Glendale Centre Theatre in Glendale. For tickets call 818-244-8481 or visit www.glendalecentretheatre.com.
"Belleville" concerns young Americans Zack and Abby: they appear to be a perfect couple, with the perfect ex-patriot life in Paris – a funky bohemian apartment in up-and-coming Belleville, a stable marriage, and Zack's noble mission at Doctors Without Borders to fight pediatric AIDS. But when Abby finds Zack at home one afternoon when he's supposed to be at work, their marriage begins to show cracks as an ordinary night unravels into a modern-day thriller. Herzog's new play is a Hitchcock-style drama, and a captivating evening of intrigue and suspense. Written by Amy Herzog, and directed by Jenna Worsham, it runs April 18 through May 13 at the Pasadena Playhouse in Pasadena. For tickets call 626-356-7529 or visit www.PasadenaPlayhouse.org.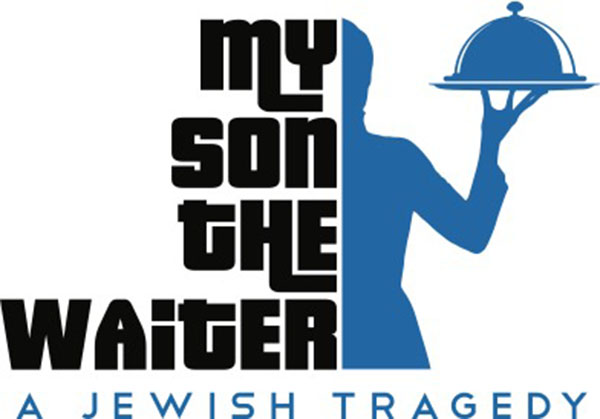 "My Son the Waiter: A Jewish Tragedy" is the hilarious tale of Brad Zimmerman's struggle to fulfill his dream and make it as a comedic actor in New York. One-part standup, one-part theatrical, and all parts uproarious, the show has garnered rave reviews wherever it has played, including sold-out runs off-Broadway and at dozens of other venues throughout the USA. Written and directed by Brad Zimmerman, it runs April 19 through June 10 at the Colony Theatre in Burbank. For tickets call 855-448-7469 or visit www.mysonthewaiter.com.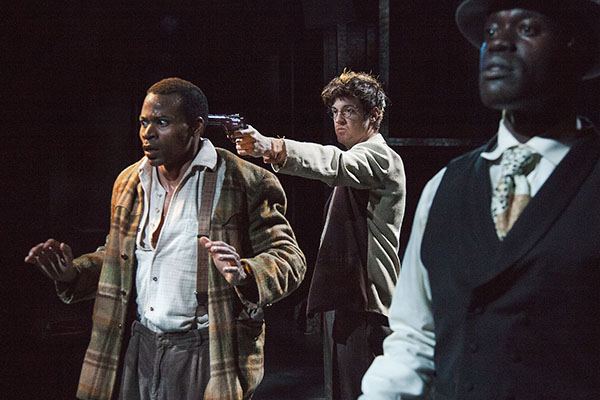 "Native Son" Suffocating in rat-infested poverty on the South Side of Chicago in the 1930s, Bigger Thomas struggles to find a place for himself in a world whose prejudice has shut him out. After taking a job in a wealthy white man's house, Bigger unwittingly unleashes a series of events that violently and irrevocably seal his fate. Written by Nambi E. Kelley from the novel by Richard Wright, and directed by Andi Chapman, it runs April 19 through June 3 at the Kiki & David Gindler Performing Arts Center in Glendale. For tickets call 818-506-1983 or visit www.Antaeus.org.
"Death Before Cocktails" When your famous twin sister's suicide letter instructs you to put together a makeshift wake in a Palm Springs cocktail lounge, what can you do but grant her final wish? LA writer Lana arrives in Palm Springs to host an evening with competing ex-lovers, surprising new flames, and enough arousing confessions to raise the dead. Written and directed by Laureen Vonnegut, it runs April 20 through May 13 at the Theatre 68 in North Hollywood. For tickets visit www.buytickets.at/deathbeforecocktails/155994.
"Hair" defined the "rock musical," exuberantly celebrating the hippie counterculture, anti-war movement and sexual revolution of the 1960s with a rainbow score of hits – including "Aquarius," "Hair," "Easy to be Hard," "Be In," "Where Do I Go?" "Good Morning Starshine," and "Let the Sunshine In" – that have become ingrained in pop culture. Written by James Rado, with music by Galt MacDermot, lyrics by James Rado, and directed by Michael Arabian, it runs April 20 through June 30 at the Palace Theatre in Los Angeles.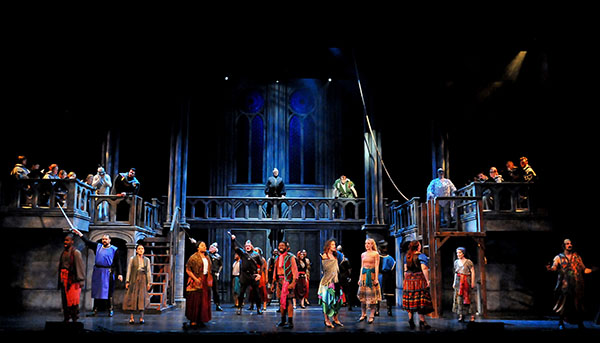 "The Hunchback of Notre Dame" Who is the monster and who is the man? For the first time ever on the Civic Arts Plaza stage, Victor Hugo's classic novel comes to life with dramatic spectacle and songs that soar! With music by Alan Menken and lyrics by Stephen Schwartz, the show is based on the Walt Disney Animation Studios film of the same name, and features popular songs such as "God Help the Outcasts." This is musical theatre at its best! Written by Peter Parnell, based on the Victor Hugo novel, with music by Alan Menken, lyrics by Stephen Schwartz, and directed by Misti B. Wills, it runs April 20 through April 29 at the Kavli Theatre at the Thousand Oaks Civic Arts Plaza in Thousand Oaks. For tickets call 800-745-3000 or visit www.5startheatricals.com.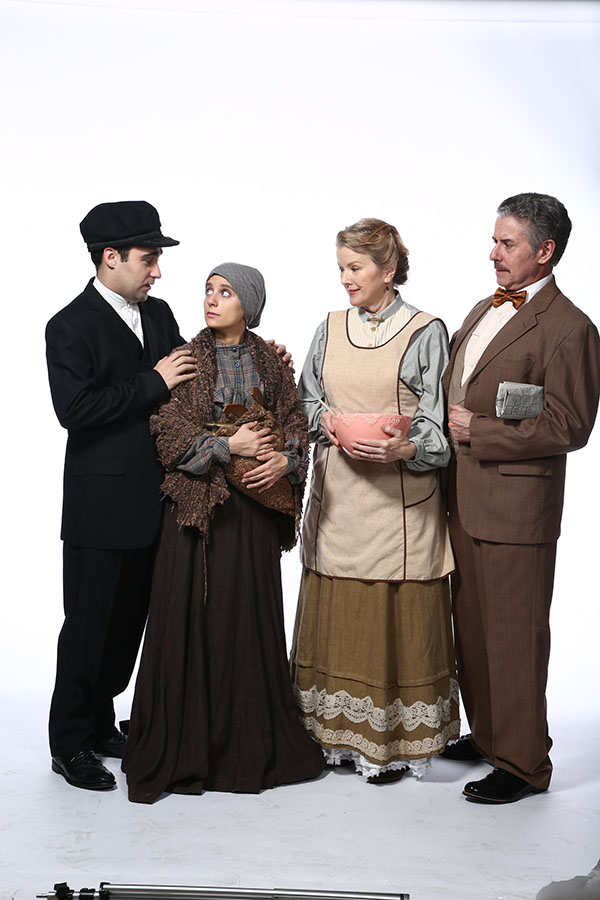 "The Immigrant" Rural Central Texas, 1909. A young Russian-Jewish immigrant, newly arrived in America through the port of Galveston, pulls his banana cart into the hamlet of Hamilton. Fleeing the vicious pogroms of his homeland, he has sought refuge in the land of the free. Able to speak only Yiddish, alone in the midst of a staunchly Christian community, he is offered shelter. Over the next 30 years, he makes a home and raises a family in this tiny town. THE IMMIGRANT is the story of a young Russian-Jewish couple and the local couple that take them in, as religion meets religion, culture meets culture, fear meets fear, and love meets love. Written by Mark Harelik, and directed by Simon Levy, it runs April 20 through May 26 at the Sierra Madre Playhouse in Sierra Madre. For tickets call 626-355-4318 or visit www.sierramadreplayhouse.org.
"Their Finest Hour: Churchill and Murrow" This full-length play sheds light on the unique relationship between Winston Churchill and Edward R. Murrow during the early years of WW II when England was under attack by Hitler's air-force. Murrow, who was covering the war for CBS Radio News, not only became friendly with Churchill, but had a passionate and adulterous love affair with the Prime Minister's daughter-in-law. Written by Willard Manus, and directed by Stu Berg, it runs April 20 through May 25 at the Write Act Repertory @ the Brickhouse Theatre in North Hollywood. For tickets visit www.brownpapertickets.com/event/3328722.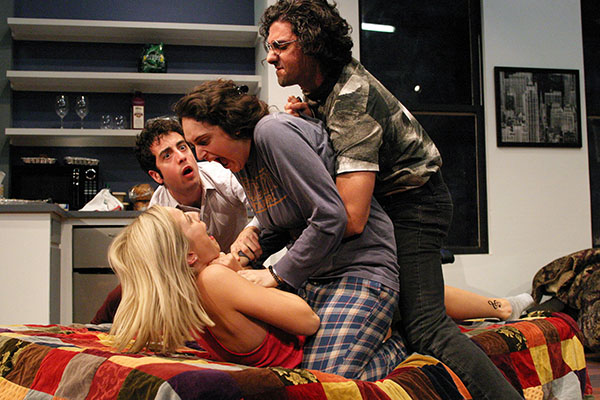 "Bad Jews" A beloved grandfather has died and a treasured family heirloom with religious significance is up for grabs — but who's the most deserving? Bossy, overbearing, self-declared "super-Jew" Daphna? Her wealthy cousin Liam, just returned from skiing with his shiksa girlfriend, Melody? Or Jonah, Liam's younger brother, who finds himself in the impossible position of peacemaker as the two rivals argue, insult and try to outwit each other to the bitter, hilarious end? Written by Joshua Harmon, and directed by Dana Resnick, it runs April 21 through June 17 at the Odyssey Theatre in Los Angeles. For tickets call 310-477-2055 Ext. 2 or visit www.OdysseyTheatre.com.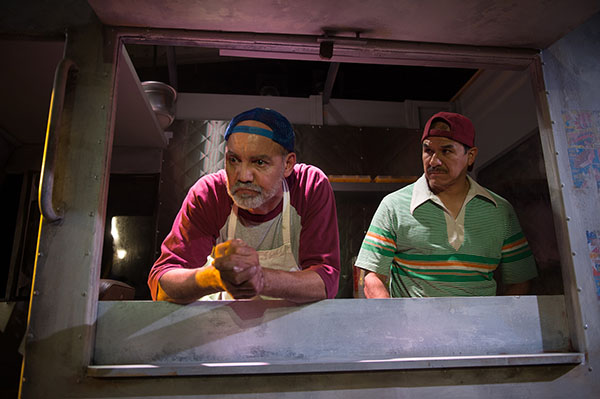 "Ice" Two baseball players from Sinaloa, Mexico arrive in the U.S. with big dreams… but no documents. Armed with their Tia's famous salsa recipe, the pair works day and night to make their taco truck the "Uncle Sam" of mobile restaurants. Will a contest to be "the most American food truck" at Dodger Stadium for the 4th of July prove to Immigration and Customs Enforcement that they belong? For adults and kids 8 and up. Written by Leon Martell, and directed by Debbie Devine, it runs April 21 through June 10 at the 24th Street Theatre in Los Angeles. For tickets call 213-745-6516 or visit www.24thstreet.org.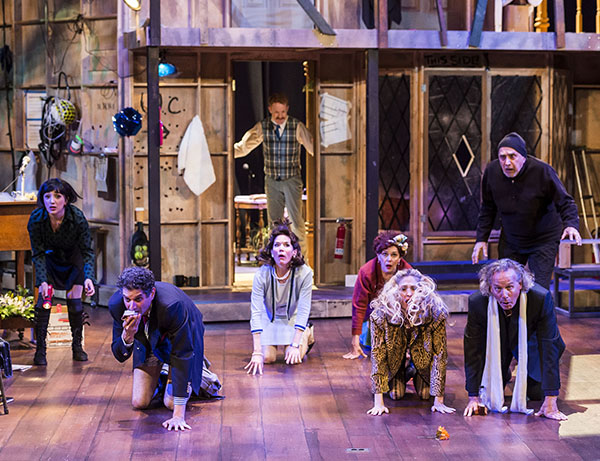 "Noises Off" features an under-rehearsed and over-worked cast and crew with a penchant for drama more personal than professional, readying themselves for the world premiere of a new play with the auspicious title Nothing On. As the production progresses, the bumbling cast brings down the house – literally! Written by Michael Frayn, and directed by Julia Rodriguez-Elliott and Geoff Elliott, it runs April 21 through May 26 at the A Noise Within in Pasadena. For tickets call 626-356-3121 or visit www.ANoiseWithin.org.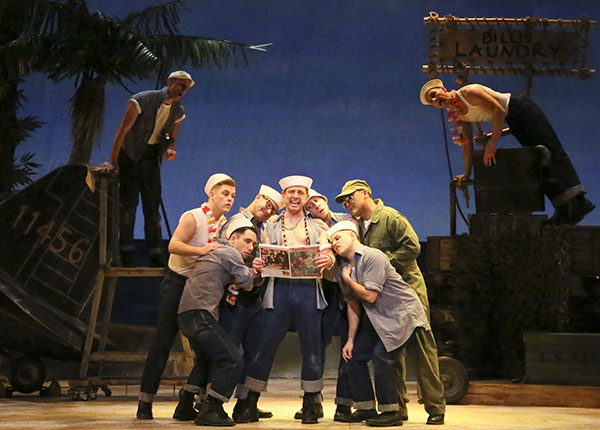 "South Pacific" Prepare yourself for some enchanted evening! Rodgers & Hammerstein's epic musical romance makes its La Mirada Theatre debut! Although well-known for its extraordinary score – "Some Enchanted Evening," "Younger Than Springtime," "Bali Ha'i," "There is Nothin' Like A Dame," and "A Wonderful Guy" – SOUTH PACIFIC is also a deeply felt drama. Its portrayal of Americans stationed in a foreign culture in wartime is as relevant today as when it first thrilled audiences in 1949. Written by Oscar Hammerstein II and Joshua Logan, with music by Richard Rodgers, lyrics by Oscar Hammerstein II, and directed by Glenn Casale, it runs April 21 through May 13 at the La Mirada Theatre for the Performing Arts in La Mirada. For tickets call 562-944-9801 or visit www.lamiradatheatre.com.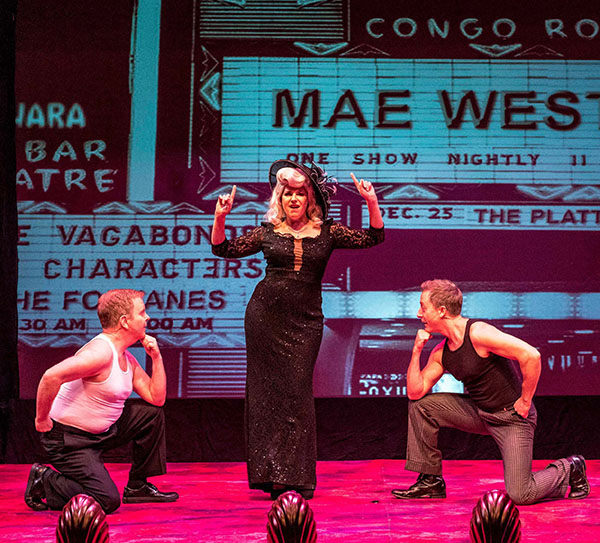 "Dirty Blonde" Explore the phenomenon of the legendary Mae West, one of America's most enduring and controversial pop culture icons, in this sparkling romantic comedy with music about a guy, a gal, and their mutual admiration for one voluptuous blonde. Magically woven into the story is a celebration of songs and laughter of Mae West's racy life and saucy career. Written by Claudia Shear, and directed by James W. Gruessing, Jr., it runs April 26 through April 29 at the Laguna Playhouse in Laguna Beach. For tickets call 949-497-2787 or visit www.lagunaplayhouse.com.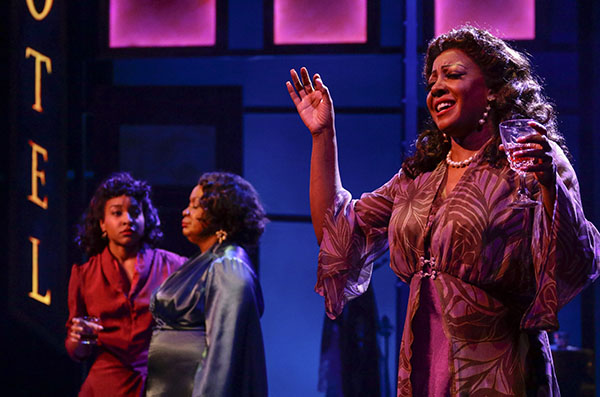 "Blues in the Night" The 26 hot and torchy numbers – by icons Bessie Smith, Duke Ellington, Johnny Mercer, Harold Arlen and more – tell of the sweet, sexy and sorrowful experiences that three women have with the lying, cheating, snake of a man, who represents the men who do them wrong. Written and directed by Sheldon Epps, it runs April 27 through May 27 at the Wallis Annenberg Center for the Performing Arts in Beverly Hills. For tickets call 310-746-4000 or visit www.TheWallis.org/Blues.
Enjoy life more – see a show tonight!