Here are some of the shows you can see in our local theaters this month: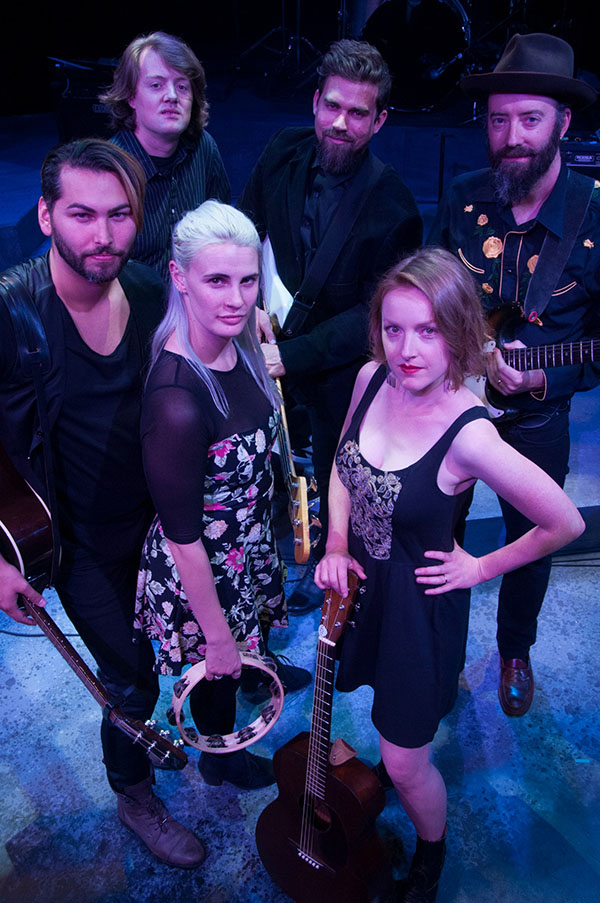 "I Dig Rock and Roll Music" is a celebration of folk-rock then and now. Described as a theatrical concert, the evening features songs from 1965 through the 1970s made famous by Peter, Paul and Mary; The Mamas and the Papas; Carole King; Joni Mitchell; Carly Simon; The Fifth Dimension; The Association; Otis Redding; Cat Stevens; The Youngbloods; The Beatles; The Eagles; and many others. Written by James O'Neil, George Grove, and Dan Wheetman, with music by Noel Paul Stookey, and directed by James O'Neil, it runs September 1 through September 23 at the Rubicon Theatre in Ventura. For tickets call 805-667-2900 or visit www.rubicontheatre.org.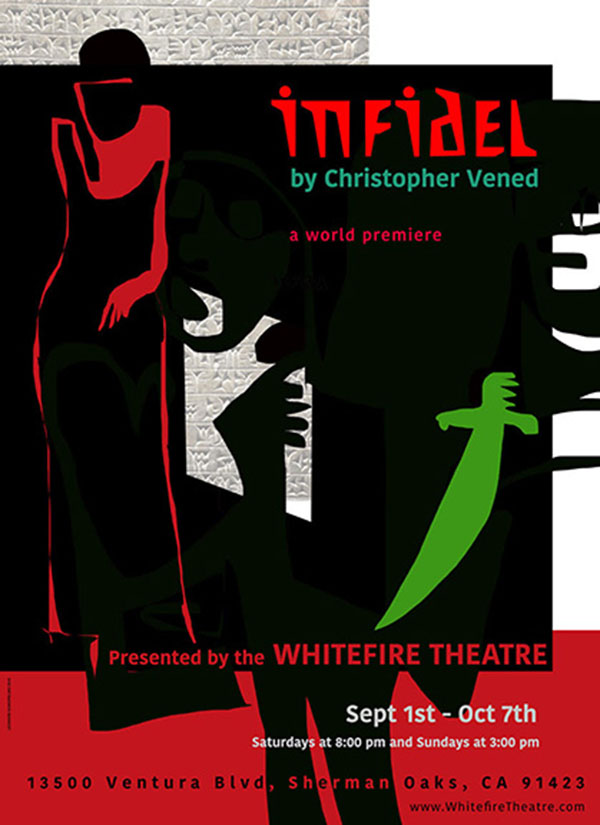 "Infidel" A suspense thriller that explores religious superstition and terrorism in the name of Islam versus unscrupulous Western imperialism and war mongering. When an American anthropologist is kidnapped in Baghdad by seemingly ruthless fundamentalists, an exchange of ideas with his captors evolves into a spiritual quest for the meaning of faith. Written and directed by Christopher Vened, it runs September 1 through October 7 at the Whitefire Theatre in Sherman Oaks. For tickets call 323-960-7738 or visit www.WhitefireTheatre.com.
"Sense and Sensibility" follows the Dashwood sisters—practical Elinor and impulsive Marianne—who are of good social standing and marriageable age. When their father dies and their half-brother skimps on their inheritance, the sisters are forced to leave their grand estate for a tiny, cold cottage. Just as life seems at its bleakest, a handsome stranger arrives on horseback and the sisters are convinced their futures are secured. Written by Jane Austen, adapted by Jessica Swale, and directed by Casey Stangl, it runs September 1 through September 29 at the South Coast Repertory in Costa Mesa. For tickets call 714-708-5555 or visit www.scr.org.
"Native Gardens" In this new comedy, horticultures clash, turning well-intentioned neighbors into feuding enemies. It's the War of the Hoses where cultures collide and mudslinging ensues – literally. Good fences don't always make good neighbors, but they do make for a lot of laughs in this new play. Written by Karen Zacarías, and directed by Jason Alexander, it runs September 5 through September 30 at the Pasadena Playhouse in Pasadena. For tickets call 626-356-7529 or visit www.PasadenaPlayhouse.org.
"The World Goes 'Round" is a celebration of life and the fighting spirit that keeps us all going. The cast finds themselves careening through the world of love, babies and coffee. From Cabaret to Chicago, the nonstop hit-parade features unforgettable gems, including "Mr. Cellophane," "My Coloring Book," "All That Jazz," "Kiss of the Spider Woman," "Money, Money," "Maybe This Time," "Cabaret" and "New York, New York" seamlessly interwoven into a passionate, harmonious, up-tempo evening of musical theatre. Written by John Kander and Fred Ebb, with music by John Kander, lyrics by Fred Ebb, and directed by Richard Israel, it runs September 5 through September 16 at the UCLA's Freud Playhouse in Los Angeles. For tickets call 866-811-4111 or visit www.Reprise2.org.
"Dangerous Obsession" takes place on a sunny afternoon in the Home Counties. Sally Driscoll is watering her plants in the conservatory of her luxurious home. Suddenly, John Barrett appears at the door. Sally does not recognize John, but it seems that the Driscolls and the Barretts have met before. After Sally's husband, Mark, arrives it becomes apparent that someone has a very dangerous obsession. Audiences will twist and turn with the plot in this psychological thriller. Written by N.J. Crisp, and directed by Kathy Dershimer, it runs September 7 through October 13 at the Westchester Playhouse in Westchester. For tickets call 310-645-5156 or visit www.kentwoodplayers.org.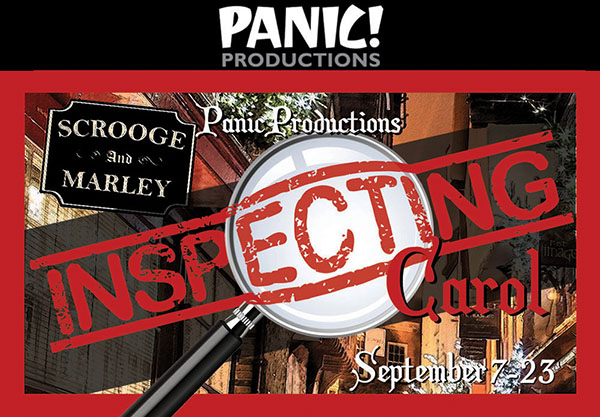 "Inspecting Carol" Get your holiday cheer on with this hilarious, madcap comedy! Behind the scenes of a struggling theatre's annual slapdash production of A Christmas Carol, rehearsals are at a standstill. Tim is no longer Tiny, Scrooge wants to do the play in Spanish (Feliz Navidad), and their funding is on hold pending an inspection. This laugh out loud spoof makes for a night at the theatre that is anything but show business as usual. Written by Daniel Sullivan, and directed by Kirsten Chandler, it runs September 7 through September 23 at the Hillcrest Center for the Arts in Thousand Oaks. For tickets visit www.panicproductions.org.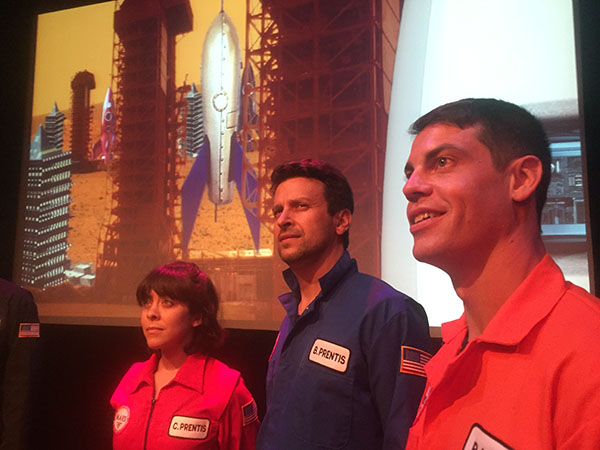 "Martians- an Evening with Ray Bradbury" America's Storyteller, Ray Bradbury, is our guide to mankind's next great adventure, to our next outpost in outer space, the planet Mars. Ray Bradbury speaks directly to the audience weaving Martians stories both humorous and harrowing, bringing his characters to life on stage right before your eyes. Characters like Bob and Carrie, a young couple struggling to turn the cold, dead Mars into an Earthly garden. There are Beck and Craig, two soldiers of fortune searching for the legendary Blue Bottle of Mars! Father Niven's religious faith traps a shapeshifting Martian in the form of Christ! Emil Barton is the last man on Mars with only recordings of his younger self to keep him company, or drive him mad! As Ray creates his stories we come to know the mind and heart of the great writer who believes that humanity can only survive by carrying our culture out into the Universe! Most of the text is taken from Ray's own words, from interviews and books he's written on the art of writing, as well as adaptations of his Martian stories: The Strawberry Window, The Blue Bottle, The Messiah and Night Call, Collect. Written by Charlie Mount and Jeff G. Rack, and directed by Jeff G. Rack, it runs September 7 through November 2 at the Whitefire Theatre in Sherman Oaks. For tickets call 800-838-3006 or visit www.whitefiretheatre.com.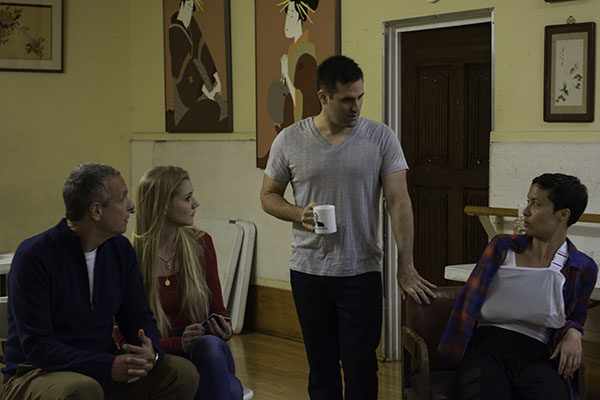 "Time Stands Still" Sarah is a photojournalist for a magazine. James, her boyfriend, is a foreign correspondent. Both have returned home to their apartment in Williamsburg, Brooklyn, after suffering traumas during a stint on assignment in Afghanistan. James' wounds are largely emotional. Sarah, however, took a shrapnel hit to the face. Her mobility was also impaired when the vehicle in which she was riding was blown up. Her local guide was killed. Very much currently in their orbit are their boss Richard (who is also Sarah's long-ago lover) and Richard's new young-and-hot love Mandy. Sarah loves photography. It enables her an element of control in a world spinning madly. When she snaps the shutter of her camera, Time Stands Still. James is fine with building a normal life in New York. Sarah clearly relishes the challenge of finding the perfect image, the powerful rush that comes with taking the photo and making time stand still in a dangerous world. Can their relationship survive? Written by Donald Margulies, and directed by Joel Zwick, it runs September 7 through September 30 at the Lounge Theatre in Hollywood. For tickets call 800-838-3006 or visit www.timestandsstill.brownpapertickets.com.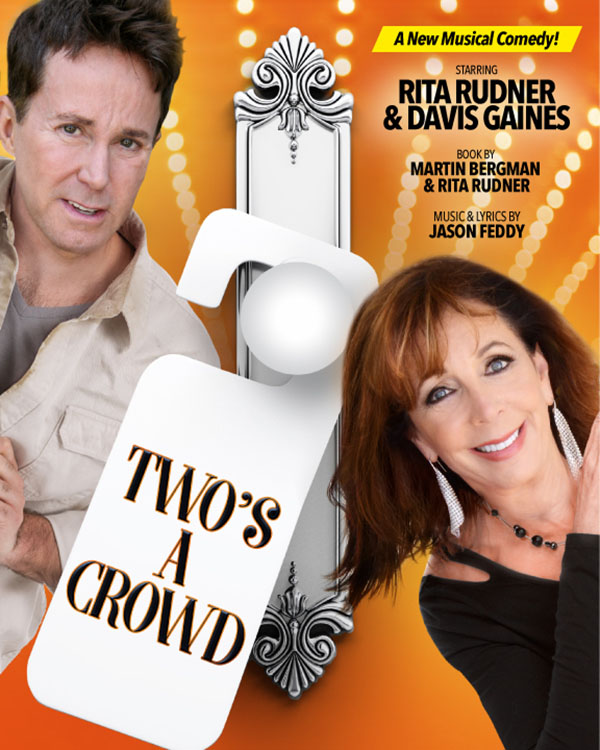 "Two's a Crowd" They say opposites attract. They haven't met Tom and Wendy. Forced together by a computer error, freewheeling Tom and uptight Wendy do their best to ruin each other's vacations. Will they get to know each other well enough to reveal the real reasons behind their travel? Will they agree on sleeping arrangements? Will room service ever arrive? Written by Martin Bergman & Rita Rudner, with music by Jason Feddy, and directed by Martin Bergman, it runs September 7 through September 16 at the Laguna Playhouse in Laguna Beach. For tickets call 949-497-2787 or visit www.lagunaplayhouse.com.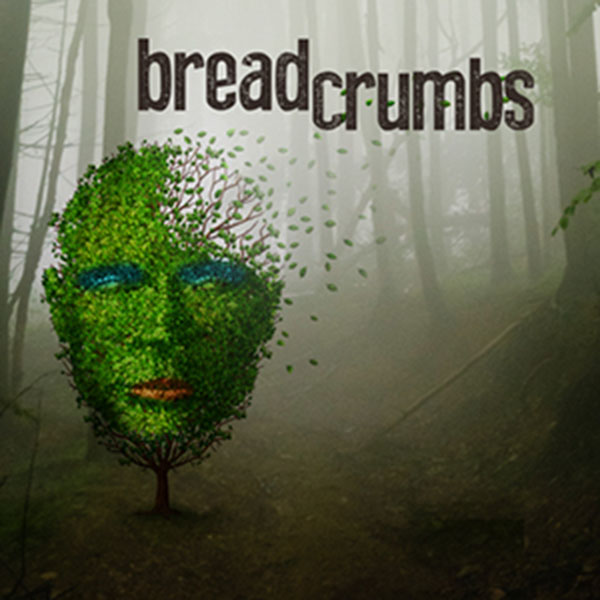 "Breadcrumbs" is about a reclusive fiction writer diagnosed with dementia, who must depend upon a troubled young caretaker to complete her autobiography. Written by Jennifer Haley, and directed by Bert Emmett, it runs September 8 through October 14 at the Lonny Chapman Theatre in North Hollywood. For tickets call 818-763-5990 or visit www.thegrouprep.com.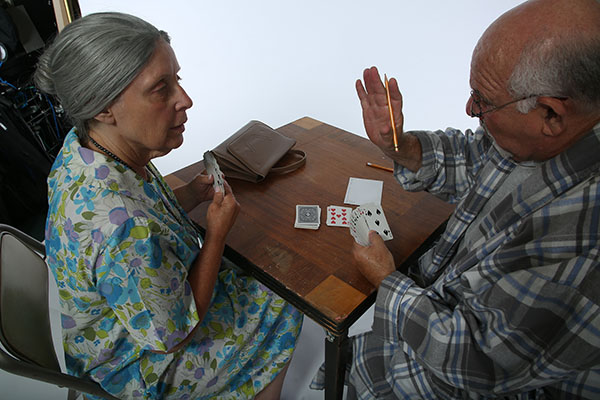 "The Gin Game" Weller Martin tries desperately to retain some control over his life despite falling into ill health and becoming a reluctant resident of a nursing home. Fonsia Dorsey serves as the symbol of all gone wrong, and his battles with her, though over a simple game of gin, become not only a conflict with the woman but with divine will itself. Written by D.L. Coburn, and directed by Christian Lebano, it runs September 8 through October 6 at the Sierra Madre Playhouse in Sierra Madre. For tickets call 626-355-4318 or visit www.sierramadreplayhouse.org.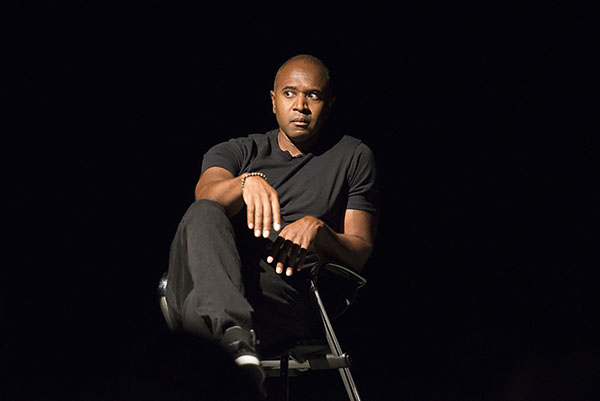 "Black!" In this dynamic, funny and deeply truthful performance, actor, playwright and storyteller Michael Washington Brown shatters stereotypes, playing out the life stories of four men from around the world (the U.S., England, Jamaica and Africa), each of whom is black — but each of whom has a very different idea about what that means. Written and directed by Michael Washington Brown, it runs September 9 through October 14 at the Zephyr Theatre in Los Angeles. For tickets call 800-838-3006 or visit www.blackonemanshow.brownpapertickets.com.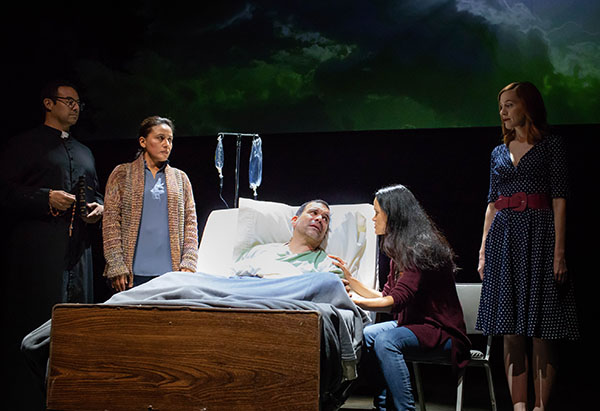 "The Untranslatable Secrets of Nikki Corona" is a poignant journey through love, hope and the unknown. How many of us have wished for one more chance to say the right thing? A Better Orpheus Inc. provides an alternative to regret—a service that allows the living to communicate with the dead. When Nikki Corona loses her twin sister, A Better Orpheus puts her in touch with Orlando, a man dying too young. The ensuing love story leads to a quest through a vivid, fantastical afterlife as Orlando learns whether Nikki's message to her sister has the ability to transcend death. Written by José Rivera, and directed by Jo Bonney, it runs September 12 through October 7 at the Gil Cates Theater at the Geffen Playhouse in Westwood. For tickets call 310-208-5454 or visit www.geffenplayhouse.org.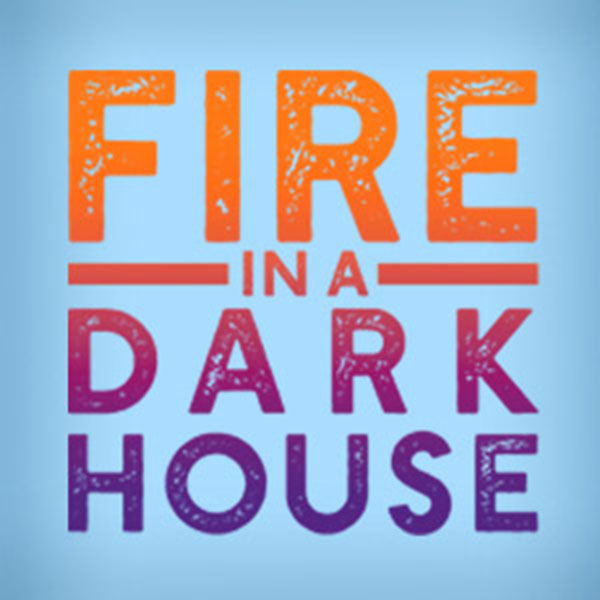 "Fire in the Dark House" two young lovers, their families and community are thrown into turmoil as a result of a vicious anti-immigrant campaign by the U.S. President during World War I. Written by Mona Z. Smith and Traci Mariano, it runs September 13 through November 15 at the Whitefire Theatre in Sherman Oaks. For tickets call 800-838-3006 or visit www.fireinadarkhouse.bpt.me.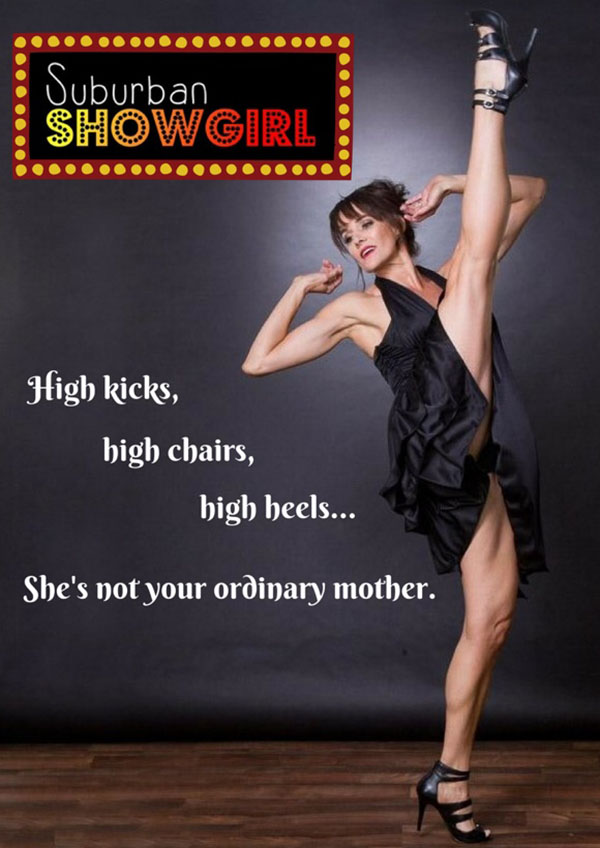 "Suburban Showgirl" is a hilarious and heartfelt tour-de-force about the life of the professional dancer Wendy Walker, who finds her perfectly choreographed life spinning out of control. Singing and dancing non-stop, Palmer Davis plays over 18 characters that will take audiences deep into the unpredictable journey of a dancer's life. Written by Palmer Davis, with music by Ross Källing, and directed by Cate Caplin, it runs September 13 through September 16 at the Colony Theatre in Burbank. For tickets call 866-811-4111 or visit www.colonytheatre.org.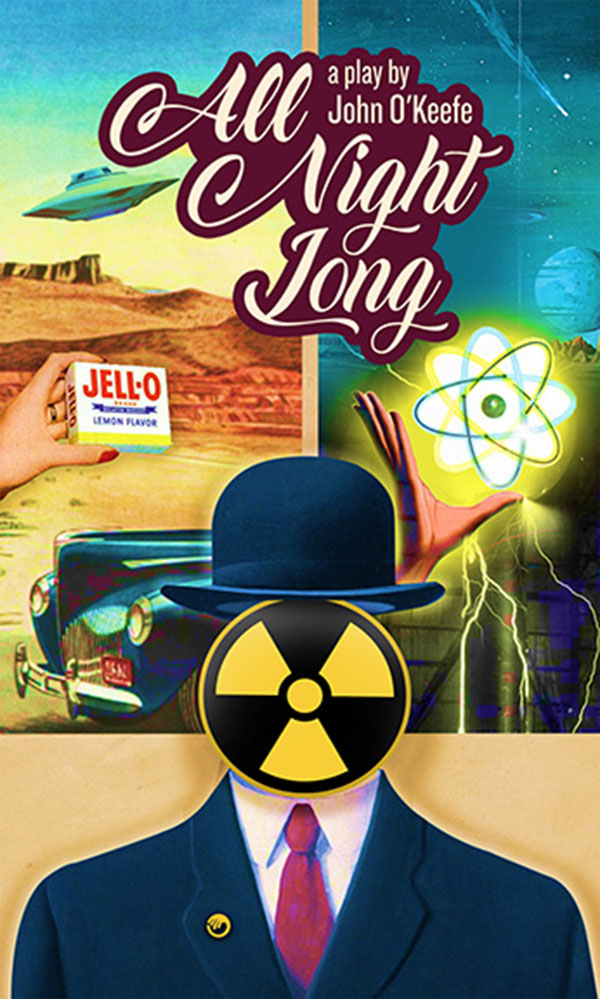 "All Night Long" The thin line between waking and dreaming, the conscious and subconscious, is exposed in an outrageously funny, surreal sit-com about 18 hours in the life of an all-American nuclear family. Written by John O'Keefe, and directed by Jan Munroe, it runs September 14 through October 21 at the Atwater Village Theatre in Atwater Village. For tickets call 323-882-6912 or visit www.openfist.org.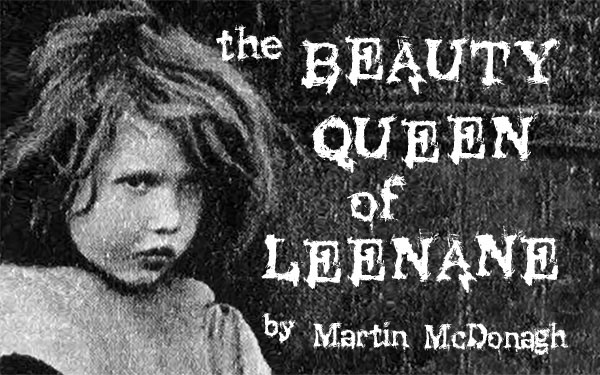 "The Beauty Queen of Leenane" Set in a small Irish town, a spinster who has cared for her aging, manipulative mother for twenty years, has a final chance at happiness with a local man. Suffocated dreams and simmering resentments surface, culminating in an unexpected climax. Written by Martin McDonagh, and directed by Mark Kemble, it runs September 14 through October 21 at the studio/stage in Los Angeles. For tickets call 323-960-7774 or visit www.plays411.com/leenane.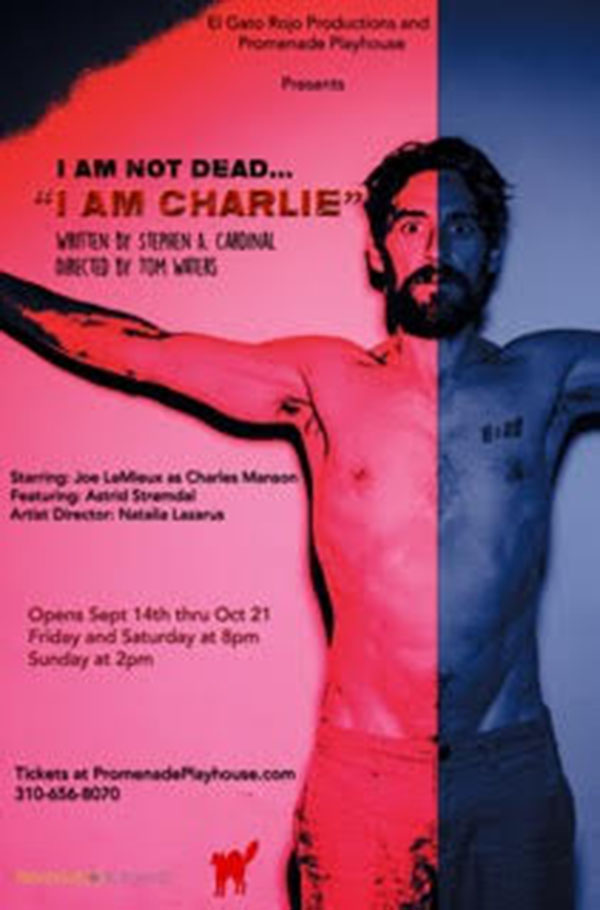 "I Am Charlie" explores the question: Why is the Charlie meme chiseled in granite when other 20th century memes (JFK, for example) are completely and continuously malleable? Most people will agree what was bizarre in 1969 would be old news in a few days and forgotten in a week. This is NOT the play you were expecting about Charles Manson. It looks at the Charles Manson story (Among other things) through the mind of Charlie himself. Written by Stephen A Cardinal, and directed by Tom Waters, it runs September 14 through October 21 at the Promenade Playhouse in Santa Monica. For tickets visit www.promenadeplayhouse.com.
"The Mousetrap" A group of strangers is stranded in a boarding house during a snow storm, one of whom is a murderer. Suspects include the newly married couple who run the house, a spinster with a curious background, an architect who seems better equipped to be a chef, a retired Army major, a strange little man who claims his car has overturned in a drift, and a jurist who makes life miserable for everyone. Into their midst comes a policeman, traveling on skis. He probes the background of everyone present, and rattles a lot of skeletons. Written by Agatha Christie, and directed by Sonny Lira, it runs September 14 through October 21 at the Crown City Theatre Company in North Hollywood. For tickets call 818-605-5685 or visit www.crowncitytheatre.com.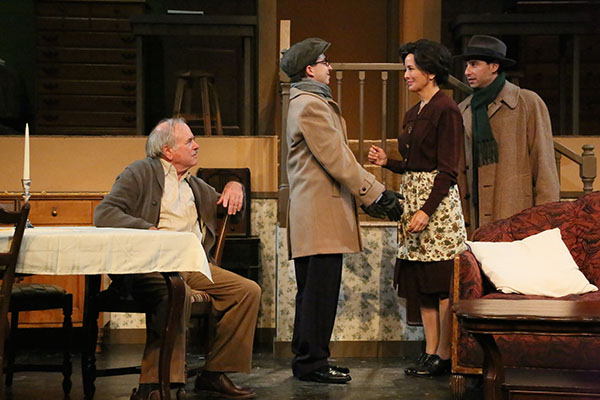 "Broadway Bound" It's 1949, the war is over, and America is beginning a new chapter. Eugene Jerome and his brother Stan are being given a chance to audition as comedy writers for CBS in the emerging medium of television. If they succeed, they'll move out of the family home in Brighton Beach and into the Big City. Eugene, however, is distracted. He's fallen in love and thinks his new girl is The One. Stan has episodes of writer's block. Meanwhile, all is not well within the family: father Jack is often "working late" and mother Kate suspects the worst. Grandpa Ben no longer lives with his wife and resists his wealthy daughter Blanche's attempts to move him to Florida. Will Eugene find bliss with the love of his life? Will he and Stan achieve fame and fortune? Written by Neil Simon, and directed by Howard Teichman, it runs September 15 through October 28 at the Miles Memorial Playhouse in Santa Monica. For tickets call 323-821-2449 or visit www.wcjt.tix.com.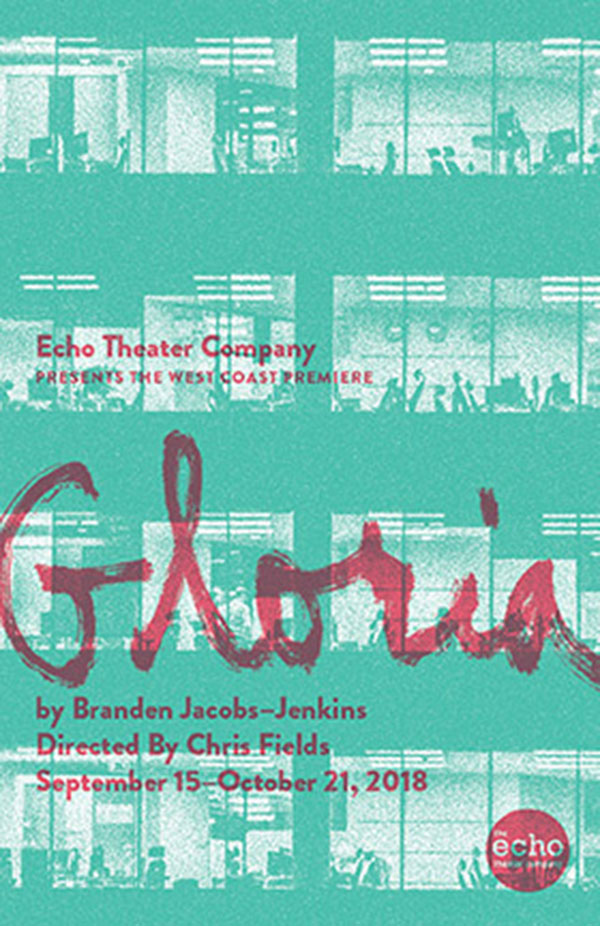 "Gloria" Editorial assistants Ani, Dean and Kendra each hope for a starry life of letters and a book deal before they turn 30. But when an ordinary humdrum workday becomes anything but, the stakes for who will get to tell their own story become higher than ever. Bitingly funny and fierce, Gloria incisively depicts the declining, dog-eat-dog industry of publishing. As the magazine struggles with the world's ascent into the digital age, relationships between the staff members are imploding. Written by Branden Jacobs-Jenkins, and directed by Chris Fields, it runs September 15 through October 21 at the Atwater Village Theatre in Atwater Village. For tickets call 310-307-3753 or visit www.EchoTheaterCompany.com.
"The Marriage Zone" Cal and Beth are selling their home. They're visited by Skip and Ellie, an engaged couple, very much in love who are eager to buy their first home. They're joined by Mike and Liz, apparently a couple of lookie-loos who decided to drop by and take a peek at the house for sale. The three couples get to chatting and begin to marvel at just how much they have in common. WAY too much in common, in fact. So much in common that it begins to become surreal. Written and directed by Jeff Gould, it runs September 15 through November 17 at the Santa Monica Playhouse in Santa Monica. For tickets call 800-838-3006 or visit www.brownpapertickets.com/event/3591184.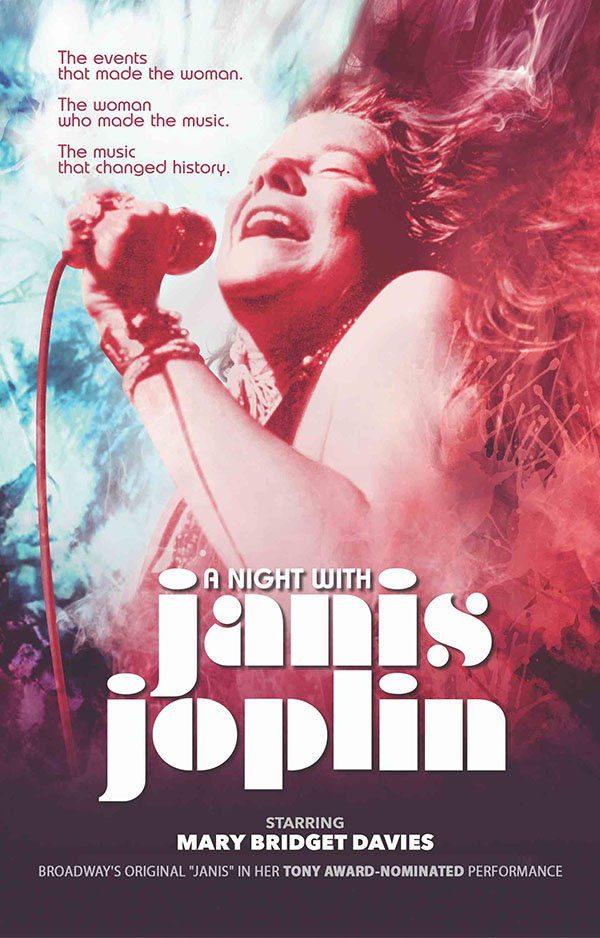 "A Night with Janis Joplin" Like a comet that burns far too brightly to last, Janis Joplin exploded onto the music scene in 1967 and, almost overnight, became the queen of rock & roll. The unmistakable voice, filled with raw emotion and tinged with Southern Comfort, made her a must-see headliner from Monterey to Woodstock. Fueled by such unforgettable songs as "Me and Bobby McGee," "Piece of My Heart," "Mercedes Benz," "Cry Baby" and "Summertime," this is a musical journey celebrating Janis and her biggest musical influences—icons like Aretha Franklin, Etta James, Odetta, Nina Simone and Bessie Smith, who inspired one of rock & roll's greatest legends. Written and directed by Randy Johnson, with music by Brent Crayon, it runs September 15 through October 7 at the La Mirada Center for the Performing Arts in La Mirada. For tickets call 562-944-9801 or visit www.lamiradatheatre.com.
"Othello" Shakespeare's classic tale of love, jealousy, betrayal and revenge gets a new look as Griot sets the tragedy in an East Asian dystopian future. Further, the entire production will not only be comprised of people of color, but will also feature women in key roles, including the notorious villain Iago. The show's mission, much like the company's mission, is to look at theatre in a different light, exploring themes from a new perspective. While Othello has traditionally explored white and black relations, El-Amin feels there have been several voices left out, thus the nontraditional staging. Written by William Shakespeare, and directed by Malik B. El-Amin, it runs September 15 through October 7 at the Actor's Company in Los Angeles. For tickets visit www.GriotTheatre.org.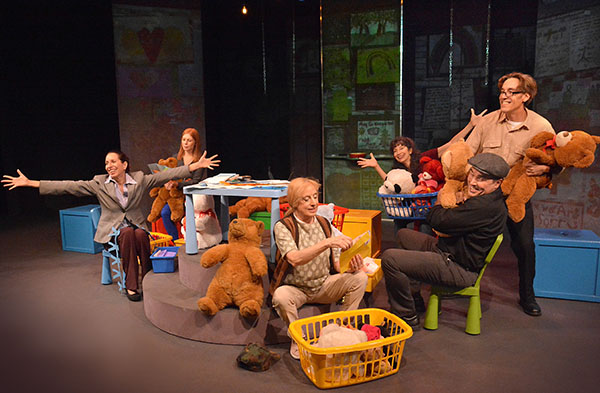 "26 Pebbles" is set in Newtown, Connecticut in June 2013, six months after the mass shooting at Sandy Hook Elementary School, in which 20 children and six school staff were murdered. The play is not blood, gun rights, psycho killers nor gun violence. It is about how the people of a community come together, bond, cope and heal from devastating tragedy and move forward with their lives towards a more hopeful future. As Newtown's local rabbi says, "Newtown doesn't want to be remembered as the town of tragedy. We want to be remembered as a bridge to a new and kinder world. It's not about the suburbs or the urban areas. It's about the red blood that flows out of all of our veins. It's about the clear tears that flow out of our eyes. We are all the same". Written by Eric Ulloa, and directed by Jules Aaron, it runs September 20 through October 14 at the Theatre 40, in the Reuben Cordova Theatre in Beverly Hills. For tickets call 310-364-0535 or visit www.theatre40.org.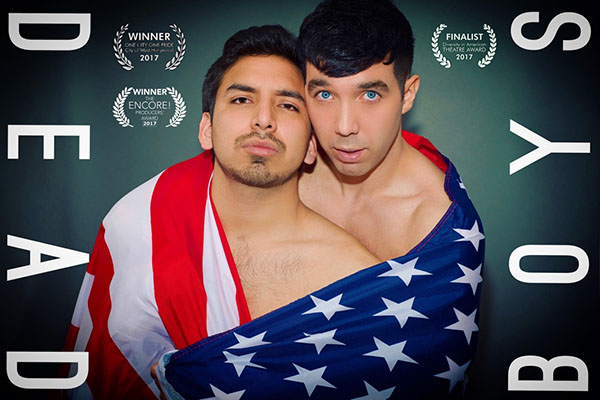 "Dead Boys" The end of the world. Two millennials trapped in the basement of their old high school. The only gay kid in school. And the guy who used to beat him up. Provocative, hilarious, and heartbreaking, Dead Boys is about two modern American young men who have no choice but to face fate, race, sexuality – and each other. Written by Matthew Scott Montgomery, and directed by Christopher James Raymond, it runs September 20 through September 23 at the Arthur Newman Theatre in Palm Desert. For tickets call 760-820-9169 or visit www.CLagoProductions.com/tickets.
"UK Underdog" A refreshing and highly theatrical solo show, based on true events, where a young Jewish boy in London transforms himself, through sheer force of will (and plenty of chutzpah) from bullied underdog to martial artist, boxer, community leader and animal rights activist. All proceeds from the production will benefit START Rescue as well as selected animal charities and anti-bullying groups. Written by Steve Spiro, and directed by Ann Bronston, it runs September 20 through October 28 at the Zephyr Theatre in Los Angeles. For tickets call 323-960-7788 or visit www.plays411.com/ukunderdog.
"American Hero" A franchise-owned sandwich shop becomes a microcosm of recession-era America in Bess Wohl's sharply comedic commentary on the struggles and perseverance of the American working class. When a trio of disparate and desperate "sandwich artists" at the local mall — an awkward young misfit (Laura Mann), a single mom (Anna Lamadrid) and a downsized refugee from corporate banking (Graham Outerbridge) — find themselves left to their own devices by overwhelmed franchisee Bob (Rodney To), they are forced into an unlikely alliance in order to keep the store, and themselves, afloat. Written by Bess Wohl, and directed by James Eckhouse, it runs September 21 through October 21 at the Carrie Hamilton Theatre of the Pasadena Playhouse in Pasadena. For tickets call 323-380-8843 or visit www.iamatheatre.com.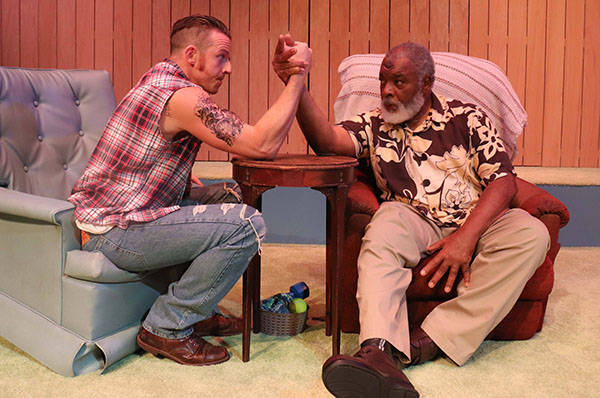 "The Rescued" What happens to a human after being abused, forgotten, and living in a cage for years? Do we find the same compassion for them, that we might find for rescue animals? Follow six souls who spend the day singing, sleeping, and wrestling their past with the present: how to trust, how to love and be loved, and how to finally feel free. Written by Julie Marie Myatt, and directed by Marya Mazor, it runs September 21 through November 11 at the Road on Magnolia in North Hollywood. For tickets call 818-761-8838 or visit www.roadtheatre.org.
"Rope" Chasing a dangerous thrill and "for the fun of the thing", two students commit the perfect murder. Written by Patrick Hamilton, and directed by Ken Sawyer, it runs September 21 through October 28 at the Actors Co-op Crossley Theatre in Hollywood. For tickets call 323-462-8460 or visit www.ActorsCo-op.org.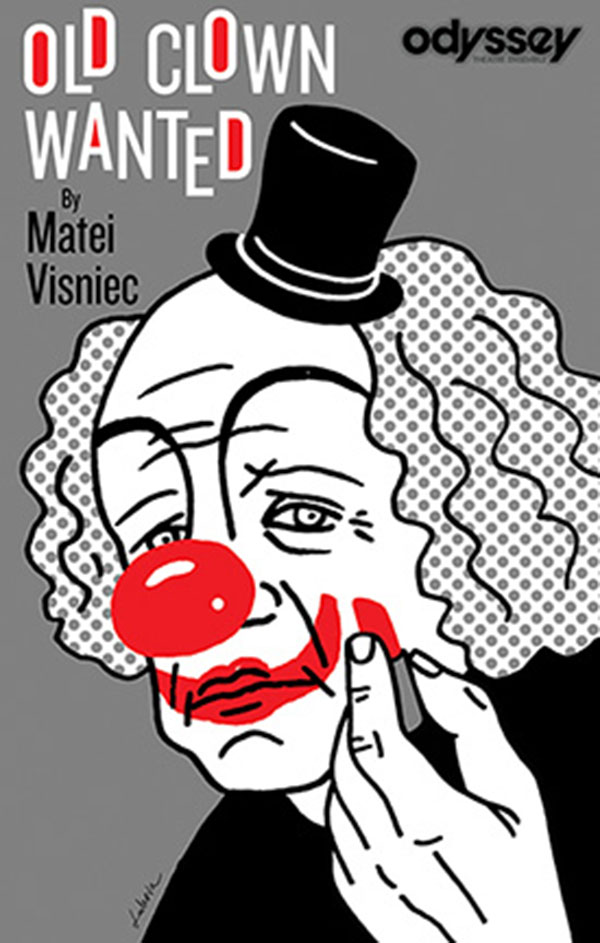 "Old Clown Wanted" Three aging clowns compete for a job in an absurdly comic look at man's fear of uselessness in society. Inspired by a 1970 Federico Fellini film, theater and circus arts are intertwined in this tender, funny, cynical play by Romanian-French playwright Matei Visniec. Written by Matei Visniec, translated by Jeremy Lawrence, and directed by Florinel Fatulescu, it runs September 22 through November 4 at the Odyssey Theatre in Los Angeles. For tickets call 310-477-2055 Ext. 2 or visit www.OdysseyTheatre.com.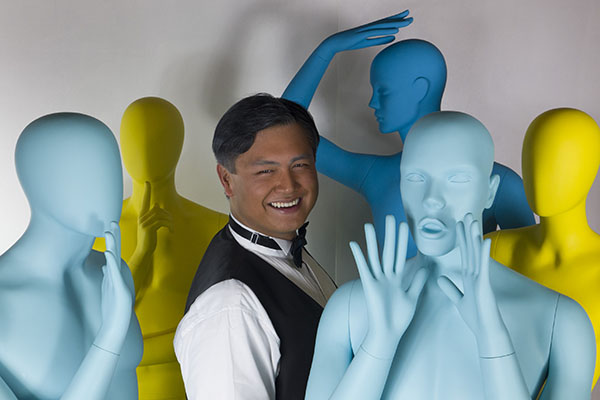 "Tenor by Night" is a fantasy musical, loosely based on author-composer's own life story as a Chinese businessman who immigrated to the United States and overcame the odds and obstacles to realizing his American dream. He founded an internationally successful mannequin business, married to a beautiful wife, and father of two wonderful children. How dare he desire more? In this Hitchcockian musical, the main character James by day designs and sells mannequins and by night, he sings, rehearsing opera. His passion and desire for a musical career has turned into an obsession. His (fictional) frustrated wife kicks him out of the house and James takes up residence at his mannequin warehouse. His next-door neighbor, a magician, with an eye on his neglected wife, befriends James – and one night helps bring all the mannequins to life. As his singing improves, James finally has his adoring and appreciative audience (his mannequins) as his life spirals out of control. What James – both the character in the musical and composer in real life — really wants is to become a great tenor. The real Chiao himself immigrated to the United States in 1980 and with his wife Lily, built a successful business, CNL Mannequins, which sells to major department stores and fashion brands. Two decades later, Chiao himself began his vocal training in 1998 eventually earning his MFA in music at CalArts in 2017 at the age of 67. At his Masters' recital, Chiao presented selections from this new musical. Written and directed by James Chiao, with music by James Chiao, it runs September 22 through September 26 at the El Portal Theatre in North Hollywood. For tickets call 818-508-4200 or visit www.TenorByNight.com.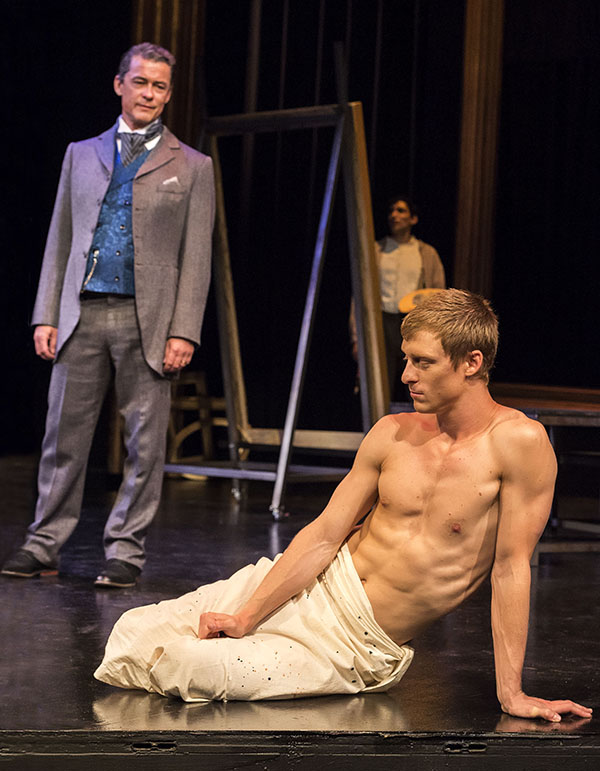 "A Picture of Dorian Gray" Entranced by the beauty of his own portrait, Dorian Gray sells his soul to preserve his youth and pays a price. This haunting and seductive adaptation lets Wilde's language and wit sparkle, but strips bare the themes of hedonism and the insatiable pursuit of pleasure. Written by Oscar Wilde, adapted by Michael Michetti, and directed by Michael Michetti, it runs September 23 through November 16 at the A Noise Within in Pasadena. For tickets call 626-356-3121 or visit www.anoisewithin.org.
"Everything That Never Happened" uses The Merchant of Venice as a jumping off point, exposing the realities of Jewish history and drawing three-dimensional characters from the stereotypes depicted in the original Shakespeare. Mantell's fresh and time-bending story is rich with humor and heartbreak while bridging the 16th century with today and beyond. What do we lose or gain by leaving our own culture? And what sacrifices does love demand of fathers and daughters, lovers and friends? Everything That Never Happened is a play about disguise, assimilation, pomegranates, and everything Shakespeare left out. Written by Sarah B. Mantell, and directed by Jessica Kubzansky, it runs September 27 through November 4 at the Boston Court in Pasadena. For tickets call 626-683-6801 or visit www.BostonCourtPasadena.org.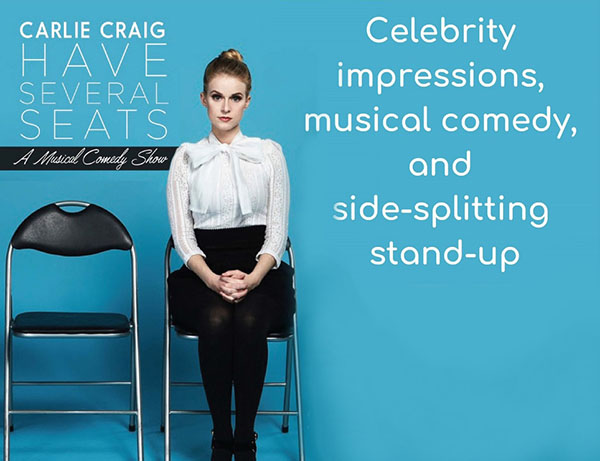 "Have Several Seats (A Musical Comedy Show)" Carlie Craig performs original comedic songs, celebrity impressions, and musical parodies all woven together with her side-splitting stand-up. The show highlights the highs and lows of her first five years in Los Angeles — between working as a personal assistant, starring on a short-lived reboot of an iconic sketch show, all while supporting herself as a party princess, Carlie has endless stories to tell and you won't want to miss a single one. Written and directed by Carlie Craig, with music by Carlie Craig and Will Jay, it runs September 27 through September 30 at the Colony Theatre in Burbank. For tickets call 866-811-4111 or visit www.colonytheatre.org.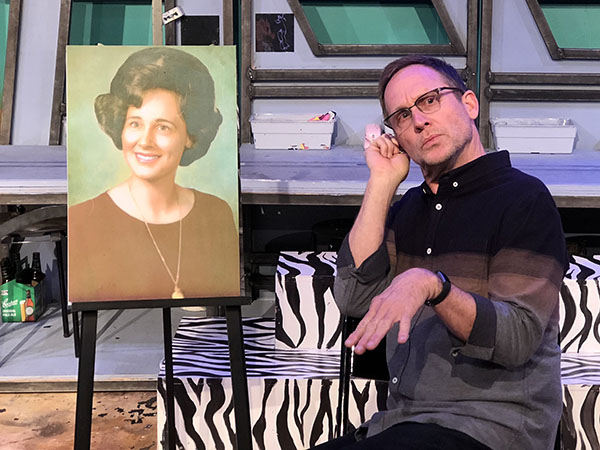 "Six Characters in Search of a Play" Del Shores brings to life six one-of-a-kind characters he has met in real life that haven't quite made it into one of his plays, films or TV shows. In 90 minutes, the audience will hear the truth behind how he collected these eccentrics and their stories as he portrays his hilarious, off-the-rails encounters with them. The audience will meet "Yvonne", the anti-vegetarian Dallas waitress; "Sarah", a Trump-hating elderly actress with an inhaler in one hand and a cigarette in the other; "Jimmy Ray", the evolving, Magic Mike-loving latent Georgia redneck; "Loraine", the once-brilliant drama teacher who has lost her damn mind and is now obsessed with porn; "Marsha", the monkey-hating lesbian with COPD; and "Aunt Bobby Sue", the racist Republican with a heart of gold. Written by Del Shores, and directed by Emerson Collins, it runs September 27 through September 30 at the Celebration Theatre @ the Lex Theatre in Los Angeles. For tickets call 323-957-1884 or visit www.celebrationtheatre.com.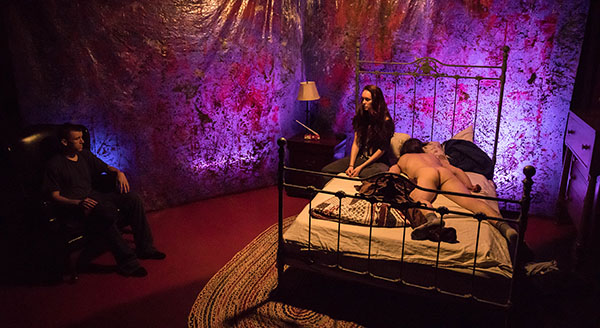 "What Happened When" On a snowy night in a rural farmhouse, three siblings (Ian Bamberg, Matthew Gallenstein and, at alternate performances, Kenzie Caplan and Mara Klein) huddle together in the dark with a flashlight, while the audience (unseen by them) gathers closely around. Expect to be fully immersed in this beautiful, provocative and disturbing memory play. Written by Daniel Talbott, and directed by Chris Fields, it runs September 27 through October 18 at the Echo Theater Company Atwater Village Theatre in Atwater. For tickets call 310-307-3753 or visit www.EchoTheaterCompany.com.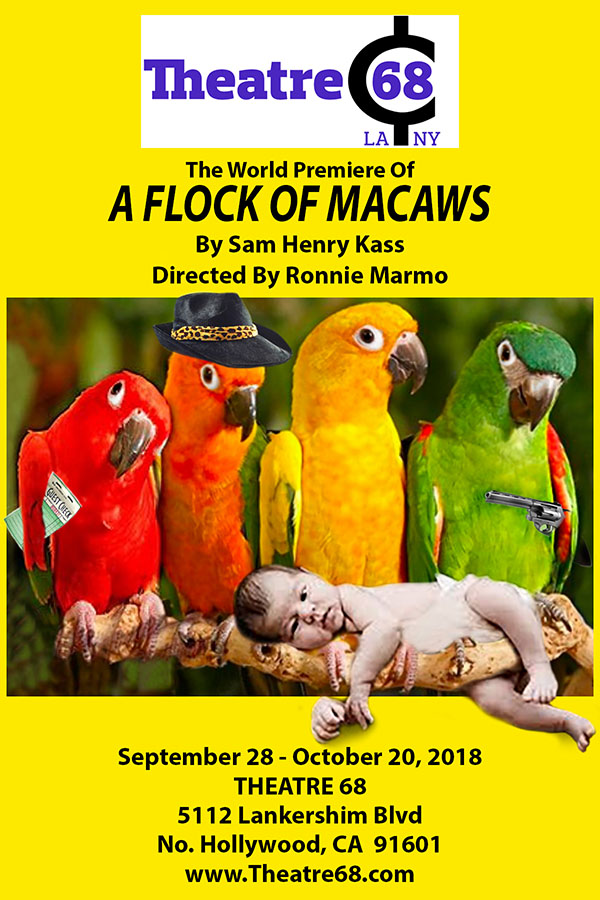 "A Flock of Macaws" A young woman, abandoned at birth, finds the woman she believes to be her birth mother– What should be a reunion/reconciliation of sorts, turns into a combination of mutual interrogation, the absurdity of potential paternal candidates, with back stories straight out of an urban modern day, "Alice in Wonderland. Abandonment is the theme, but the ranting's and ravings regarding everything from pop culture to politics, takes this moment and delivers a roller coaster ride, filled with everything from rage to contrition. Along the way, we meet an array of bizarre paternal candidates, as well as a young Actress, who stumbles into this world, eager to fill any void or role necessary. Written by Sam Henry Kass, and directed by Ronnie Marmo, it runs September 28 through October 20 at the Theatre 68 in North Hollywood. For tickets visit www.Theatre68.com.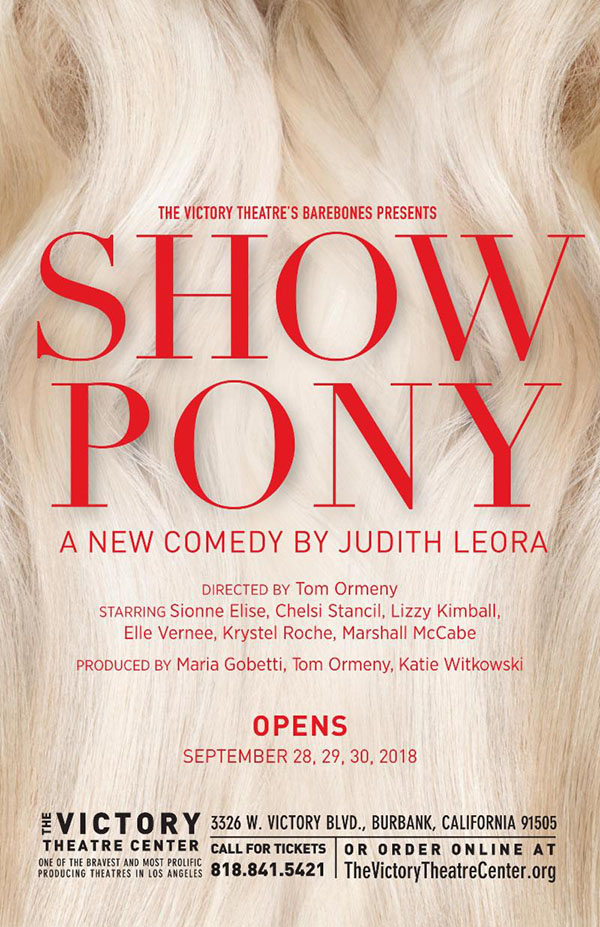 "Showpony" When the mostly white employees from a large Ad Agency reveal their unconscious racism through slips of the tongue and gender micro-aggressions, the tensions build as aggressions move into overt racism and misogyny. Both African American and white women fight back. Hidden agendas, alliances and liaisons rise to the surface—in both fierce and fiercely funny ways. Written by Judith Leora, and directed by Tom Ormeny, it runs September 28 through November 18 at the Big Victory Theatre in Burbank. For tickets call 818-841-5421 or visit www.thevictorytheatrecenter.org.
"The Turn of the Screw" The details: a letter, a locket, a riddle, a name. The words are her own — written in her diary in faded ink on the pages of seven days. This is the story she tells. It is a story of terror … and horror … and death.is the tale of a young governess just before the turn of the last century who is tasked with the care of two rather peculiar children at a country estate in England. The governess comes to believe the children are possessed by the previous groundskeeper and governess who have since died. Written by Henry James, adapted by Jeffrey Hatcher, and directed by Don K. Williams, it runs September 29 through October 31 at the Harold Clurman Laboratory Theatre at the Art of Acting Studio in Hollywood. For tickets call 323-601-5310 or visit www.web.ovationtix.com/trs/pr/999287.
Enjoy life more – see a show tonight!