Here are some of the shows you can see in our local theaters this month:
"All About Santa" It's holiday time at the North Pole and everyone is in a tizzy – Santa has disappeared. Is he taking a vacation? Did the sleigh run out of spirits? Can Mrs. Claus keep the home fires burning and the toyshop churning until he can be found? And to make matters worse, who should appear on the scene but the Suits – the Mad Men from Badison Avenue – ready and willing to "solve" the problem with a host of plans to make the holidays even more commercial than ever. The good North Pole folk in this heart-warming Victorian yuletide musical almost succumb to these sinister hijinks, but, with the help of the audience, love and good cheer conquers all, leaving the way clear for still another happy holiday season! Written and directed by Evelyn Rudie and Chris DeCarlo, with music by Evelyn Rudie and Matthew Wrather, it runs December 1 through December 16 at the Other Space at Santa Monica Playhouse in Santa Monica. For tickets call 310-394-9779 Ext. 2 or visit www.SantaMonicaPlayhouse.com.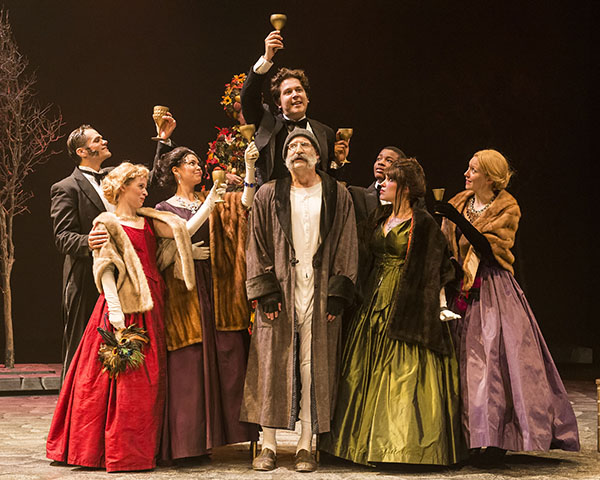 "A Christmas Carol" allows families to once again take a supremely theatrical journey and celebrate the transformative power of forgiveness during the holidays. Ebenezer Scrooge's rebirth from miserly curmudgeon to the epitome of love and generosity affirms our faith in the potent goodness of humanity during this beloved time of year. Written by Charles Dickens, adapted by Geoff Elliott, and directed by Geoff Elliott and Julia Rodriguez-Elliott, it runs December 1 through December 23 at the A Noise Within in Pasadena. For tickets call 626-356-3121 or visit www.anoisewithin.org.
"A Harmony Boys Christmas: Live from Waikiki Beach" The Boys are back! It's 1963 all over again and famed foursome The Harmony Boys are returning to spread Christmas Cheer all over your face in a new holiday special on the gay and vibrant shores of beautiful Waikiki Beach! See Billy, Bobby, Barry, and Xian Ling Moon Harmony reunite onstage together in this singing, dancing, toe-tapping yuletide extravaganza. For mature audiences. Written by Aaron Matijasic, with music by Ben Stanton, and directed by Jaime Robledo, it runs December 1 through December 23 at the Broadwater Main Stage in Hollywood. For tickets call 800-838-3006 or visit www.theharmonyboys.brownpapertickets.com.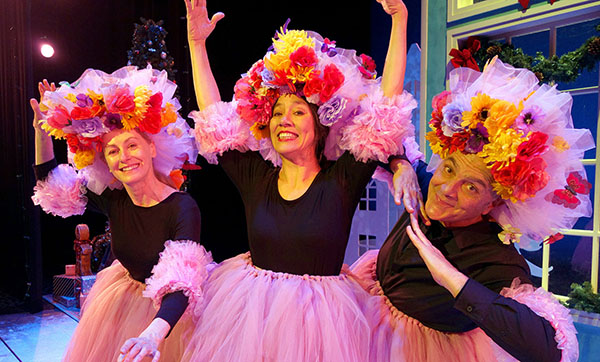 "Sugar Plum Fairy" tells the story of a 12 year-old girl who dreams of dancing the lead in The Nutcracker. Audiences are encouraged to come decked out in ugly holiday sweaters, tutus, and Hanukah hats and be prepared to join in the 75 minutes of madcap merriment. Written by Sandra Tsing Loh, and directed by Bart De Lorenzo, it runs December 1 through December 23 at the Skylight Theatre in Los Angeles. For tickets call 213-761-7061 or visit www.SkylightTix.org.
"A Holiday Comedy Sh*tSH*W" Brace yourself for an evening of hysterical proportion with "Finding the Virgin Mary's Baby Daddy, Subway Dwelling Jesus, The Flawed Logic of the Male Mind, Just the "10%." Tips…all topics you are bound to encounter during the holidays. Okay, maybe not so much, but you most definitely will at this production. Directed by Jackie Learmond and Megan James, it runs December 4 through December 12 at the Complex Theatre in Hollywood. For tickets visit www.squareup.com/store/holiday-comedy-shitsh-star-w.
"Love Actually Live" takes place in a three-dimensional world where scenery and video screens intertwine, providing a canvas upon which actors weave between projections as they bring unforgettable scenes to life through the movie's album. The film, along with original custom-video content illustrating the London-based setting, is displayed on screens that travel throughout the stage, immersing the singers and musicians in a cinematic spectacle. This theatrical world transforms the experience so completely that audiences will fall in love with Love Actually all over again. The production, a one-of-a-kind presentation is performed live by an all-star cast and 15-piece orchestra includes songs from the hit film, including "Christmas Is All Around," "The Trouble with Love Is," and "Both Sides Now." Written by Richard Curtis, with music by Jesse Vargas, and directed by Anderson Davis, it runs December 4 through December 31 at the Wallis Annenberg Center for Performing Arts in Beverly Hills. For tickets call 310-746-4000 or visit www.thewallis.org/love.
"Bob's Holiday Office Party" Every year, insurance agent Bob Finhead's whacked out friends and clients stop by his small-town Iowa office for their annual holiday bash. The town mayor, the sheriff, the twin farmer sisters, the stoner, the town floozy and the pastor's wife have already RSVP'd for this year's event. But Bob has dreams of a bigger life and wants to escape their narrow-minded thinking. Will he be able to fulfill his dream of becoming a professional inventor and move to the big city, or will he come to realize how much he is the heart and soul of the town? Will any of this matter once the party starts, the bickering and fighting begins, and the drinks hit the floor? Written by Joe Keyes and Rob Elk, and directed by Matt Roth, it runs December 6 through December 20 at the Atwater Village Theatre in Atwater. For tickets call 800-838-3006 or visit www.bobs23.brownpapertickets.com.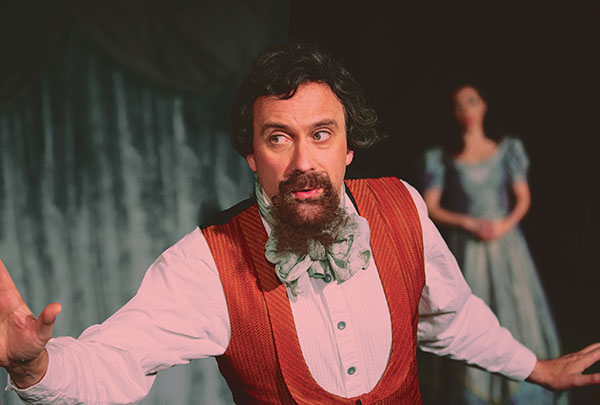 "A Christmas Carol with Charles Dickens" David Melville gives a virtuoso performance as nearly all the characters in the story. He is joined by Kalean Ung who provides dramatic interjections, sound effects and live music. Written by Charles Dickens, with music by Kalean Ung, and directed by Melissa Chalsma, it runs December 6 through December 23 at the Independent Studio in the Atwater Crossing Arts + Innovation Complex in Atwater Village. For tickets call 818-710-6306 or visit www.iscla.org.
"The Eight: Reindeer Monologues" Listen to the eight reindeer dishing about the real Santa in some serious X-rated fashion! All those rumors you've heard about him and the elves? About Rudolph's little secret? About Vixen's story that was leaked to the press? All true. Yes, the reindeer finally speak up and – believe us – they do not hold back! Written by Jeff Goode, and directed by Bill Reilly, it runs December 6 through December 23 at the Crown City Theatre Company in North Hollywood. For tickets call 818-605-5685 or visit www.crowncitytheatre.com.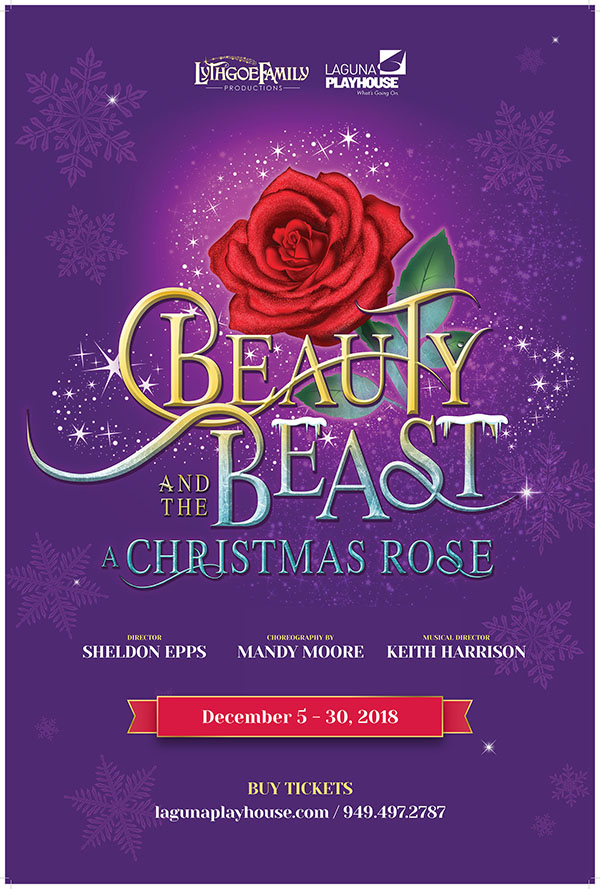 "Beauty and the Beast – A Christmas Rose" In this interactive experience, the audience is encouraged to CHEER for Belle, BOO for Gus and sing along with popular songs such as the Bee Gees' "Staying Alive," The Chainsmokers & Coldplay's "Something Just Like This," and Edith Piaf's "La Vie En Rose." Written by Kris Lythgoe, with music by Keith Harrison, and directed by Sheldon Epps, it runs December 8 through December 30 at the Laguna Playhouse in Laguna Beach. For tickets call 949-497-2787 or visit www.lagunaplayhouse.com.
"It's a Wonderful Life: The Radio Play" takes place at KAWL, a struggling 1940s radio station that good-hearted owner Michael Anderson is barely keeping alive. He calls on some old friends (with big personalities) and some less-than-professional station employees to offer up a live radio version of Frank Capra's touching masterpiece It's a Wonderful Life in what might sadly be the station's last live show. But it's the holidays, a time when miracles can happen…. Written by Jim Martyka, and directed by Carey Matthews, it runs December 8 through December 16 at the Belfry Stage Upstairs at the Crown in North Hollywood. For tickets call 818-849-4039 or visit www.theatreunleashed.org.
"South Pacific" the musical is set on an exotic island during World War II. The plot follows two love stories about seeming-opposites brought together by the circumstances of war and torn apart by prejudice and fear. In the core story, Nellie Forbush, a naïve American nurse from a small town, falls in love with Emile de Becque, a sophisticated French plantation owner with a mysterious past. In the second, Joe Cable, a Marine Lieutenant from Philadelphia finds himself drawn to Liat, a young native girl. The timeless score includes beautiful ballads such as "Younger the Springtime" and "Some Enchanted Evening," exuberant up-tempo songs like "I'm in Love with a Wonderful Guy," comic character numbers like "There Is Nothing Like a Dame," and driving anthems like the ever-timely "You've Got to Be Carefully Taught." Written by Oscar Hammerstein II and Joshua Logan, with music by Richard Rodgers, lyrics by Oscar Hammerstein II, and directed by Katharine Farmer, it runs December 8 through December 23 at the Rubicon Theatre in Ventura. For tickets call 805-667-2900 or visit www.rubicontheatre.org.
"Wink" Wink, a homeless gender questioning teenager and Dario Villanova, a former A-list actor who is now doing B movies, are both down on their luck in Los Angeles. When a synchronistic meeting connects these two souls, they quickly bond over music, art, and life's unexpected misfortunes. Sometimes the best way forward is to stop fighting the past. Written by Neil Koenigsberg, and directed by Michael Allen Angel, it runs December 8 through January 13 at the Zephyr on Melrose in Los Angeles. For tickets call 323-960-1055 or visit www.plays411.com/newsite/show/play_info.asp?show_id=4855.
"The Year without a Santana Claus" Santa's gonna need a BLACK MAGIC WOMAN this year 'cause he's real sick with a CORAZON ESPINADO. Poor Santa feels like he has NO ONE TO DEPEND ON and to make matters worse THIS BOY'S FIRE is comin' in at a fever of 102. It's no wonder – the ol' guy can't be EVERYBODY'S EVERYTHING!!! One thing's for certain – Santa's in need of a serious vacay. Maybe he'll vacation on Mars and attend an INTERPLANETARY PARTY? Or maybe he'll play it SMOOTH and lay low down south in Cabo. Will the Heatmiser tell his brother the Snowmiser to change his EVIL WAYS? Will Santa say "Hey, Mrs. Claus WHY DON'T YOU AND I get together and take a snowboarding lesson?" Will the Troubies come to the rescue and save Christmas? This holiday season bring the familia to the El Portal and party and laugh INTO THE NIGHT!!! The Troubies' annual holiday show has become a tradition in Los Angeles. Written and directed by Matt Walker, it runs December 8 through December 30 at the El Portal Theatre Debbie Reynolds Mainstage in North Hollywood. For tickets call 818-508-4200 or visit www.elportaltheatre.com.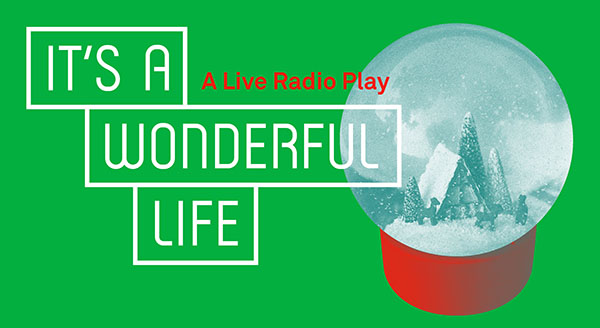 "It's a Wonderful Life: A Live Radio Play" One of the all-time classic Christmas stories comes to life onstage in a 1940s-style radio broadcast – join George Bailey, a down-on-his-luck man, as his guardian angel shows him what his town would have been like had he never been born. This timeless masterpiece guarantees to warm your heart this holiday season. Written by Joe Landry, and directed by Cameron Watson, it runs December 12 through December 23 at the Pasadena Playhouse in Pasadena. For tickets call 626-356-7529 or visit www.pasadenaplayhouse.org.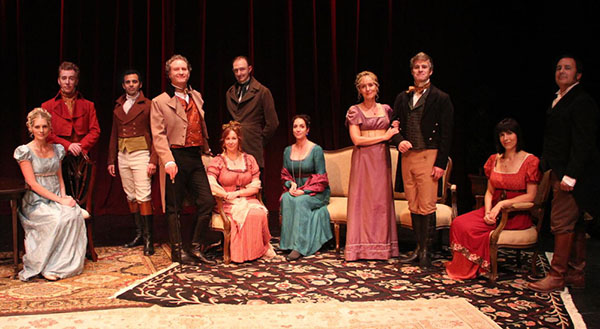 "Jane Austen UnScripted" gives audiences a chance to imagine the other books she might have written. The company starts with audience suggestions and deftly creates a world of love-struck girls, brooding noblemen and charming cads, and although hearts are sure to be broken, true love will win out in the end. Written by Impro Theatre Company, it runs December 14 through December 22 at the Broad Stage in Santa Monica. For tickets call 310-434-3200 or visit www.thebroadstage.org.
"Special" commemorates the 40th Anniversary of the worst variety show in television history with a behind-the-scenes imagined look of how The Star Wars Holiday Special came to be. How could it miss? It was riding the coattails of what was at that point the most popular movie of all time. It featured appearances by cast members, including Harrison Ford and Carrie Fisher. It had great guest stars like Bea Arthur, Harvey Korman, Art Carney and (in holographic form) Jefferson Starship and Diahann Carroll. There was even a cartoon sequence (the first appearance of Boba Fett). The narrative involved the celebration of the Wookiee holiday Life Day (because there's no Christmas in Space), as Chewie's family wants to celebrate despite the intrusion of Imperial Storm Troopers. What could possibly go wrong? Everything. The Love Boat pulled better Nielsen numbers than The Star Wars Holiday Special. CBS never aired it again. Written by Andrew Osborne, and directed by Kerr Lordygan, it runs December 14 through December 31 at the Theatre of NOTE in Hollywood. For tickets call 800-838-3006 or visit www.specialtheplay.com/tickets.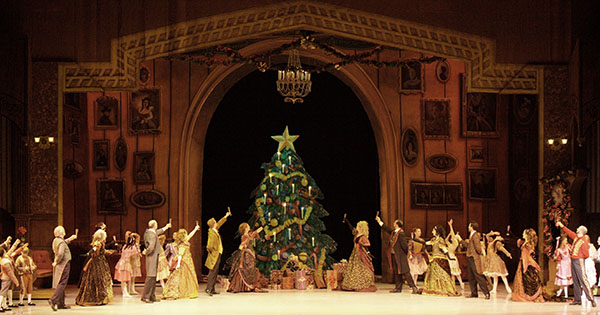 "The Nutcracker" The Long Beach Ballet has pulled out all the stops for this 36th production of the classical tale. This production boasts a full symphony orchestra, a flying sleigh, a real live horse, on-stage pyrotechnics, and a cast of over 200. Former Disney designers Elliot Hessayon and Scott Schaffer created the enchanting scenery, Australian artist Adrian Clark designed the detailed costumes, and renowned magician Franz Harary created the special effects, including a magical costume switch, involving Clara instantly changing from her nightgown into a gleaming ball gown. Written by E. T. A. Hoffmann, with music by Pyotr Ilyich Tchaikovsky, and directed by David Wilcox, it runs December 15 through December 23 at the Terrace Theater at the Long Beach Convention & Entertainment Center in Long Beach. For tickets call 877-852-3177 or visit www.longbeachballet.com.
"The Wonderful Winter of Oz" On Christmas Eve, Dorothy gets swept away by a 'freak' Kansas blizzard and lands in a world of munchkins and witches. An updated version of the beloved classic, in the style of a traditional British family Panto, THE WONDERFUL WINTER OF OZ features family-friendly magic, with a comedic twist, dancing (with "So You Think You Can Dance" alumni), contemporary music and more. Written by Kris Lythgoe, with music by Michael Orland, and directed by Bonnie Lythgoe, it runs December 15 through December 30 at the Pasadena Civic Auditorium in Pasadena. For tickets call 800-982-2787 or visit www.thepasadenacivic.com.
Enjoy life more – see a show tonight!