Here are some of the shows you can see in our local theaters this month: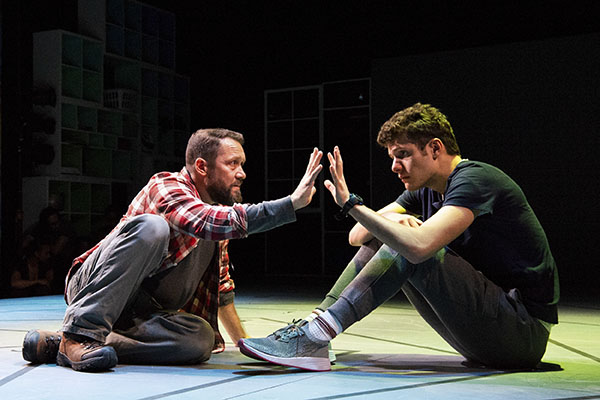 "The Curious Incident of the Dog in the Night" 15-year-old Christopher has an extraordinary brain: He is exceptional at mathematics but ill-equipped to interpret everyday life. He has never ventured alone beyond the end of his road, he detests being touched, and he distrusts strangers. Now it is seven minutes after midnight, and Christopher stands beside his neighbor's dead dog, Wellington, who has been speared with a garden fork. Finding himself under suspicion, Christopher is determined to solve the mystery of who murdered Wellington, and he carefully records each fact of the crime. But his detective work, forbidden by his father, takes him on a thrilling journey that upturns his world. Written by Simon Stephens, and directed by Kate Jopson, it runs November 1 through December 29 at the Greenway Court Theatre in Los Angeles. For tickets visit www.GreenwayCourtTheatre.org.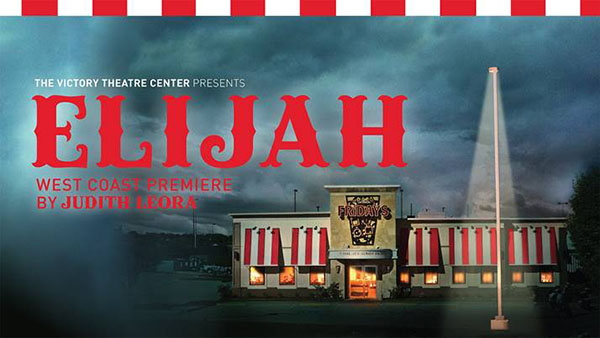 "Elijah" Hurricane Elijah has closed down all the roads in a small town in Texas. A disparate group of people take refuge in a TGIFridays restaurant, while, weather permitting, a high-profile execution is scheduled in a nearby prison. The restaurant is low on staff, low on food, but loaded with revelatory exchanges between both intimates and strangers who are impacted by the hurricane, the execution, and the difficulty of reconciling mercy and violence in this little corner of the world. Written by Judith Leora, and directed by Maria Gobetti, it runs November 1 through December 15 at the Big Victory Theatre in Burbank. For tickets call 818-841-5421 or visit www.thevictorytheatrecenter.org.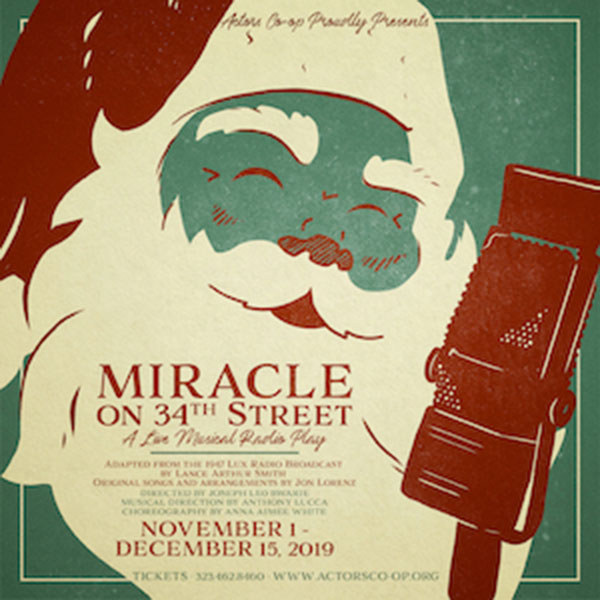 "Miracle on 34th Street: A Live Musical Radio Play" brings a heartwarming and classic tale of faith, love, and the gift of miracles to the holiday season, featuring live Foley effects and a score of holiday carols this beautiful story is sure to ring in Christmas for all. Written by Lance Arthur Smith, with music by Jon Lorenz, and directed by Leo Bwarie, it runs November 1 through December 15 at the Actors Co-op David Schall Theatre in Hollywood. For tickets call 323-462-8460 Ext. 300 or visit www.actorsco-op.org.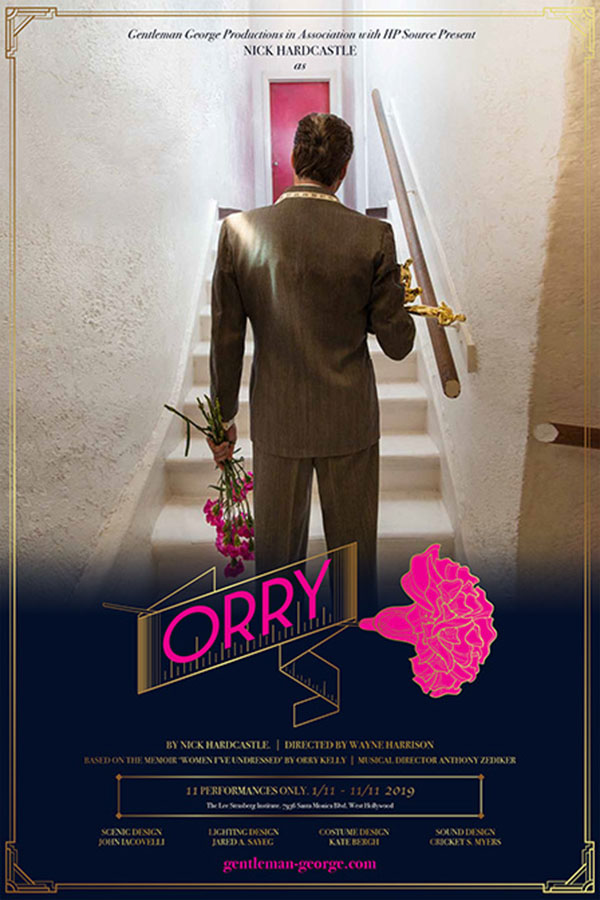 "Orry" You're invited to the funeral of three-time Oscar winner and Hollywood legend, costume designer Orry-Kelly. Don't expect a little thing like death to stop the whip tongue and quick wit of the unapologetically gay Australian rascal who dressed and heard the secrets of stars like Marilyn Monroe, Bette Davis, Olivia de Havilland, Merle Oberon, Ingrid Bergman and Mae West — just to name a few. Fearless, funny and outspoken, Orry-Kelly lived life to the fullest, from his childhood in Kiama, to reveling in Sydney's underworld nightlife, to chasing his dreams of acting in New York, to Hollywood. Based on his memoir "Women I've Undressed" — found in a pillowcase in suburban Sydney nearly 51 years after his death — Orry incorporates music, dance, vaudeville routines, puppetry, digital art, special effects and a taste of those incredible gowns to share his irresistible story. Anyone who loves classic movies, fashion, gossip and Cary Grant will love Orry. Written by Nick Hardcastle, and directed by Wayne Harrison, it runs November 1 through November 11 at the Lee Strasberg Theatre in West Hollywood. For tickets call 855-326-9945 or visit www.Gentleman-George.com.
"Ruthless, The Musical" Eight-year-old Tina Denmark knows she was born to play Pippi Longstocking, and she will do anything to win the part in her school musical, "Anything" up to and including murdering the leading lady!". Written by Joel Paley, with music by Marvin Laird, lyrics by Joel Paley, and directed by Alta Abbot, it runs November 1 through December 8 at the Theatre Palisades Pierson Playhouse in Pacific Palisades. For tickets call 310-454-1970 or visit www.theatrepalisades.org.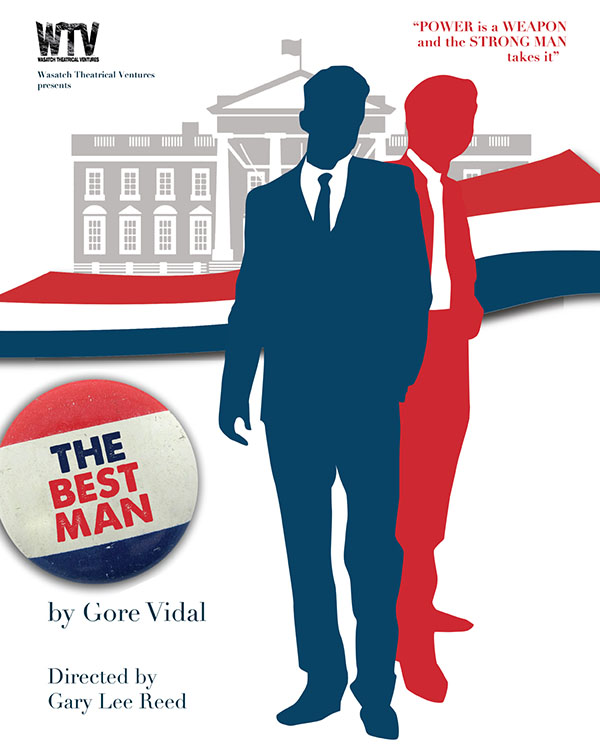 "The Best Man" An ideally timed race to the finish line between two candidates at the Presidential National Nominating Convention gets personal. Sexual indiscretions threaten one of the frontrunners career and marriage, as the other tries to live by their principles while faced with health issues that threaten his vote-winning potential. Vying for support from the outgoing president, both stay primed for battle, out front and behind the scenes, in this cynically humorous recap of the U.S. election process. Written by Gore Vidal, and directed by Gary Lee Reed, it runs November 2 through December 8 at the Lounge Theatre in Los Angeles. For tickets call 323-960-7787 or visit www.onstage411.com/bestman.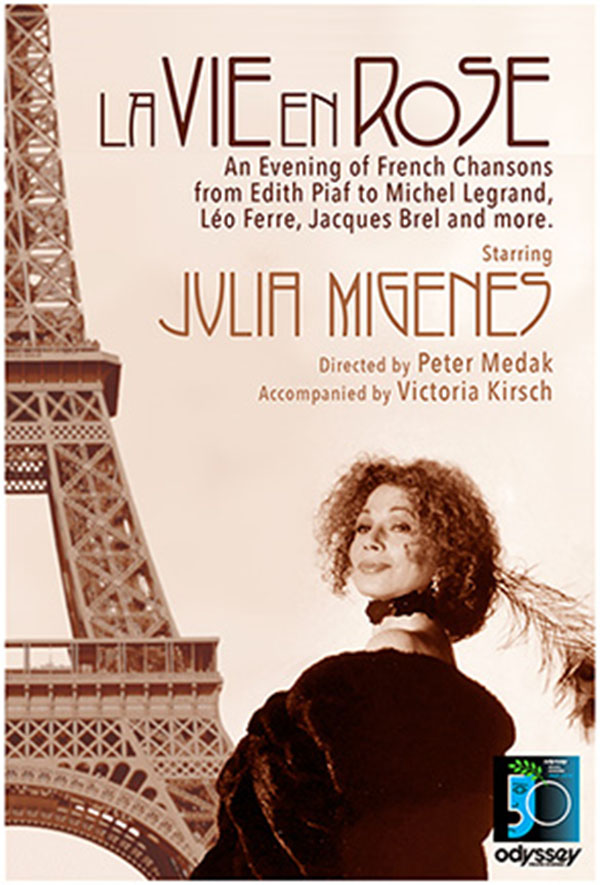 "La Vie en Rose" Grammy-winning chanteuse Julia Migenes travels back to the Paris of Edith Piaf, Pablo Picasso and Ernest Hemingway in this evening of nostalgic French chansons by Charles Aznavour, Léo Ferre, Jacques Brel, Michel Legrand and others. Accompanied on piano by Victoria Kirsch. Written by Julia Migenes, and directed by Peter Medak, it runs November 2 through December 14 at the Odyssey Theatre in Los Angeles. For tickets call 310-477-2055 Ext. 2 or visit www.OdysseyTheatre.com.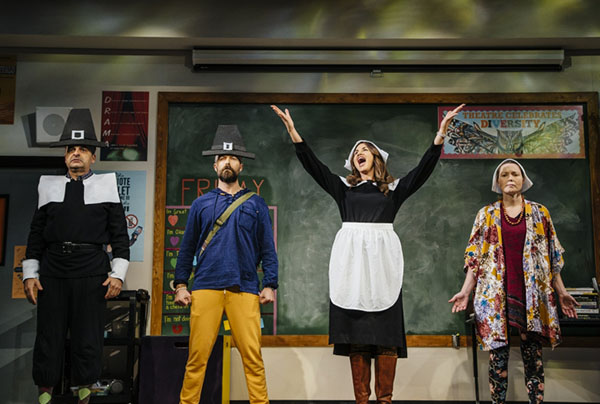 "The Thanksgiving Play" How does one celebrate Thanksgiving and Native American Heritage Month at the same time? In this biting satire, this is the question facing three "woke" white thespians tasked with devising an elementary school pageant about the first Thanksgiving while avoiding any culturally appropriative missteps. A roast of the politics of entertainment and well-meaning political correctness alike, it puts the American origin story itself in the comedy-crosshairs. Written by Larissa FastHorse, and directed by Michael John Garcés, it runs November 5 through December 1 at the Audrey Skirball Kenis Theater at Geffen Playhouse in Los Angeles. For tickets call 310-208-5454 or visit www.geffenplayhouse.org.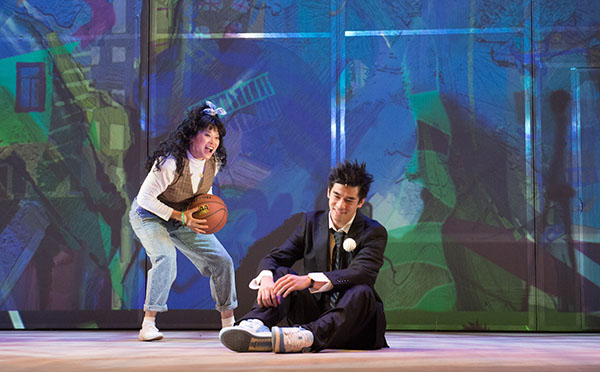 "The Great Leap" When an American basketball team travels to Beijing for an exhibition game, the coaches find themselves in a conflict that runs deeper than the strain between the countries, and a young player's actions abroad become the accidental focus of attention. Written by Lauren Yee, and directed by BD Wong, it runs November 6 through December 1 at the Pasadena Playhouse in Pasadena. For tickets call 626-356-7529 or visit www.PasadenaPlayhouse.org.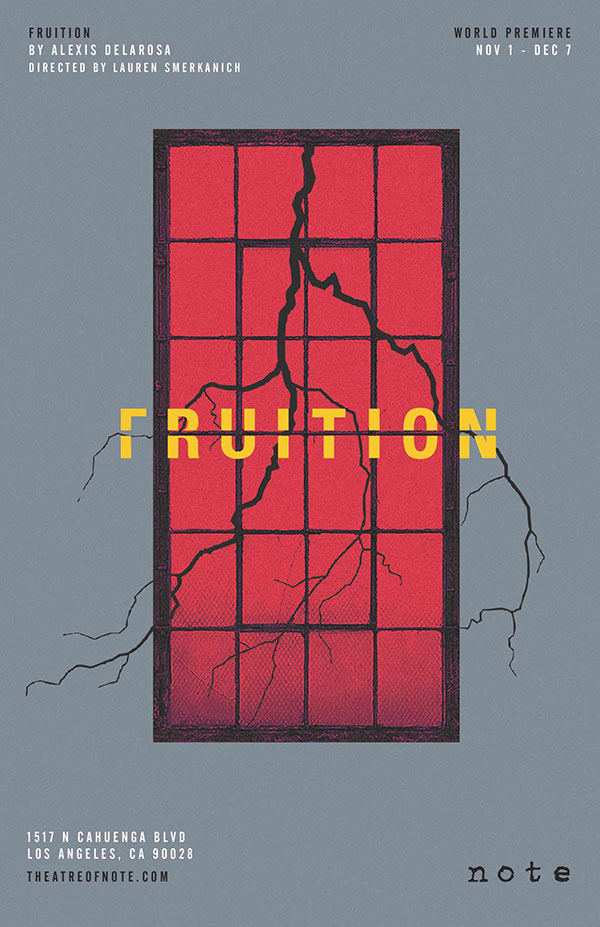 "Fruition" In a lawless near future, decades of unchecked greed, bigotry and fear have led to the collapse of governments and society as we know it. Seeking shelter in an abandoned warehouse, four strangers with no reason to trust each other must decide if they can work together to survive the deadly storm outside, while they face the threats they pose to one another. Written by Alexis DeLaRosa, and directed by Lauren Smerkanich, it runs November 7 through December 7 at the Theatre of NOTE in Hollywood. For tickets call 323-856-8611 or visit www.theatreofnote.com.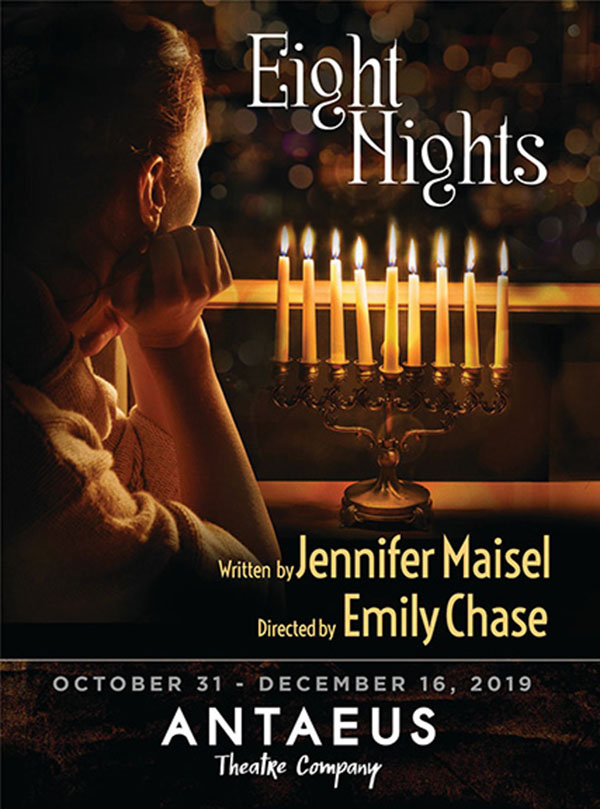 "Eight Nights" Set during eight different nights of Chanukah over the course of eight decades, Eight Nights tells the story of Holocaust survivor Rebecca Blum, who arrives in America at age 19 to forge a new life. As Rebecca moves through time, the play explores the lives that come and go in her New York apartment, where ghosts of the past both haunt and guide her. Maisel lyrically weaves together heart-aching moments with life-affirming humor to call out the trauma experienced not only by concentration camp survivors, but by African American descendants of slavery, by interned Japanese Americans, and by current victims of war in Africa and the Middle East. Written by Jennifer Maisel, and directed by Emily Chase, it runs November 8 through December 16 at the Kiki & David Gindler Performing Arts Center in Glendale. For tickets call 818-506-1983 or visit www.Antaeus.org.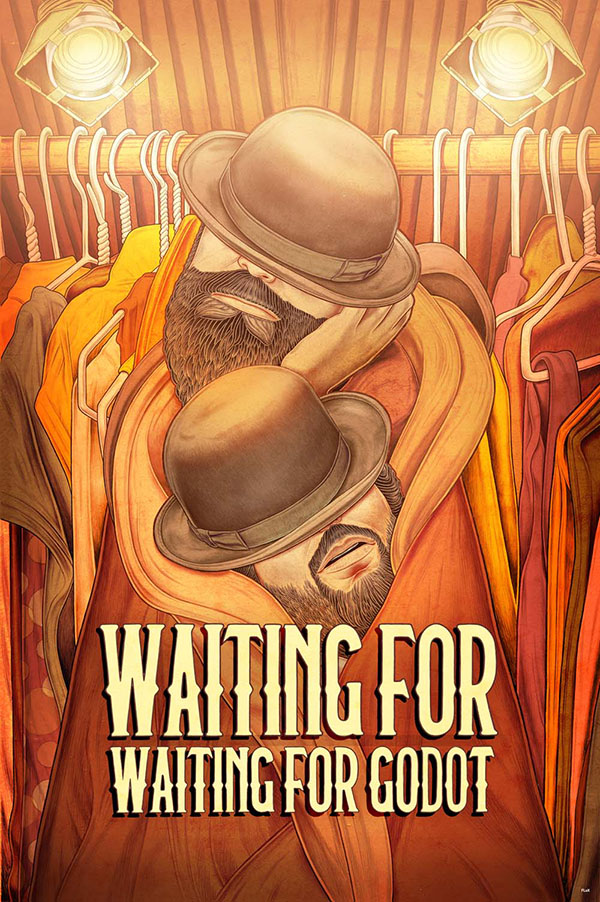 "Waiting for Waiting for Godot" Ester and Val are understudies for a production of Waiting for Godot. They are committed to art, and frustrated by anonymity. They understand their purpose, but not the reasons they stay. They accept their fate, but question each other's motives, all while waiting for "him" to appear. A backstage farce packed with profound insight, existential dread, and shameless punchlines, this is the Beckett companion you didn't know you needed. Written by Dave Hanson, and directed by Jacob Sidney, it runs November 8 through December 14 at the Broadwater Second Stage in Hollywood. For tickets visit www.sacredfools.org.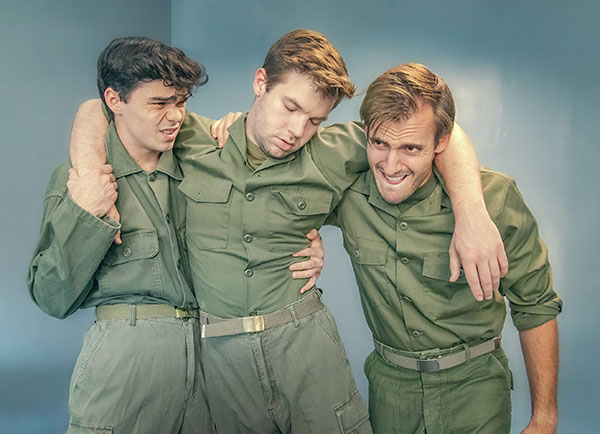 "Defenders" follows three American G.I.s who are shipwrecked on the remote island of Hrisey off Iceland's northern coast. The stranded G.I.s find themselves with missing weapons, few supplies, and a broken radio. They realize they must rely on the locals for survival but, like current-day warfare, the locals fear the loss of their culture, their women and their safety with the presence of foreigners on their land. As the mysterious history of Hrisey's long-ago battle with pirate invaders comes slowly to light the past and the present mix and the soldiers, Icelanders, and the land itself are forced to ask just who is defending whom. Written by Cailin Harrison, and directed by Reena Dutt, it runs November 9 through December 8 at the Broadwater Black Box in Los Angeles. For tickets call 323-960-5770 or visit www.Onstage411.com/defenders.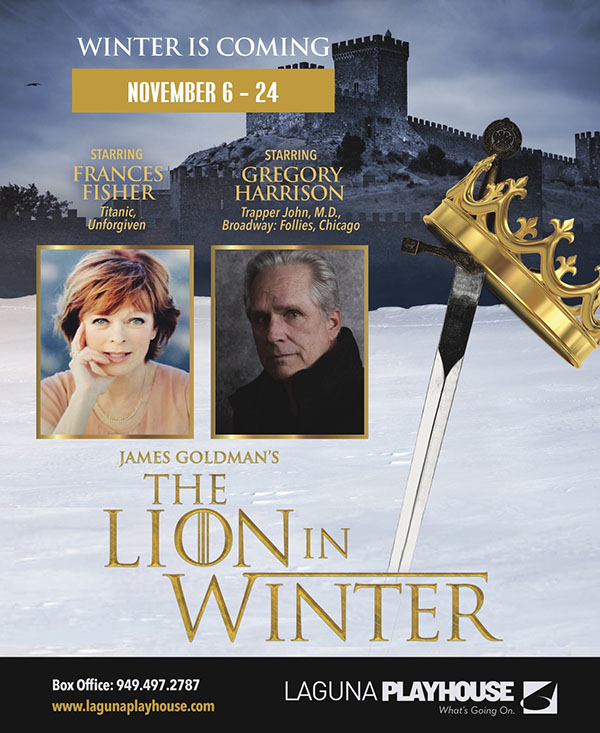 "The Lion in Winter" It's Christmas 1183, and King Henry II is planning to announce his successor to the throne. The jockeying for the crown, though, is complex. Henry has three sons and wants his boy, Prince John, to take over. Henry's wife, Queen Eleanor, has other ideas. She believes their son Prince Richard should be king. As the family and various schemers gather for the holiday, each tries to make the indecisive king choose their option. The Lion in Winter has all the makings of this modern-day classic – sibling rivalry, adultery, and dungeons. Comedic in tone, dramatic in action – the play tells the story of the Plantagenet family, who are locked in a free-for-all of competing ambitions to inherit a kingdom. Written by James Goldman, and directed by Sheldon Epps, it runs November 10 through November 24 at the Laguna Playhouse in Laguna Beach. For tickets call 949-497-2787 or visit www.lagunaplayhouse.com.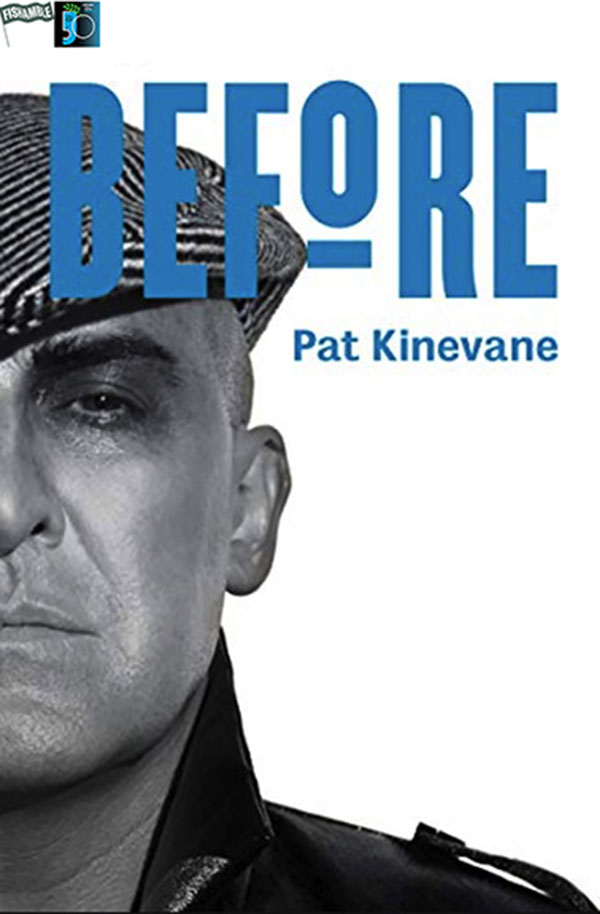 "Before" Inside Clery's of Dublin, on the very day this iconic department store shuts for good, Pontius is trying to choose a gift for his estranged daughter, whom he hasn't seen for almost 20 years. He will meet her in an hour. This father's journey is both beautiful and strange, from the isolation of his Midlands home, to the madness of O'Connell Street. Some folk are impossible to buy for. Written by Pat Kinevane, with music by Denis Clohessy, and directed by Jim Culleton, it runs November 14 through December 8 at the Odyssey Theatre in Los Angeles. For tickets call 310-477-2055 Ext. 2 or visit www.OdysseyTheatre.com.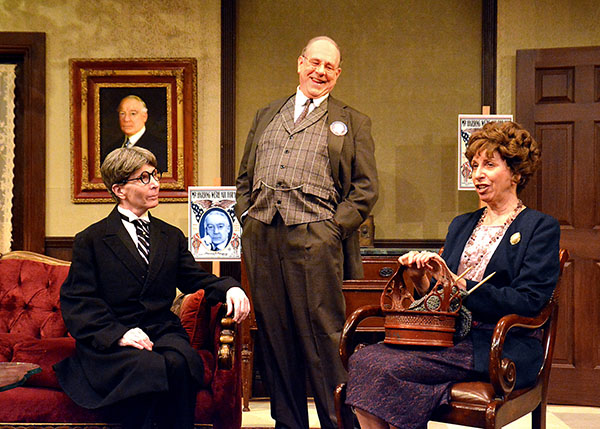 "Fifteen Men in a Smoke-Filled Room" Chicago, June, 1920. The Republican National Convention is in full swing. Warren G. Harding is overwhelmed by the prospect of being the nominee of the Republican Party for President. Hounded by an ambitious campaign manager, a paralyzingly superstitious wife, a star-struck young mistress, and the frightening pull of inevitability, Harding seems destined to be President—-or is he? This play explores the extent to which fate controls our lives. Is there a higher power that determines our destinies or are we the aggregate result of the idiosyncrasies of flawed humanity? Written by Colin Speer Crowley, and directed by Jules Aaron, it runs November 14 through December 15 at the Theatre 40, in the Reuben Cordova Theatre in Beverly Hills. For tickets call 310-364-0535 or visit www.theatre40.org.

"Hot Tragic Dead Thing" Bekah, a teenage social outcast recovering from a failed suicide attempt, and Miles, a golden boy with a hidden thirst for violence, are thrust into the same house when their parents try to blend their families after disastrous marriages. Bekah and Miles express their budding attraction and increasing obsession with leaving a mark on the world by plotting a mass shooting at their high school. Written by Ashley Rose Wellman, and directed by Christopher James Raymond, it runs November 14 through November 23 at the Blank's 2nd Stage Theatre in Hollywood. For tickets call 323-871-8018 or email tix@theblank.com.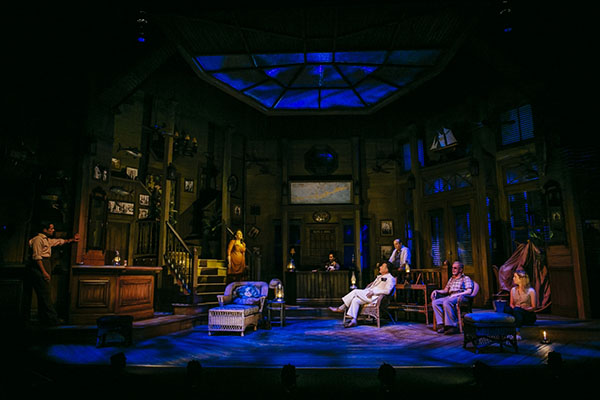 "Key Largo" is a bold reimagining of Maxwell Anderson's Broadway hit that became the iconic noir film starring Humphrey Bogart and Lauren Bacall. Returning from World War II, disillusioned Frank McCloud travels to a hotel in Key Largo to pay his respects to the widow of a fallen friend. What McCloud doesn't count on is an entirely different battle with mobsters who have overtaken the hotel, led by the ruthless Johnny Rocco. As a hurricane barrels toward the Keys, McCloud must face his demons in order to take down a monster. Written by Maxwell Anderson, adapted by Jeffrey Hatcher and Andy Garcia, with music by Arturo Sandoval, and directed by Doug Hughes, it runs November 14 through December 15 at the Gil Cates Theater at Geffen Playhouse in Los Angeles. For tickets call 310-208-5454 or visit www.geffenplayhouse.org.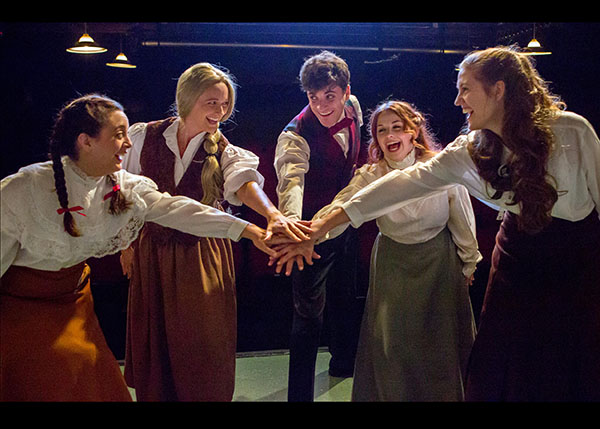 "Little Women, The Broadway Musical" The story follows the lives, loves and tribulations of the sisters growing up during the American Civil War. Meg, Jo, Beth & Amy live in Concord, Massachusetts with their Marmee while their father is on the battlefield. Filled with adventure (both lived and imagined), heartbreak, and a deep sense of hope, the struggle of these "Little Women" to find their own voices mirrors the growing pains of a young America, reminding us that "sometimes when you dream, your dreams come true.". Written by Louisa May Alcott, adapted by Jason Howland, Mindi Dickstein and Allan Knee, with music by Jason Howland, lyrics by Mindi Dickstein, and directed by Jennifer Richardson, it runs November 15 through December 21 at the Westchester Playhouse in Westchester. For tickets call 310-645-5156 or visit www.kentwoodplayers.org.
"Ragtime" Set in the volatile melting pot of turn-of-the-century New York, three individuals—a stifled upper-class wife, a determined Jewish immigrant, and a daring young Harlem musician—are united by their courage, compassion, and belief in the promise of the future. Together, they confront history's timeless contradictions of wealth and poverty, freedom and prejudice, hope and despair, and what it means to live in America. Written by Terrence McNally, with music by Stephen Flaherty, lyrics by Lynn Ahrens, and directed by Kelly Todd, it runs November 15 through November 23 at the Smothers Theatre, Pepperdine University in Malibu. For tickets call 310-506-4522 or visit www.arts.pepperdine.edu.
"Unraveled" Joy is a professor of physics and philosophy, who has spent her life exploring theories of space and time. None of that has prepared her for the reality of watching cancer unravel her mother's mind and body. As the hard work of care-taking begins to take its toll, she hires Anna, a hospice nurse, to help her mother. But when the rules of space and time no longer provide Joy the answers she needs, can Anna's simple lessons of how to care for another person help Joy knit the pieces of her life together again? Written by Jennifer Blackmer, and directed by Steve Jarrard, it runs November 15 through December 8 at the Sherry Theater in North Hollywood. For tickets call 323-860-6569 or visit www.unraveled.bpt.me.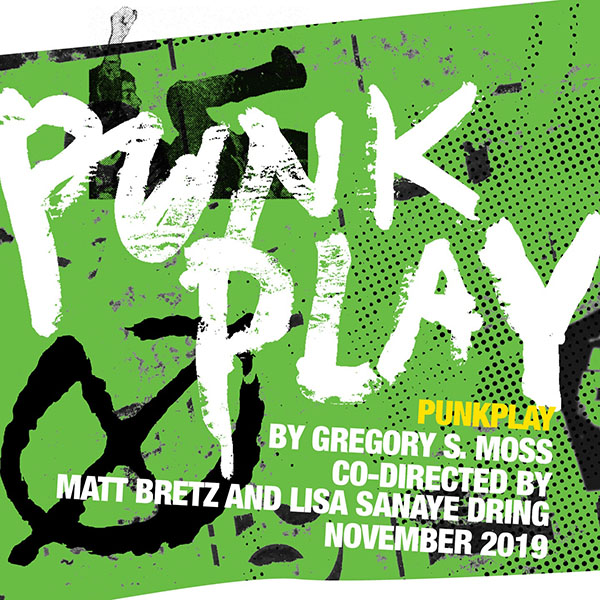 "Punkplay" Mickey and Duck are two teenage boys trying to make sense of the world in the mess of 80s America. Through the music and culture of punk rock, they patch together a precarious identity, skating (literally) between the demands of an increasingly strict subculture and an authentic desire to break free from convention. A coming of age story in the form of a mixtape, this is a theatrical love letter to loud music, irresponsible behavior and the beating heart of authenticity we all strive to preserve. Written by Gregory S. Moss, and directed by Matt Bretz & Lisa Sanaye Dring, it runs November 16 through December 21 at the Atwater Village Theatre in Atwater Village. For tickets visit www.buytickets.at/circlextheatrecompany/304274.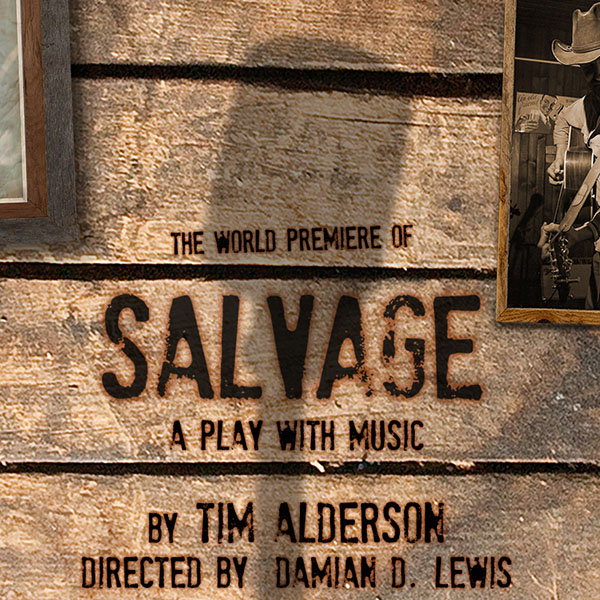 "Salvage" Having a dream is like running with scissors. Harley, a singer-songwriter whose wife is expecting their first child, has decided to hang up his dream before it destroys his family. On his way to pawn his guitar, he stumbles across the bar where his musical hero, Floyd Whitaker, died. Upon entering, he finds an inhospitable bartender and a single, surly customer, who's strumming the blues on an old guitar. How could he resist an adventure like this? Written by Tim Alderson, and directed by Damian D. Lewis, it runs November 16 through December 15 at the Lounge Theatre in Los Angeles. For tickets call 323-960-7712 or visit www.Onstage411.com/Salvage.
"Annie" In the depths of the 1930's, Annie is a fiery young orphan girl who must live in a miserable orphanage run by the tyrannical Miss Hannigan. Her seemingly hopeless situation changes dramatically when she is selected to spend a short time at the residence of the wealthy munitions industrialist, Oliver Warbucks. Written by Thomas Meehan, with music by Charles Strouse, and directed by Noah Skultety, it runs November 22 through December 1 at the Studio Channel Islands in Camarillo. For tickets visit www.csparepertory.net.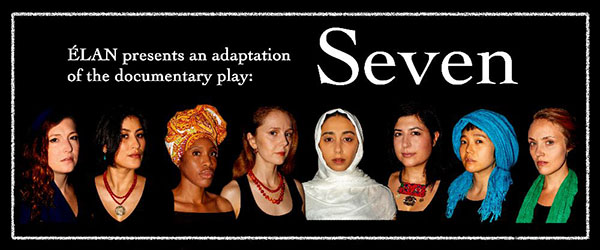 "Seven" collaborated to create this compelling tapestry of stories, weaving together the words of seven remarkable women who faced life-threatening obstacles to bring about major improvements in the lives of women and girls in their home countries. ÉLAN Ensemble, using its signature physical theatre techniques, brings these unforgettable stories to life. Written by Paula Cizmar, Catherine Filloux, Gail Kriegel, Carol K. Mack, Ruth Margraff, Anna Deavere Smith, and Susan Yankowitz, and directed by Natsuko Ohama, it runs November 23 through December 16 at the Atwater Village Theatre in Atwater Village. For tickets call 310-990-2023 or visit www.seven.brownpapertickets.com.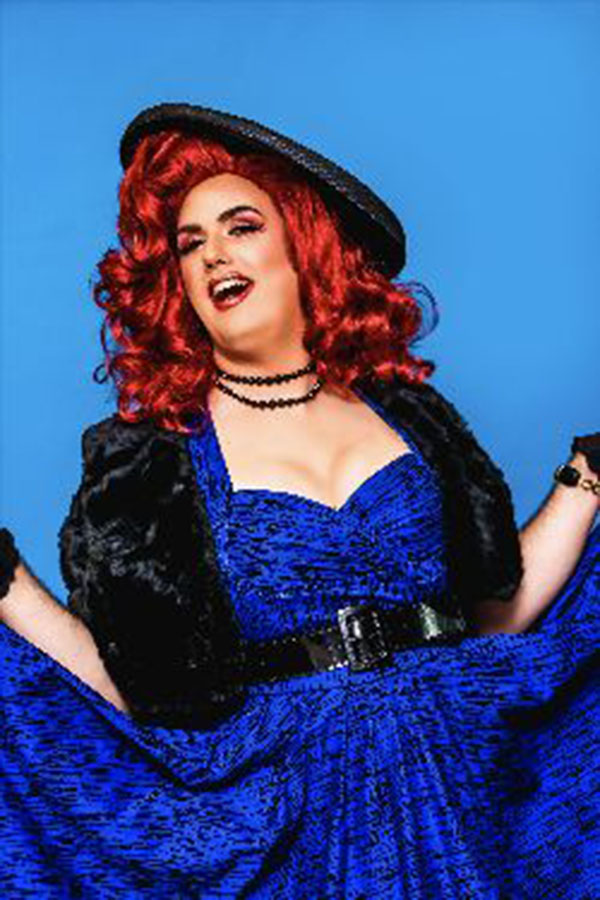 "The Legend of Georgia McBride" He's young, he's broke, his landlord's knocking at the door, and he's just found out his wife is going to have a baby. To make matters even more desperate, Casey is fired from his gig as an Elvis impersonator in a run-down, small-town Florida dive bar. When the bar owner brings in a B-level drag show to replace his act, Casey finds that he has a whole lot to learn about show business – and himself. A clever comedy wrapped in sequins, it features show stopping drag numbers with music ranging from Kesha to Judy Garland. Written by Matthew Lopez, and directed by Michael J. Marchak, it runs November 24 through February 9 at the Secret Rose Theatre in North Hollywood. For tickets call 818-605-5685 or visit www.crowncitytheatre.com.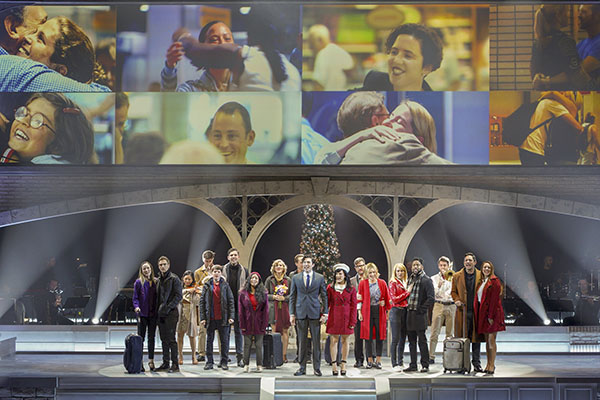 "Love Actually Live" uniquely brings together friends and family alike to experience the unforgettable holiday classic in a three-dimensional world where the film and live action seamlessly intertwine throughout the London setting. Iconic scenes displayed on screens that travel throughout the set, share the stage with an all-star cast of singers and 15-piece orchestra as they reimagine the film's hit soundtrack including "Christmas is All Around," "Trouble with Love," and "Both Sides Now." Written and directed by Anderson Davis, it runs November 27 through December 29 at the Wallis Annenberg Center for the Performing Arts in Beverly Hills. For tickets call 310-746-4000 or visit www.TheWallis.org/Love.
"A Christmas Carol" visits from three ghosts help Scrooge to see the light and change his ways. This wonderful, optimistic Christmas message shows us that, the human spirit is capable of renewal and its hopeful message has earned a place of honor in the hearts of generations. Tiny Tim, Bob Cratchit, and the lively carolers will put you in the perfect holiday mood! Glendale Centre Theatre's traditional dramatization of Ebenezer Scrooge's life-changing Christmas Eve is entertaining, captivating, and touching. Written by Charles Dickens, it runs November 28 through December 24 at the Glendale Centre Theatre in Glendale. For tickets call 818-244-8481 or visit www.glendalecentretheatre.com.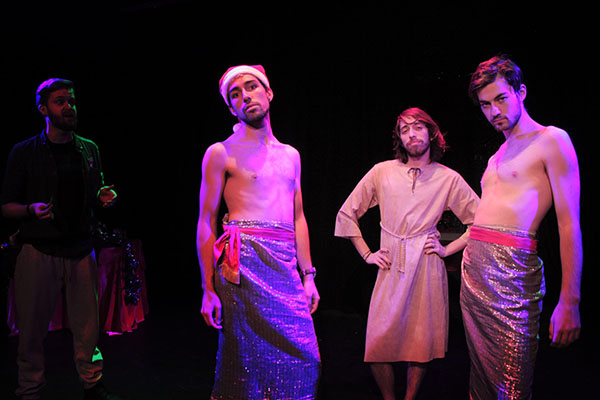 "The Gayest Christmas Pageant Ever!" Sixteen actors play nearly 30 characters in a holiday spectacular that will put you in a festive mood! A play-within-a-play, this fast-paced comedy follows a small, LGBTQ+ community theatre as it struggles to pull together its annual holiday pageant. Written by Joe Marshall, and directed by Bree Pavey, it runs November 29 through December 22 at the Loft Ensemble in North Hollywood. For tickets call 818-452-3153 or visit www.loftensemble.org.
"Bob Baker's Nutcracker" Bob Baker's adaptation of the ballet classic is one of Bob Baker Marionette Theater's most beloved shows since it began in 1969.  Imagination dwells at Pasadena Playhouse, in a space specially outfitted for optimal holiday and puppetry joy. Allow the Bob Baker Marionette Theater and over 100 handcrafted puppets to take you on an adventure through the wizardry of strings and into the enchanted world of the fantastic… Nutcracker. The show runs November 30 through December 29 at the Pasadena Playhouse Carrie Hamilton Theatre in Pasadena. For tickets call 626-356-7529 or visit www.pasadenaplayhouse.org.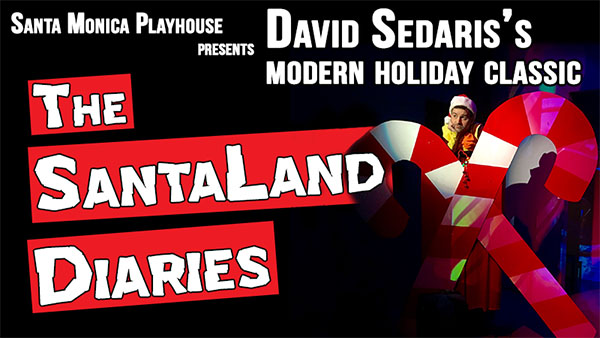 "The SantaLand Diaries" Patrick Censoplano once again dons the candy-cane tights for a Santa Monica Playhouse holiday celebration in this outrageously funny one-man play from NPR's well-loved humorist David Sedaris. The SantaLand Diaries, based on Sedaris's experiences as an unemployed writer taking a job as an elf at Macy's department store in New York City, takes a wry look at how the holiday season brings out the best – and the worst – in us all. Written by David Sedaris, adapted by Joe Mantello, and directed by Chris DeCarlo, it runs November 30 through December 20 at the Santa Monica Playhouse in Santa Monica. For tickets call 310-394-9779 Ext. 1 or visit www.SantaMonicaPlayhouse.com.
Enjoy life more – see a show tonight!