Halloween Time at the Disneyland Resort Adds More Spooky Fun than Ever Before with Expansion into Disney California Adventure Park
 For the First Time, Oogie Boogie Takes Over Disney California Adventure, Cars Land Transforms for 'Haul-O-Ween,' and Nightfall Unleashes Guardians of the Galaxy – Monsters After Dark

At Disney California Adventure
For the first time, Cars Land in Disney California Adventure will be transformed with a special Haul-O-Ween makeover as the citizens of Radiator Springs don Halloween costumes and decorate their respective homes for the season. The townsfolk celebrate the season by turning Radiator Springs into Radiator Screams.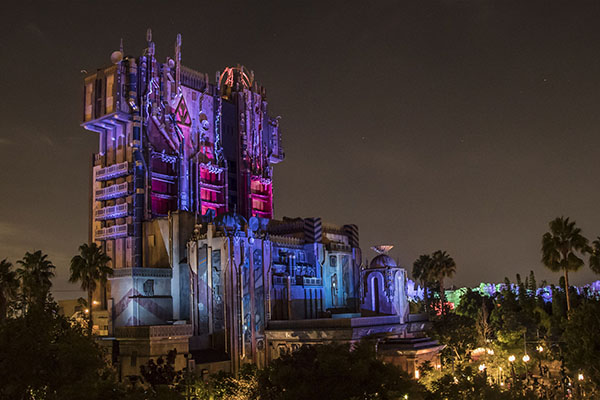 Lightning McQueen, Mater, Cruz, Red and DJ will be in "car-stume" – as a super hero, a "van-pire," a pirate, a clown and a punk rocker, ready to go "trunk-or-treating." Attractions transform, too, with Mater's Junkyard Jamboree turning spooky as the Graveyard JamBOOree, and Luigi's Rollickin' Roadsters getting a seasonal twist to become Luigi's Honkin' Haul-O-Ween.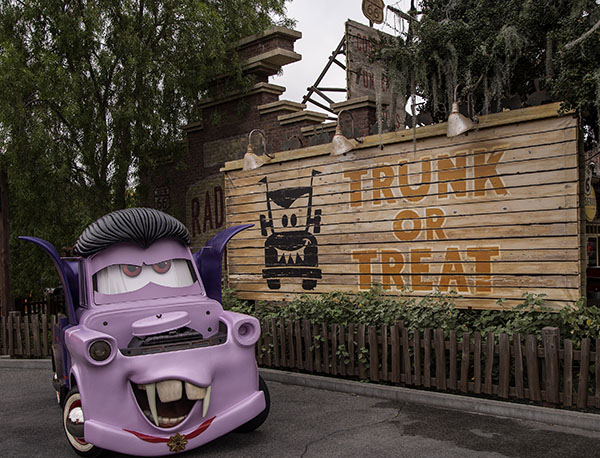 Also new this year at Disney California Adventure:
The popular, new attraction Guardians of the Galaxy – Mission: BREAKOUT! transforms nightly into a new Halloween adventure: Guardians of the Galaxy – Monsters After Dark. As the sun sets, the attraction exterior goes dark and then suddenly powers back up with new lighting effects, a signal that something has gone awry. Inside, creatures are on the loose and Rocket is enlisting guests to help him save Groot – only during the Halloween season.
Oogie Boogie takes over Disney California Adventure with his twisted tale of a forever Halloween, inspired by "Tim Burton's The Nightmare Before Christmas." Oogie Boogie's oversized silhouette beckons guests through the main entrance of the park and he brings to life a swarm of bats around Carthay Circle Restaurant and Lounge.
Mickey Mouse and his pals appear in Halloween costumes to greet guests on Buena Vista Street. Mickey Mouse dresses up as a bat, Goofy as a ghost and Daisy Duck as a witch – all in playful fun.
Halloween décor extends along Buena Vista Street to Carthay Circle, where guests encounter a new, 10-foot-tall statue of the Headless Horseman holding his jack-o-lantern head to the sky.
Disney California Adventure also will be featured for the first time as part of the pre-party mix-in for Mickey's Halloween Party, a separate-ticket event that features special entertainment, Disney characters in their Halloween attire, and trick or treating at locations throughout Disneyland Park. This year, a ticket to Mickey's Halloween Party* has even greater value as guests will be able to visit Disney California Adventure as well as Disneyland Park during the three hours prior to the beginning of the party in Disneyland.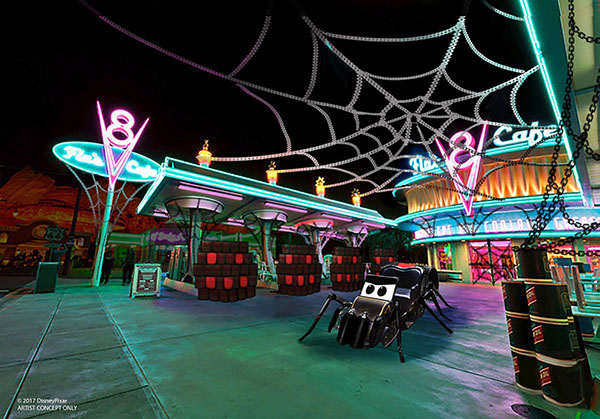 Advanced purchase savings are available for select nights of Mickey's Halloween Party. Through Oct. 17, all tickets purchased at least one day prior to the event are $105 each. Tickets may be purchased online and on mobile devices at Disneyland.com/party as well as at the Disneyland Resort main gate and by phone at 714-781-4400.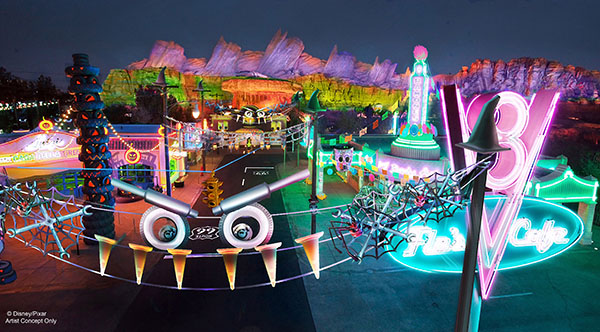 At Disneyland Resort
At Disneyland, guests will enjoy frightfully fun thrills on popular Halloween attractions Haunted Mansion Holiday and Space Mountain Ghost Galaxy, along with themed foods and merchandise, plus lighthearted décor that includes a giant Mickey Mouse jack-o'-lantern and a Pumpkin Festival on Main Street, U.S.A.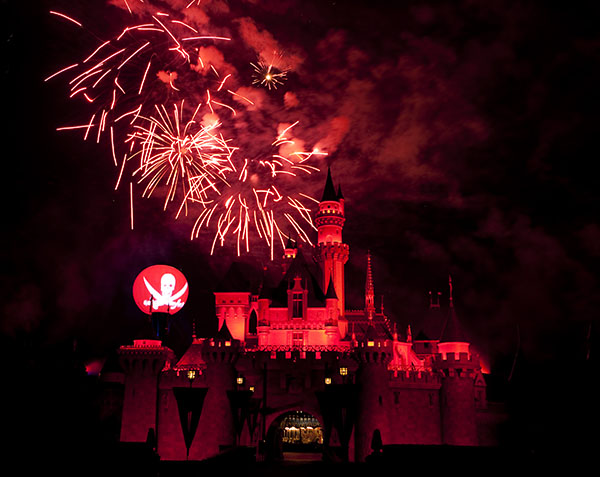 Haunted Mansion Holiday celebrates the collision between Halloween and Christmas as Jack Skellington, from the Walt Disney Pictures classic, "Tim Burton's The Nightmare Before Christmas," offers his unique take on the holidays. The annual Haunted Mansion Holiday gingerbread house is presented in a new design each year and this year it's the creepy Oogie Boogie in the form of a 7-foot-tall cookie in the Mansion ballroom. He is peeling back the roof of a gingerbread Haunted Mansion, uncovering oodles of gummy bugs and worms.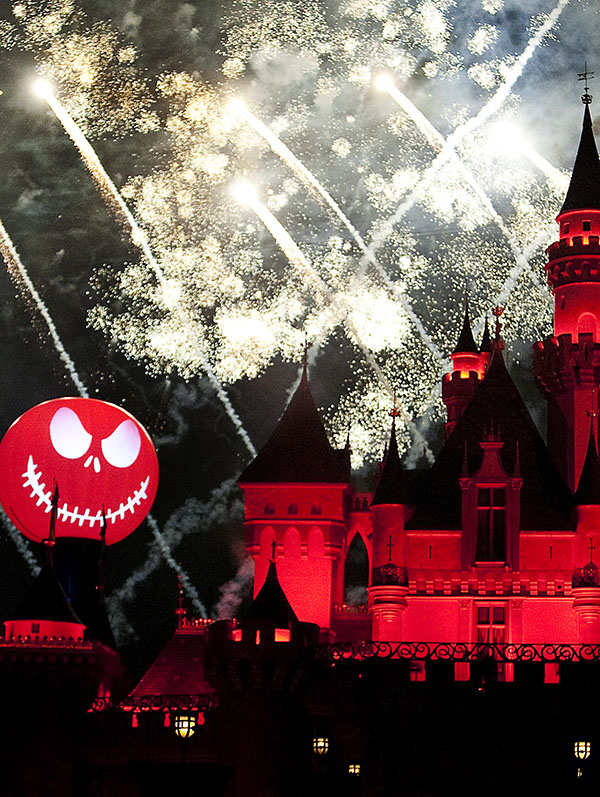 Another Halloween Time favorite at Disneyland is Space Mountain Ghost Galaxy, a reimagining of the popular thrill ride in Tomorrowland. Guests on board the speeding Space Mountain vehicles are thrust into a ghostly galaxy where they are surrounded by eerie screams, sound effects and music. Spine-chilling spirits pop out of the darkness, appearing to reach out to menace the space travelers.
Disneyland will continue to offer its traditional Día de los Muertos tribute in Frontierland through Nov. 2. This annual exhibit commemorates the Mexican holiday of Day of the Dead with a musical trio of iconic skeleton figurines, brightly colored flowers and other decorative items.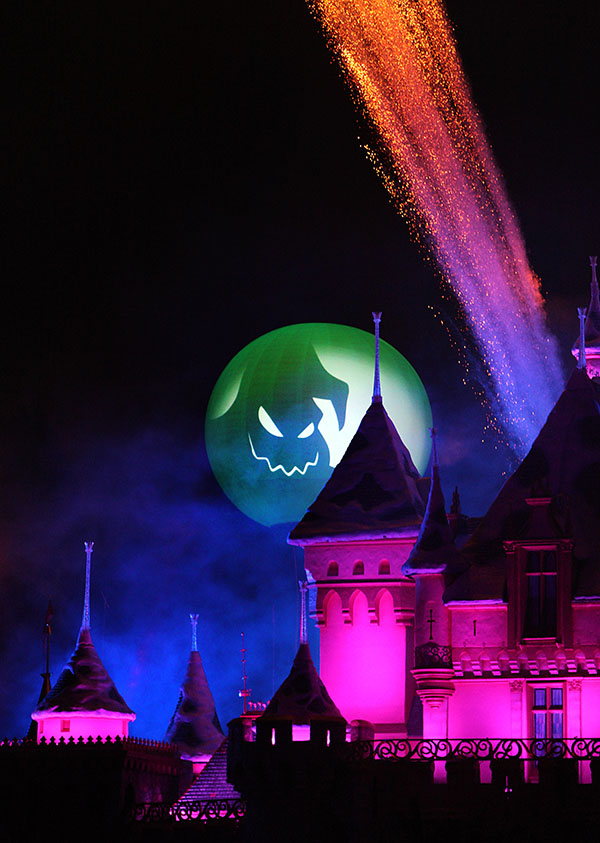 Mickey's Halloween Party
Guests are invited to dress in costume for Mickey's Halloween Party where they will trick-or-treat throughout Disneyland Park for candy and healthy snacks. This year, capturing memories during the party will be easier than ever as guests who have admission to Mickey's Halloween Party will enjoy the added bonus of unlimited Disney PhotoPass downloads during the party, for up to 45 days after the date of capture.
Another extra-special treat is the "Halloween Screams" fireworks spectacular, a Mickey's Halloween Party tradition presented exclusively for party guests and hosted by "Master of Scare-omonies" Jack Skellington.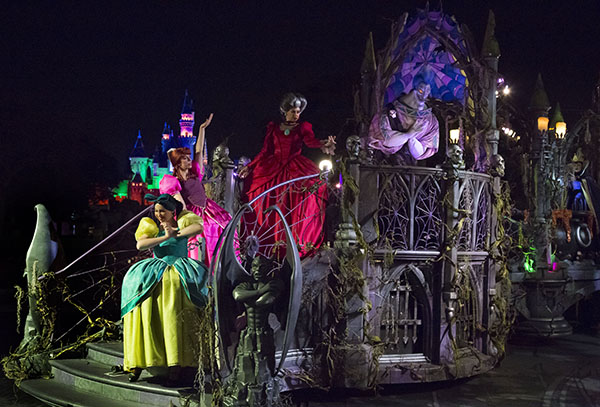 Also exclusive to Mickey's Halloween Party is the "Frightfully Fun Parade" led by The Headless Horseman of Sleepy Hollow (from the Disney animated classic "The Adventures of Ichabod and Mr. Toad"). The Horseman rides through the park on his ghostly black steed with a flickering jack-o'-lantern to usher in the parade featuring Jack Skellington followed by a procession of grim, grinning (and hitchhiking) ghosts from the iconic Haunted Mansion attraction. The creepy Dr. Facilier from Disney's "The Princess and the Frog" calls on mystical powers, summoning his Shadow Men from the bayou to loom large over his strange and twisted Voodoo parlor. The mischievous Disney villains appear out of the darkness, ready to stir up trouble. The wicked gathering includes the Evil Queen, Jafar and Cruella.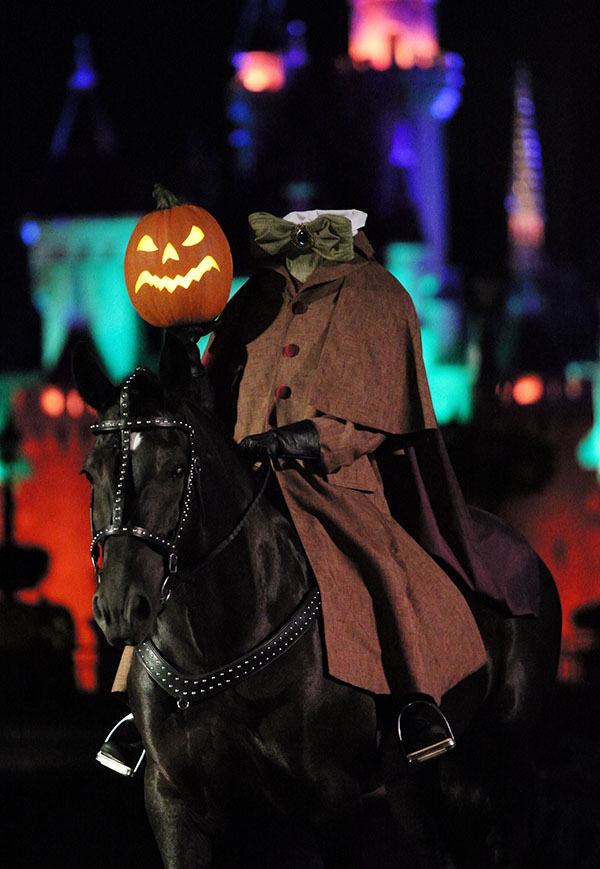 Disney villains, as well as Mickey Mouse and friends, appear at locations throughout the park, and the Cadaver Dans ghostly quartet performs on the Rivers of America in Frontierland.
Another popular feature of the party, the opportunity for guests to "mix in" with regular park guests for three hours prior to the party's start time will allow guests to "park hop" between Disneyland and Disney California Adventure parks.
Mickey's Halloween Party Tickets* may be purchased by guests online and on mobile devices at Disneyland.com/party as well as at the Disneyland Resort main gate and by phone at 714-781-4400. Guests may check for availability for the 14 nights, including Tuesday, Oct. 31, Halloween night. Online and mobile purchases are not available the day of the event. Parking is not included in the ticket price, and parking fees will apply. Mickey's Halloween Party is a non-smoking event.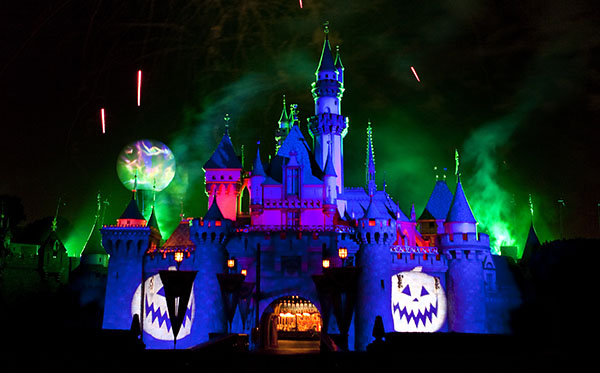 At Downtown Disney
For the first time, the horticulture throughout Downtown Disney will be newly planted to celebrate Halloween. Guests will discover more than 1,600 real pumpkins integrated into the landscaping in new ways, along with additional planter spaces.
For more information about Halloween events at the Disneyland Resort, please visit Disneyland.com/Halloween. Entertainment and attractions are subject to change without notice.
*Mickey's Halloween Party tickets are subject to availability and are valid only for specific event dates and hours. Space is limited. Advanced purchase savings available only for select party nights and only until one day prior to applicable event date. Limit eight (8) tickets per person, per event date. Tickets are nonrefundable and may not be resold. May not be combined with other discounts. Costumes subject to Disney guidelines at disneyland.disney.go.com/events-tours/mickeys-halloween-party/ and should not be obstructive or offensive. Ages 2 and under: no ticket required. Entertainment may be cancelled due to inclement weather or otherwise. Subject to restrictions and change without notice.
**Disney PhotoPass service is subject to the PhotoPass terms found in https://disneyland.disney.go.com/photopass-terms-conditions/. Online registration required.  Disney PhotoPass Photos captured during the Mickey's Halloween Party must be linked to your Disney account and may be downloaded pursuant to the expiration policy at https://disneyland.disney.go.com/photopass-expiration-policy/.  Not responsible for missing, lost or damaged photos. Downloads are restricted to personal use by Disney account holder only and may not be used for a commercial purpose. Subject to restrictions and change without notice.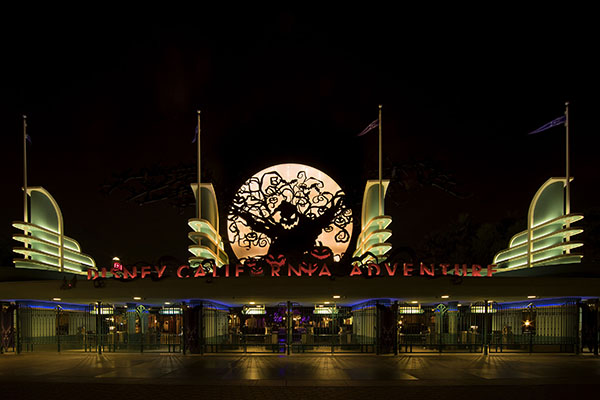 The Disneyland Resort features two spectacular theme parks – Disneyland (the original Disney theme park) and the reimagined Disney California Adventure Park – plus three hotels and the Downtown Disney District, comprising unique dining, entertainment and shopping experiences. The Resort's hotels are the luxurious, 948-room Disney's Grand Californian Hotel & Spa, which also features 50 two-bedroom equivalent Disney Vacation Club units; the magical, recently renovated, 975-room Disneyland Hotel – both AAA Four Diamond properties – and the 481-room Disney's Paradise Pier Hotel with its "day-at-the-beach" fun. For information on attractions and vacations at Disneyland Resort, visit Disneyland.com, call (866) 43-DISNEY or contact local travel agents.
Disneyland Resort in Anaheim is open daily year round, and Halloween Time runs through October 31. For more information call 866-603-4763 or visit www.disneyland.com.
---
Terrifying New Nightmares In
Store For The 45th Season Of
Knott's Scary Farm  
 Where Nightmares Never End…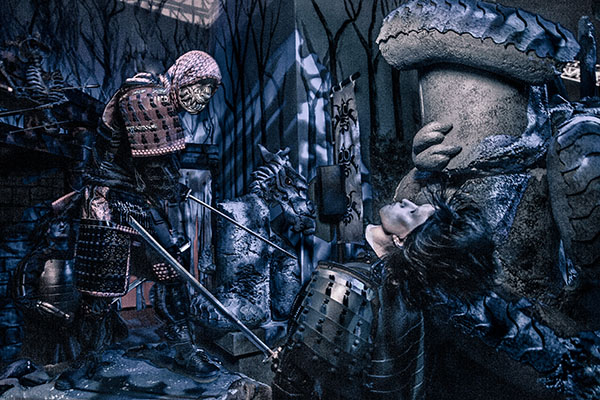 The most haunting Halloween event in Southern California, Knott's Scary Farm, returns with unimaginable scares and innovative thrills for its 45th season. The fully transformed park will feature 13 uniquely haunted mazes and attractions, including the return of Elvira, Mistress of the Dark, for her last performance as she bids farewell to the Scary Farm crowds with an all-new show. Knott's Scary Farm is back for 25 horrifying nights from September 21 – October 31. This year's Knott's Scary Farm experience has all the ingredients of a truly terrifying nightmare, but unlike most dreams, Knott's Scary Farm is a nightmare you can't wake up from.
The new season will bring unnerving nightmares to life as it debuts three all-new, unique haunted attractions, each introducing new menacing storylines and heinous never-before-seen characters.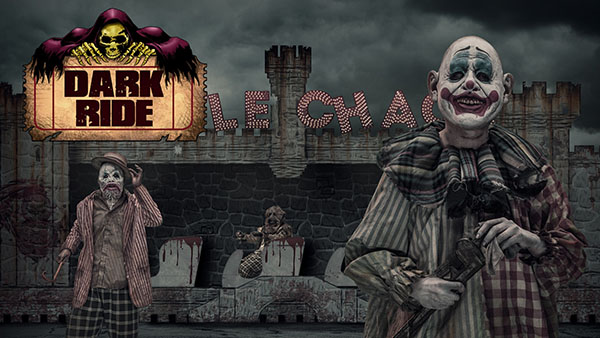 Dark Ride (New for 2017) – Guests will journey through an abandoned carnival ride where cruel characters still linger in the shadows in Dark Ride, Knott's Scary Farm's newest maze. The carnival attraction has become a refuge for sideshow freaks and now those shunned performers have created an ominous world where they plan to unleash terror on those who enter. Dark Ride will lead brave visitors through a treacherous path and into the bowels of a long neglected attraction as sinister shadows and horrifying scenes cast darkness over the once pleasant ride.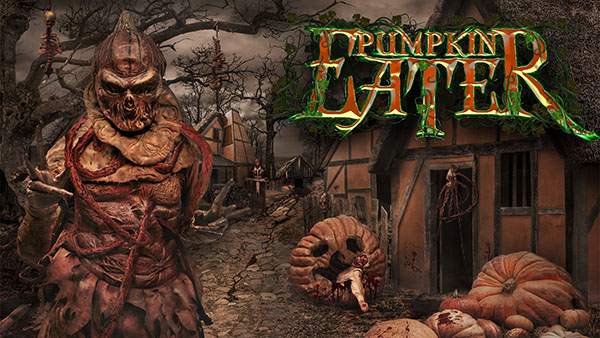 Pumpkin Eater (New for 2017) – Daring guests will attempt to survive the wrath of the murderous 7-foot tall creature that haunts the old woods surrounding The Hollow in this year's new maze, Pumpkin Eater. The notorious creature is on the prowl, hidden within the dark confines of the haunted town he once terrorized. To escape the sinister Pumpkin Eater's wrath all who enter must go on a quest through the silent town of victims, face a cave of crawling insects and solve the labyrinth of thorns that blocks the only way out.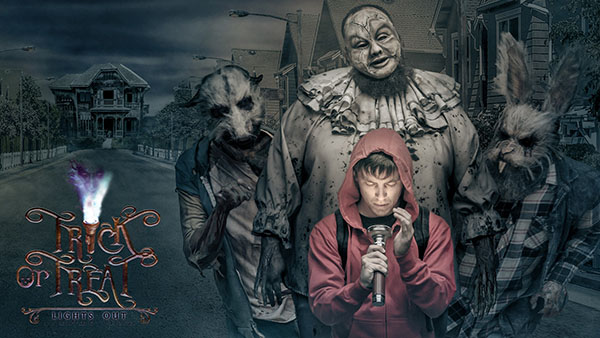 Trick-or-Treat: Lights Out (New for 2017) – Scared of the dark? Returning more sinister and twisted than ever before, guests are invited to step inside the Green Witch's haunted home and venture through its dark pathways in Trick or Treat: Lights Out. Armed with only a faulty flashlight, brave visitors must face the terror of the Green Witch's house completely in the dark. Featuring new state-of-the-art effects, unexpected scares and other eerie surprises, Trick-or-Treat is back to terrorize like never before.
Returning Favorites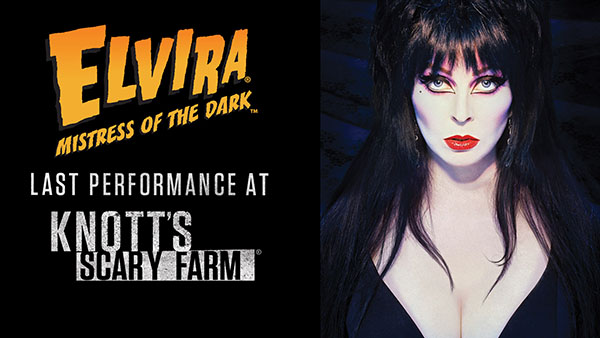 Returning for the last and final year at Knott's Scary Farm, Elvira is back with a bang, in a brand new spectacular farewell show, Elvira, Mistress of the Dark. The exclusive performance will pay homage to the Queen of Halloween's celebrated comedy-horror film, complete with musical numbers, dance and humor. Knott's Scary Farm will be the exclusive home of Elvira for her final performance this Halloween season.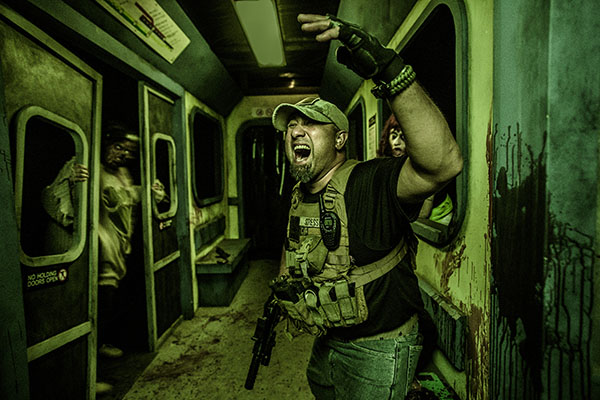 Special Ops: Infected – The city is in need of brave soldiers looking to stop the zombie apocalypse in an all-out war against the undead in this interactive experience, Special Ops: Infected. Armed with specially designed laser guns, brave groups of guests will embark on a mission to find the cure to the infection by navigating through sprawling city streets and buildings. The popular attraction includes blood thirsty zombies, more interactive targets than ever before, along with multiple action-packed surprises hidden around every corner.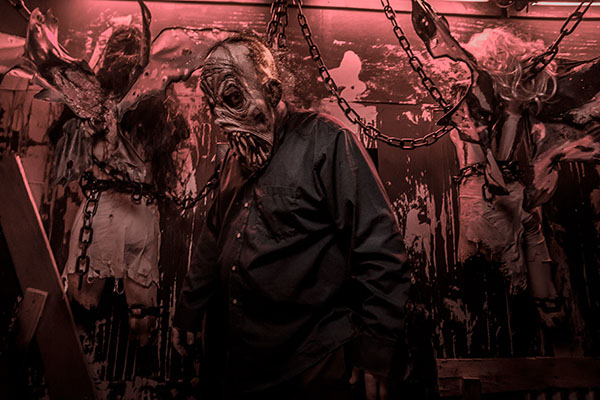 Shadow Lands – A fulfilling life ensures a soul safe passage into eternity, but what happens to the souls of soldiers slain in battle? The Shadow Lands maze invites valiant wanderers to fight off demon samurais whose souls are cursed to rot within the depths of purgatory. Guests will embark on a quest through a sacred shrine, an ancient Japanese temple and into the midst of the shadow lands.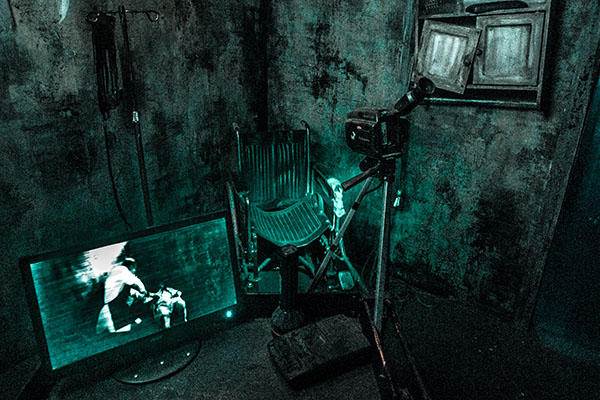 PARANORMAL, INC. – A fan favorite, Paranormal Inc., returns to Hayden Hill for another bone-chilling year. Featuring high flying aerial stunts and scares, guests investigate a haunted hospital. Where demonic spirits have been detected throughout the mysterious halls and new unexpected bloodcurdling surprises are hidden around every corner.
Red Barn – The horrifying, blood-soaked Red Barn re-opens its doors, filled with carnivorous animals seeking to prey on human flesh in the park's goriest maze. Legend has it, the farmer who owns the barn was transformed into a heinous creature who sends his sadistic sons to procure food and new victims. None dare enter the barn, for those who enter, never escape.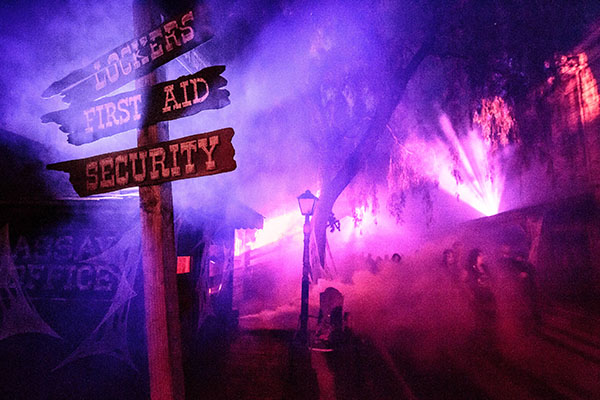 The Tooth Fairy – This twisted tooth fairy steals more than just baby teeth as he drags his victims out of their bedroom window and into a world of cruel dentistry. Unbelievable special effects include a blackout room through which guests must feel their way out, a disorienting x-ray strobe light room, and a final encounter with the terrifying tooth fairy himself. Say aahhh.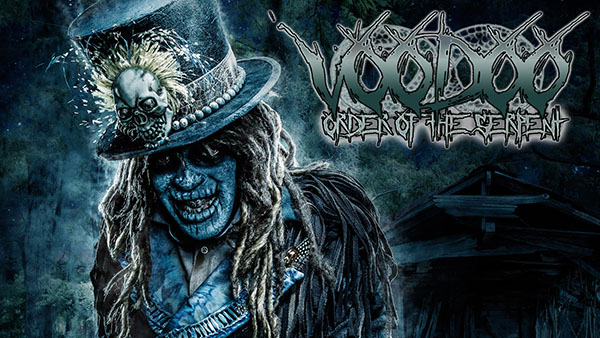 Voodoo – Order of the Serpent: The haunting legend of Papa Legba continues as guests follow him on his foreboding journey to conjure the serpent demon goddess in the outskirts of New Orleans. Trudge cautiously through the cursed swamps of the Deep South, where creatures search the murky bogs for their next bloody sacrifice and demons curse the innocent with Voodoo hexes.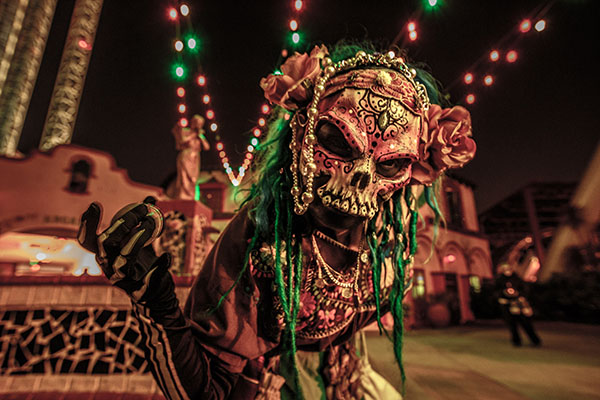 The Hanging® – A live stage show on the Calico Mine stage irreverently looks back at the year's pop culture with killer comedy. Notorious for its special effects, pyrotechnics and high-flying stunts, The Hanging is a no-holds-barred assault on pop culture's most infamous moments of the past year. A must see parody!
Scare Zones
Knott's Scary Farm is far more than a collection of haunted attractions. Every night monsters spill out onto the streets and turn theme park midways into murderous scare zones. From the world famous Ghost Town Streets to the Boardwalk area filled with evil clowns, there's nowhere to hide at Knott's Scary Farm.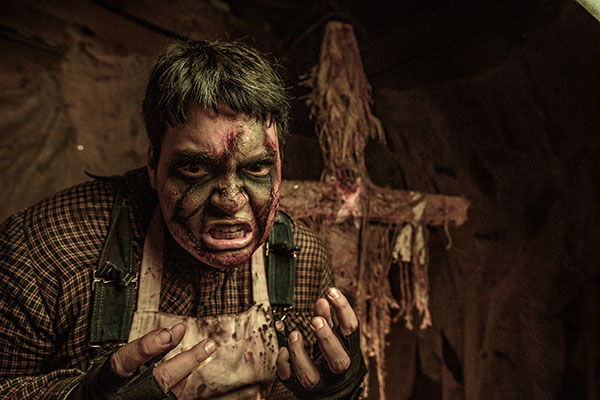 Ghost Town Streets is the original and largest, most terrifying scare zone that started it all. Bands of half-human, half-animal monsters prowl the streets and inhabit the fog, while the notoriously startling sliders lunge from every fog-filled corner of the land. Fiesta De Los Muertos features colorful costumes and larger than life stilt walkers in a dark scare zone. In the Boardwalk, clowns crave your undying attention in the CarnEVIL scare zone. Returning for a second year, The Hollow scare zone will terrorize guests as they find themselves in a war between three covens of witches and their armies of the undead. The fog-filled streets along with the army of the undead treacherously blend into the shadowy night as they frighten all whom they encounter. Featuring an all new fiery finale, The Hollow is a practically all new with a themed maze to accompany it.
Knott's Scary Farm Pass & Admission
– The Knott's Scary Farm Pass returns for the 2017 season and offers unlimited visits to all 25 event nights. Current 2017 Knott's Berry Farm Season Passholders can purchase the pass at the limited time price of $80 and non-passholders can purchase the Scary Farm Pass for just $90. Prices valid through Sept. 17 or while supplies last. Plus applicable taxes and fees.
– Single night tickets – Buy tickets at KnottsScaryFarm.com and save up to $35 off the regular main gate price of $75. Knott's Season Passholders receive a discount on single night tickets. Applicable taxes and fees apply to online orders.
– Fright & Fast Lane – For the first time ever, ride and scream all night long with unlimited priority access to all mazes plus priority boarding on all Fast Lane rides. Fright & Fast Lane starts at $80 and varies by night. Separate Scary Farm park admission required, and not included.
– Combo Tickets offering admission plus Fright & Fast Lane are an especially great value starting as low as $115 plus applicable taxes and fees. This combo is only available online. Save up to $40 with this admission plus Fright & Fast Lane Combo and Knott's Season Passholders save up to an additional $5.
– Scary Farm Boo-Fet + Early Entry – Offered at Mrs. Knott's Chicken Dinner Restaurant and Spurs Chophouse, munch with monsters before Knott's Scary Farm opens each night. Meals include a 2017 souvenir bottle, which includes unlimited complimentary refills on the event night and $1.00 refills for the rest of the 2017 season. After dinner, enjoy early entry into select parts of Knott's Scary Farm a few minutes before it opens to other mortals. Boo-fet dinner is $28.99 + applicable taxes and fees when purchased online and $33.99 + tax when purchased at the door. Separate theme park admission required, and not included.
– Knott's Scary Farm General parking is $20 per vehicle and can be purchased online or at the parking booth upon arrival. Applicable taxes and fees apply to online orders. All Season Long Parking is valid for Knott's Scary Farm nights.
Knott's Scary Farm has welcomed millions of visitors over the past 45 years and has become an institution in the Southern California theme park landscape. This year, the event returns September 21, 22, 23, 28, 29, 30 October 1, 5, 6, 7, 8, 12, 13, 14, 15, 19, 20, 21, 22, 26, 27, 28, 29, 30, 31. Knott's Scary Farm is open 7:00 pm – 1:00 am select Thursdays, Sundays, Monday and Halloween Night and 7:00 pm – 2:00 am Fridays and Saturdays. Due to the explicit and frightening nature of the event, it is not recommended for children under 13. This year's Knott's Scary Farm experience is where nightmares never end!
For more information on Knott's Scary Farm, including admission, park hours and events, visit knottsscaryfarm.com or download the Knott's Berry Farm app for your smart phone. Join the scary conversation by using #ScaryFarm on Facebook, Twitter, Instagram and Snapchat.
Knott's Berry Farm in Buena Park is open daily year round, and Knott's Scary Farm runs through October 31. For more information call 714-220-5200 or visit www.knotts.com, where you can also download the Knott's Berry Farm mobile app for your smartphone, or save time and money with Knott's Print@Home tickets.
---
LEGOLAND California Resort Weaves a Web of Fun with its Annual Brick-or-Treat Party Nights Halloween Celebration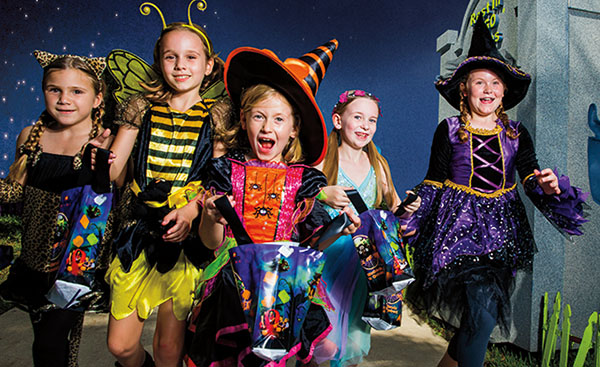 Brick-or-Treat Party Nights, presented by Shutterfly®, is returning with exciting entertainment, sweeter treats and even more not-so-spooky thrills this year every Saturday night (Sept. 30, Oct. 7, 14, 21, & 28). LEGOLAND® California transforms into a monster mash bash for the ultimate family fun Halloween party featuring Ghost Cruise adventure, a new pop-badge challenge, a fall festival complete with a LEGO® pumpkin patch building activity, Bluegrass Band Jamboree and a special LEGO Friends meet and greet in Heartlake City, where kids can decorate their own craft and more!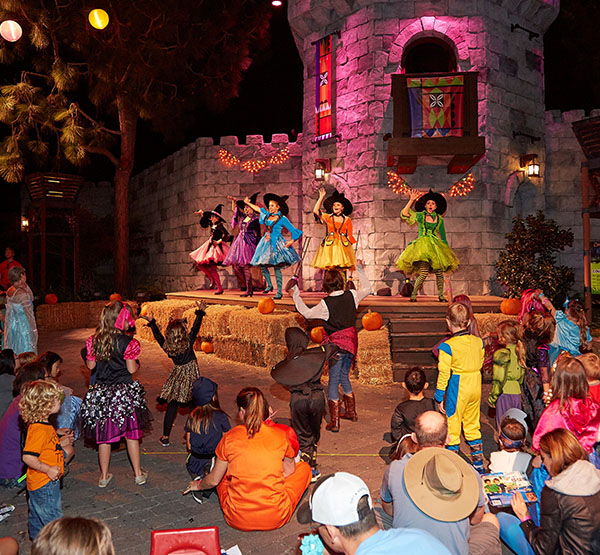 Brick-or-Treat Party Nights is a special event and admission can be purchased for as low as $49 if purchased online in advance. New this year, guests can purchase a full second day Resort Hopper ticket to enjoy LEGOLAND California, SEA LIFE aquarium and LEGOLAND® Water Park. Special event ticket holders can enjoy costume contests, trick-or-treating at candy stations filled with tasty goodies and other surprises, festive music and live entertainment. LEGOLAND California and SEA LIFE aquarium are open from 10 a.m. to 5 p.m. on select dates throughout October and LEGOLAND Water Park is open weekends 12 p.m. to 5 p.m. through October 29. With special event admission to Brick-or-Treat Party Nights on September 30, October 7, 14, 21 and 28, guests can extend their day until 9 p.m. at both LEGOLAND California and SEA LIFE aquarium to enjoy all of the Halloween festivities-plus- add on a second day Resort Hopper ticket to extend the fun all weekend long. For exclusive savings and more information, visit www.BRICKORTREAT.com or call 760-918-5346.
LEGOLAND California Resort includes LEGOLAND California, SEA LIFE Carlsbad Aquarium and LEGOLAND Water Park, all geared for families with children between the ages of 2 and 12. LEGOLAND California features more than 60 rides, shows, and attractions including LEGO Star Wars™ Miniland and the all-new Pirate Reef where guests board boats that drop down 25 feet between two battling pirate ships! SEA LIFE incorporates LEGO models into a child's voyage to the depths of the ocean and features play zones, fun facts, quiz trails, and the all-new Claws exhibit.
LEGOLAND California Resort in Carlsbad is open select weekends through October 29, and the LEGOLAND Hotel is open year round. For more information call 760-918-5346 or visit www.legoland.com.
---
SeaWorld's Halloween Spooktacular Returns to Seaworld San Diego for Halloween
 San Diego's Favorite Halloween Event for Families Returns

Watch silly and spooky live shows and presentations, enjoy fun Halloween activities and trick-or- treat for candy and goodies throughout the colorfully decorated park.
Halloween Spooktacular is one of San Diego's biggest fall festivals, with weekends brimming with family fun. Get in the spooky spirit and catch popular live shows like Clyde & Seamore's Halloween Bash and Sesame Street's Who Said Boo?!, join delightful Halloween dance parties and let the little ones trick-or-treat throughout the park in a safe, family-friendly environment. Oh, and be on the lookout for singing pumpkins in the park.
Spooktacular is included with park admission, and takes place every Saturday and Sunday from September 23 through October 29, 2017.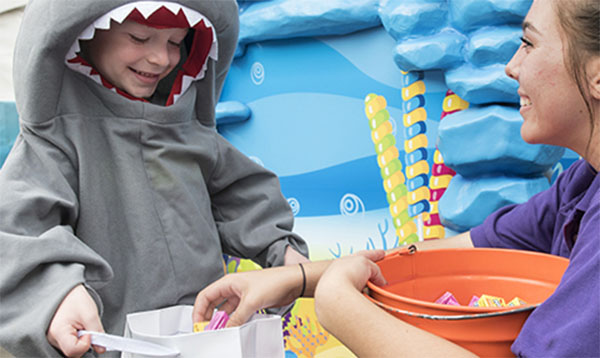 Trick-Or-Treat
Let your little ones trick-or-treat to their hearts' content in the safety of our park. We can't wait to see their new costumes this year, though we ask that only kids under 10 wear masks. And no tricks here, the treats are on us – and included with your admission. Trick-or-Treat hours are 12 pm to one hour to park close.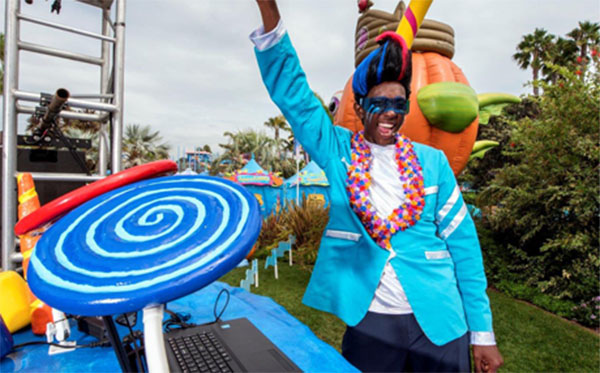 Dance Parties
Kids aren't the only ones who love costumes. Meet some of our own costumed sea characters, plus new friends like Tabitha Taffy and Timothy Toffee, all happy to hop in on a selfie or join in an impromptu dance party.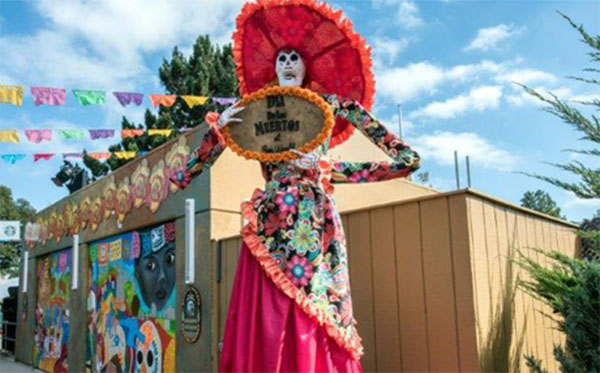 Dia de los Muertos
Enjoy a special themed area celebrating Día de los Muertos. Here, colorful papel picado flags, vibrant Ofrendas and large Catrinas will invite guests to learn about this traditional Mexican holiday, and take part in this festive celebration of life.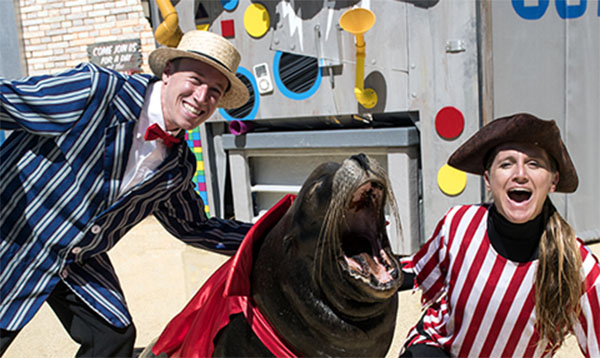 Clyde and Seamore's Big Halloween Bash
Our comical California sea lion duo Clyde and Seamore are fan favorites for lots of reasons – but mostly because they're just so darn fun. Catch their special Clyde & Seamore's Halloween Bash, joined by their pal, OP Otter, for this limited engagement.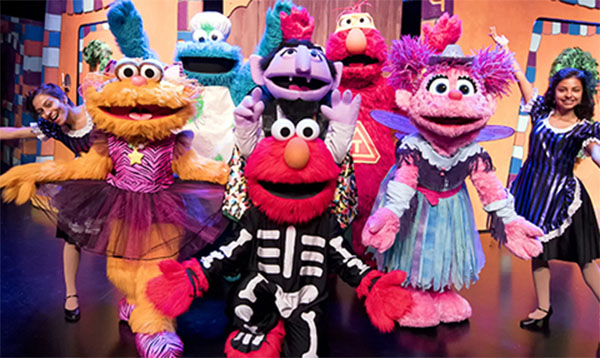 Elmo and friends dress up in their Halloween best to sing and dance their way through the Count's Castle for a Costume Party. They arrive at the Count's Castle for a Halloween party to discover that Count is nowhere to be found. Through fun games, music and dance, Elmo and friends work as a team to figure out "Who Said Boo" in this spooky Halloween adventure.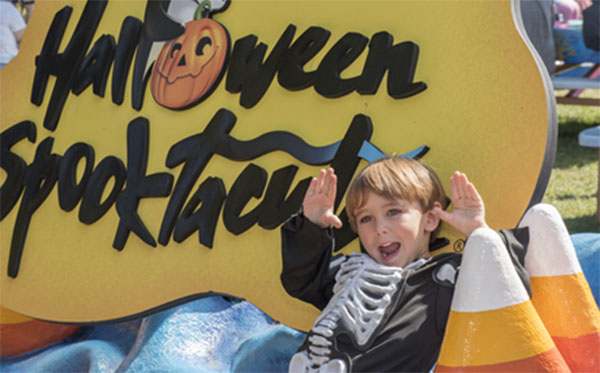 Decorations Throughout the Park
Is it the tricks? Nope. The treats? Still no. (Okay maybe.) What we love most about our Halloween Spooktacular is decorating the park to create an immersive family celebration. Get into the Halloween spirit – and maybe even bring home some fun decorating ideas.
SeaWorld San Diego in San Diego is open daily year round, and Halloween Spooktacular runs through October 29 on weekends only. For more information call 800-257-4268 or visit www.seaworldsandiego.com.
---
A Halloween Event Only the Bravest Souls Dare To Enter –
Can You Survive The Night?
New Haunted Attractions Include a New Maze, New Scare Zone, New Haunted VIP Tour, New In-Park Dining and Entertainment,
and Back by Popular Demand,
Suicide Squad: The Six Flags Fright Fest Experience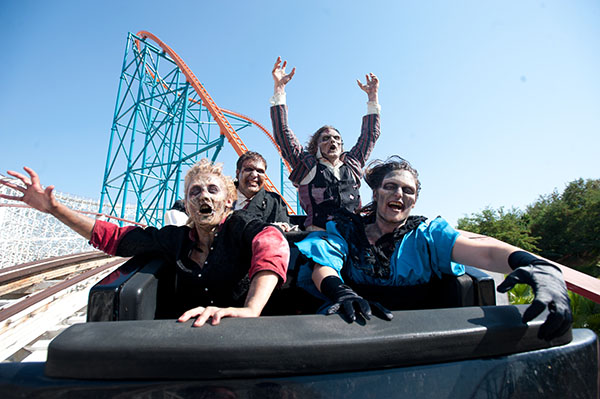 Six Flags Magic Mountain's 25th season of Fright Fest® will be the biggest and scariest in the Park's history, including more days than ever before. The exciting line-up of new haunted attractions includes a new scare zone, new maze, a new Haunted Tour and new in-park dining and entertainment options. The expansion also includes more roving "scare-actors" than ever before and additional Fright Fest nights.
Plus, back by popular demand, Suicide Squad: The Six Flags Fright Fest Experience will transform the Park's DC UNIVERSE area into DC's Midway City, where some of the "Worst Heroes Ever" from the highly-acclaimed film Suicide Squad will be roaming the streets.  Darkness and chaos will reign as some of DC Comics' most famous Super-Villains, including Katana, Killer Croc, The Joker, and Harley Quinn, will be found among the mass destruction depicted in the film. State-of-the-art digital imagery and fiery special effects will create an inferno as buildings burst into flames and creatures attack from every angle.  "It feels good to be bad" at Suicide Squad: The Six Flags Fright Fest Experience.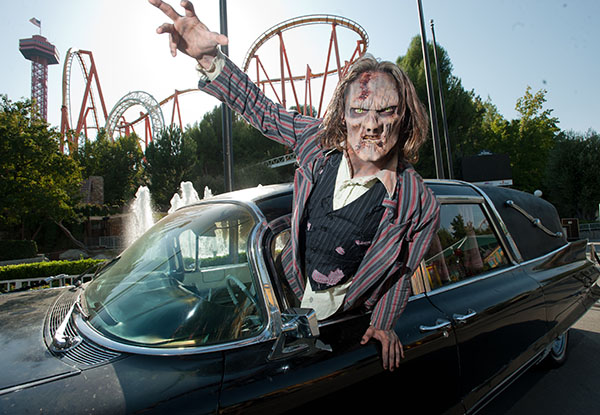 Voted the Best Theme Park Halloween Event by USA TODAY readers, Six Flags Magic Mountain leaves no tombstone unturned to deliver what guests want most…an all-out terrifying experience. Fright Fest will include a total of 13 electrifying mazes and dare-to-enter scare zones, and roaming zombies around every corner. If that is not enough, Six Flags Magic Mountain will add a sinister element to some of the theme park's monster coasters by turning off the lights, leaving riders to face their fears in total darkness – literally.
Two new haunted attractions this year incorporate state-of-the-art makeup, props, and special effects.  The new scare zone, Damned 'N Disguise: Change Before Your Eyes, adds to this year's horror-filled offering of haunts as the City of METROPOLIS™ is transformed into Magic Mountain's first-ever, right-in-front-of-your-eyes morphing masquerade!  Dead End, is a new maze sure to raise a few hairs as it lures guests into the meandering, eerie hallways, leaving them to fend for themselves in total darkness.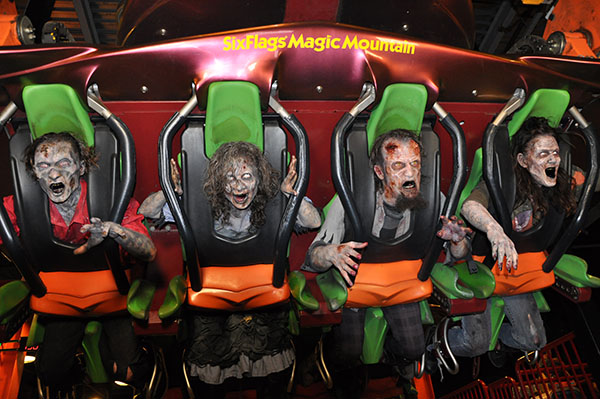 Also new this scream season is Club 6-feet Under, a frightfully fun night club experience where guests can enjoy devilishly delicious food while a demonic DJ spins hot jams until the wee hours of the night. Additionally, guests can enjoy a meal in the company of creepy creatures, spooky fun and monstertainment every day at the Ghoulish Grub at the Pub, located in Metropolis.
The new Hidden Haunts VIP Tour takes guests to areas around the park that no one dares to enter to hear real-life haunting tales. Plus, guests will be able to get their fill of thrills and chills with front-of-the-line access to all mazes, rides and attractions. It's the ultimate VIP experience.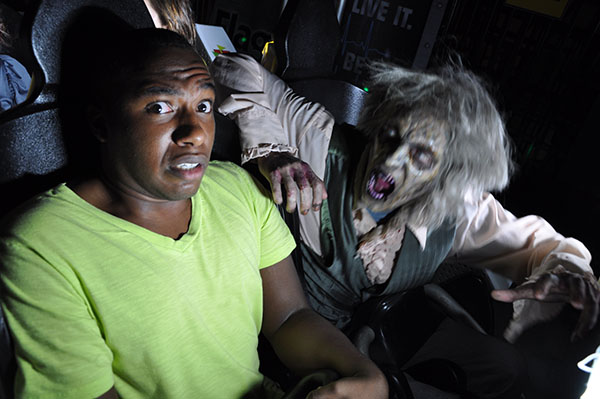 Also returning in 2017, the region's largest outdoor maze ever built, Aftermath 2: Chaos Rising.  Covering more than 40,000 square feet, this massive maze will strike terror into the brave souls entering a post-apocalyptic city inhabited by nomad warriors who rule with bone-crushing iron fists and the dead stalk the living. Larger-than-life props, fire, fog and other special effects make this a must-experience maze.
Three of the most popular mazes return to Six Flags and incorporate state-of-the-art props, Hollywood-quality make-up, and story lines not meant for the faint-of-heart. Enter the world of Red's Revenge…over the river and through the woods, to Grandmother's house you go, but in this fairytale, guests and the wolf are hunted by Red and her demonic minions. Vault 666 is an old abandoned research facility where genetic experiments crossing humans with animals were once conducted and just recently the frightening secrets have been unearthed, exposing terror and mayhem from deep within the unsecured vault. Willoughby's Resurrected is a reincarnation of the Willoughby family's beloved haunted mansion that includes hair-raising horror down long harrowing hallways and around each nightmarish-turn.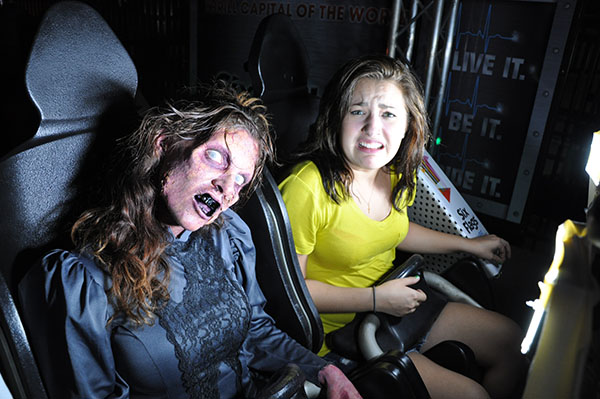 Another all-time favorite is making a comeback with its demented 3D twist, Toyz of Terror 3D, the defunct toy factory haunted by wicked windups, freakish furries and deranged dolls…and if that's not enough to scare the wits out of even the bravest, guests are now forced to experience the madness in 3D terror. And, don't miss Chupacabra, where guests come face to face with this elusive blood-thirsty creature as it petrifies the local Dia De Los Muertos (Day of the Dead) Festival.
Four additional scare zones around the park leave guests nowhere to hide and screaming to get out unscathed. After entering Fright Fest through the gates of Demon's Door, face steam-spewing mechanical beasts in TERRORtory Twisted. In Nightmares – A Twisted Fantasy, childhood fears and favorite bedtime stories take on a perverse twist, and freak out on Exile Hill when unimaginable sinister souls appear without warning.
Spooktacular shows include the hypnotists, who put park guests in compromising scenarios in their hilarious stage show located in Golden Bear Theater, and the very popular VooDoo Nights, where Ghoul Rock has gone pop with a musical spectacular sure to entertain. Be sure to dust off your thriller moves and join in the fun in the Full Throttle Plaza.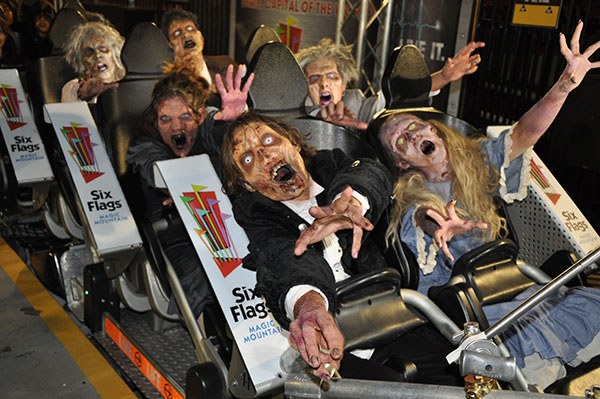 Guests can literally face their fears in the dark when the lights go out on some of the Park's iconic coasters, including Twisted Colossus, Full Throttle, Tatsu, Viper, X2, Scream, Goliath, The New Revolution, and others during Fright Fest.
For the little monsters, a Trick or Treat Trail and Halloween Crafts round out the activities during the day.
Fright Fest Operating Hours and Days:
10:30 a.m. to 1 a.m.: October 6, 7, 13, 14, 20, 21, 27, 28, 30, 31
10:30 a.m. to 11 p.m.: October 8, 15, 22, 29
For more information on Six Flags Magic Mountain's Fright Fest, visit our website at www.sixflags.com/magicmountain
Six Flags Magic Mountain 2018 Season Passes are currently on sale.  For a limited time, purchase four or more Magic Mountain Season Passes or Memberships and receive a free upgrade to GOLD on each Pass.  GOLD Passes include Hurricane Harbor Season Passes as well as free Parking Passes.  Additional Season Pass perks include free tickets for friends, park admission to Fright Fest®, Holiday in the Park®, plus all of 2018 which now includes 365 days of thrills with no blackout dates. Season Passes can be purchased at the main gate ticket booths or online at sixflags.com. Season Pass purchases are eligible for low monthly payments through the Membership program.
Pass Holders may also purchase a Deluxe Season Dining Pass and receive a free upgrade to our Premium Combo Season Dining Pass, which includes lunch, dinner, and a snack during every park visit. Plus, they will receive a 2018 Drink Bottle for unlimited drink refills. Premium Combo Season Dining Passes may be used at any Six Flags theme park and Hurricane Harbor – Los Angeles.
Six Flags Magic Mountain, the undisputed "Thrill Capital of the World," is located at 26101 Magic Mountain Parkway, Valencia, north of Los Angeles off Interstate 5 at the Magic Mountain Parkway exit.  The Park opens daily at 10:30 a.m., and Fright Fest runs on select days through October 31. For information call (661) 255-4111 or visit us at www.sixflags.com/magicmountain.
---
Universal Studios Halloween Horror Nights Presents New Mazes and Attractions
 Freddy Krueger, Jason Voorhees and Leatherface are the "Titans of Terror," Universal Studios Hollywood's Terrifying New Slasher Film Maze Plus the Infamous Serial Killer Doll, Chucky, Joins Trio of Slasher Icons on Universal's Famed Backlot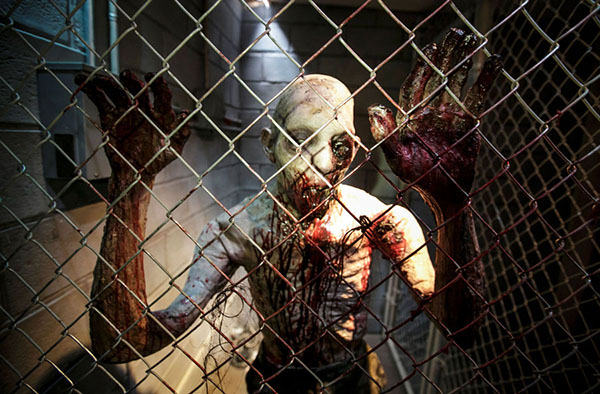 "Halloween Horror Nights" at Universal Studios Hollywood brings together the sickest minds in horror to immerse guests in a living, breathing, three-dimensional world of terror. Featuring an all-new slate of unrivaled film production quality mazes and frightful scare zones, "Halloween Horror Nights" will taunt, terrorize and torment guests with spine-chilling haunted attractions as part of Southern California's most extreme Halloween experience.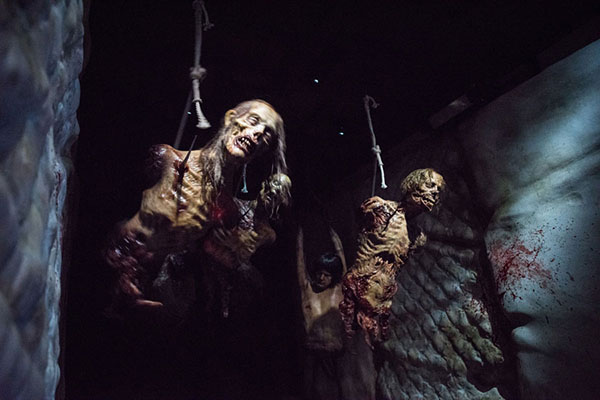 From the movie studio that invented the horror film genre, prepare for the scariest, most intense Halloween event in Southern California. This year's event features more mazes than ever with 8 terrifying experiences based on the most frightening films and television shows.
From Stephen King's The Shining to FX's award-winning television series "American Horror Story," this list proves guests are in for a trick and treat this Halloween season:
The Shining, inspired by the iconic psychological thriller.
"American Horror Story: Roanoke," based on FX's critically-acclaimed, Emmy® and Golden Globe® Award-winning television series.
"ASH vs. Evil Dead," based on Starz's comedy horror television series.
"Saw," based one of the highest grossing horror film franchises of all time.
"Insidious: Beyond the Further," based on the latest Blumhouse Productions' thriller, Insidious: Chapter 4.
"The Horrors of Blumhouse," based on Jason Blum's blockbuster movies, The Purge, Sinister, and upcoming film, Happy Death Day.
"The Walking Dead," Universal Studios Hollywood new permanent attraction inspired by AMC's record-breaking television series.
The Jabbawockeez award-winning hip hop dance crew return by popular demand with an all-new, high-energy performance created exclusively for "Halloween Horror Nights."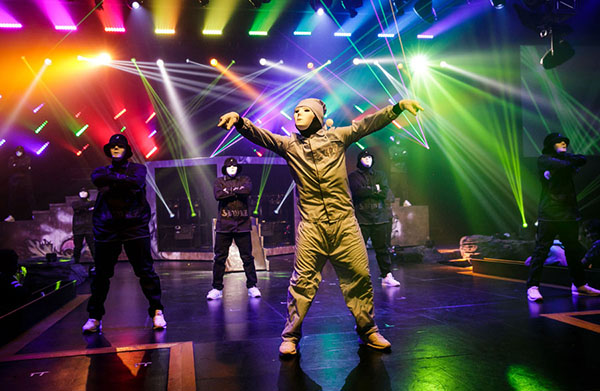 The thrills continue with Titans of Terror Tram hosted by Chucky, an all-new high-energy Jabbawockeez live show and three new scare zones awaiting you around every dark corner.
Based on The Purge, Sinister and Insidious franchises, as well as the upcoming thriller Happy Death Day, Blumhouse Productions (Split, Get Out, Whiplash ), is teaming with the creative minds behind the nation's most intense and immersive Halloween event to unleash three twisted Blumhouse films in one bone-chilling experience at each Halloween destination.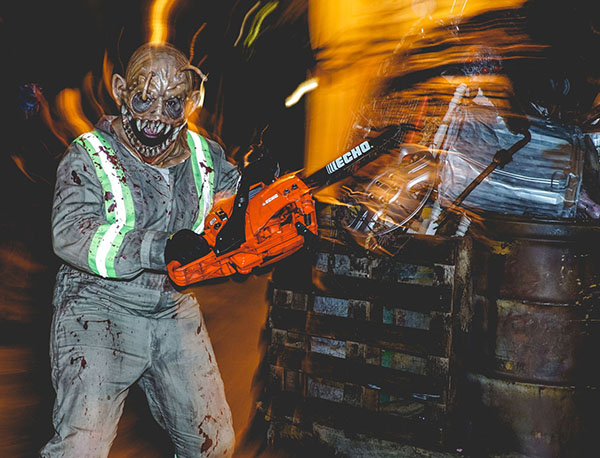 At Universal Studios Hollywood, legions of terrified guests will come face-to-face with the most iconic and unnerving moments from the blockbuster The Purge franchise, Sinister movies and soon-to-be released Happy Death Day. In The Purge, guests will attempt to survive the night as they are immersed in the film's depraved world, where all crime is declared legal as part of the government's annually sanctioned 12-hour Purge. In what can be described as a living trailer for Happy Death Day, guests will experience a deja-vu scenario as they are forced to relive the last day of their lives over and over again in an attempt to escape a masked killer. The final nightmare will unmask itself in Sinister, where guests will encounter an ancient pagan deity who is determined to trap them in the sordid shadow world of the dead…for all eternity.
Based on the Lionsgate and Twisted Pictures hit horror film franchise, "SAW: The Games of Jigsaw" will bring to life the scariest game yet. In this all-new maze guests will come face-to-face with the work of master craftsman "Jigsaw" and a collection of his most infamous traps from the SAW film series and upcoming eighth installment JIGSAW.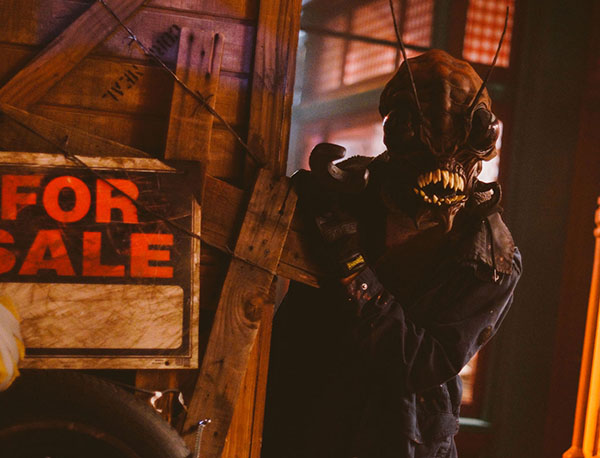 In the new "Titans of Terror" maze, guests will fall victim to the silver screen's most deplorable killers whose affinity for bladed weapons redefined the horror movie genre as slasher films:  Leatherface (The Texas Chainsaw Massacre) wielding his iconic chainsaw, Jason Voorhees (Friday the 13th) brandishing his relentless machete, and Freddy Krueger (A Nightmare on Elm Street) swiping his trademark glove armed with razor blades.  The new maze will be an assault on guests' sensibilities as they descend into the forbidden realms of these horror icons.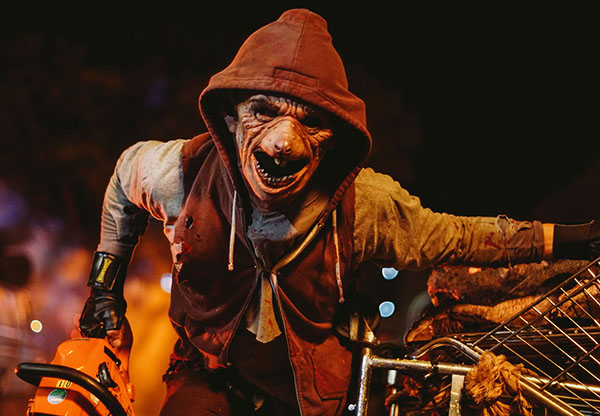 Taking terror to an unspeakable level of bloodcurdling screams, the "Titans of Terror Tram Hosted by Chucky" will transport guests into a nightmare of carnage pitting guests against these four modern horror icons, this time led by infamous serial killer doll Chucky (Child's Play franchise). With his faithful army of degenerate chainsaw-wielding Good Guy Dolls, Chucky will unleash havoc upon guests as they navigate a portion of the world-famous backlot.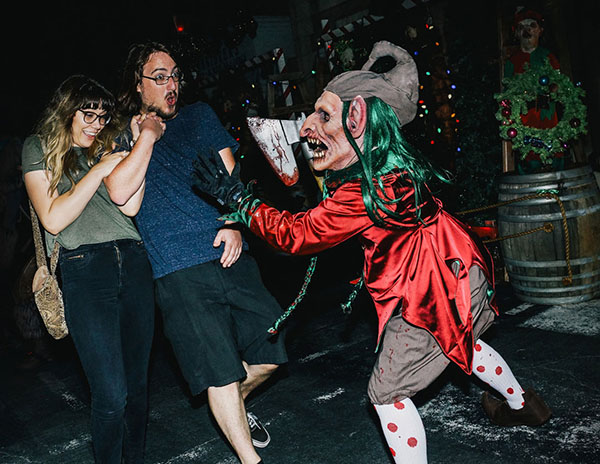 Further "Terror Tram" encounters will include Jason Voorhees (Friday the 13th) at the Crystal Lake Motel where he slaughters newly arrived camp counselors; an ominous confrontation with Freddy Krueger (A Nightmare on Elm Street) who takes his ultimate revenge on the town of Springwood; and a final foray through the barn from The Texas Chainsaw Massacre, where Leatherface and the Sawyer family butcher victims for their cannibal cuisine.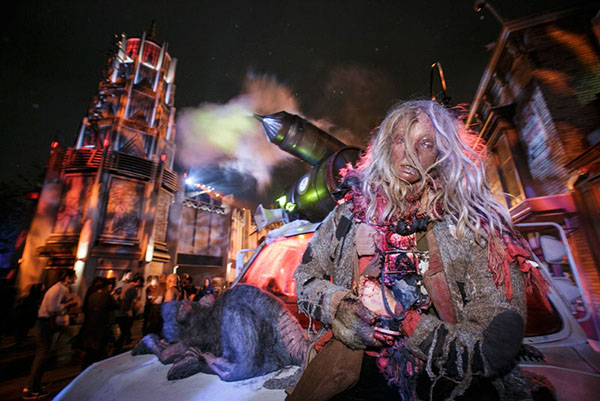 Unique to Universal Studios Hollywood, the "Terror Tram" enables "Halloween Horror Nights" guests to walk along an area of the famed movie and television studio, where such sets as the Psycho House and the Bates Motel from Alfred Hitchcock's classic thriller, and Steven Spielberg's War of the Worlds, are located.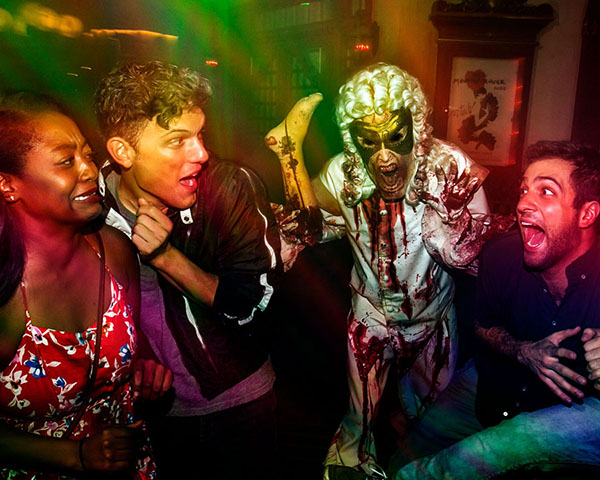 Universal Studios' "Halloween Horror Nights" is the ultimate Halloween event. For more than 20 years, guests from around the world have visited Halloween Horror Nights in Hollywood to become victims inside their own horror film. The streets of the event are transformed into highly-themed scare zones where menacing "scare-actors" lunge from every darkened corner. Multiple movie-quality haunted houses are erected throughout the event, based on everything from iconic slasher films to hit horror television series to haunting original stories.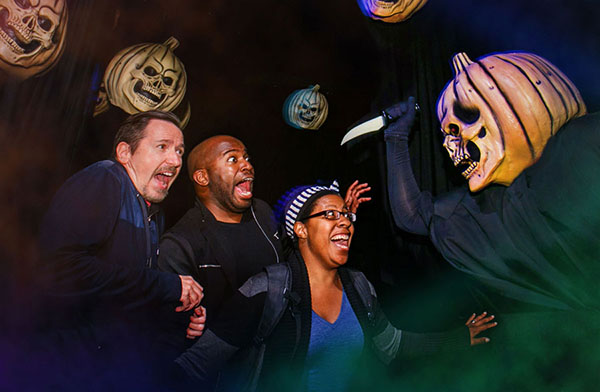 Get ready for non-stop terror because the best nightmares never end!
For more information about Halloween Horror Nights at Universal Studios Hollywood, visit www.halloweenHorrorNights.com/Hollywood.
To learn more about Universal Studios Hollywood and the various Annual Pass options, including the new California Neighbor Pass, please visit www.UniversalStudiosHollywood.com/tickets.  Additional information is available at www.UniversalStudiosHollywood.com. Like Universal Studios Hollywood on Facebook and follow @UniStudios on Instagram and Twitter.
Universal Studios Hollywood in Universal City is open daily year round, and Halloween Horror Nights runs through October 31. For more information call 800-864-8377 or visit www.universalstudioshollywood.com.